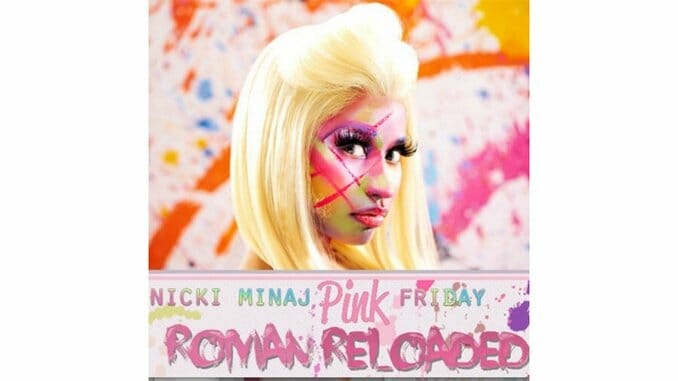 Roman Zolanski, the alter-ego of Nicki Minaj, is the id unleashed, a merry troublemaker—the female counterpart to Eminem's Slim Shady. Under her own name, Minaj makes affirmational anthems like "Moment 4 Life" and sweet-hearted bangers like "Super Bass," but the Roman guise allows her to morph into a horror-movie mutation of a rapper, all hyperbolic bravado and delirious vulgarity. Especially after her star-making verse on Kanye West's "Monster"—surely one of the greatest moments in recent hip-hop history—most listeners expected Roman to rear her (his? its?) ugly head on her solo debut, 2010's Pink Friday. Instead, it turned out to be a Minaj album, with more singing than rapping. If it disappointed critics, it certainly found an audience. Even its bonus material yielded a smash hit.
That puts Minaj at an enviable position in hip-hop: She's on a path to becoming one of the most successful female rappers of all time. While she may be voicing a character in the new Ice Age sequel, it's unlikely she'll end up a footnote like Lil' Kim or a standards singer like Queen Latifah. On her long-awaited second album, Pink Friday: Roman Reloaded, Minaj unleashes her alter-ego in full force, which turns out to be an intriguing and perhaps unexpected strategy for such a make-or-break release. It sounds more like what fans expected two years ago, but in the interim, her rubbery, blustery flow has lost none of its immediacy. She still sounds fresh, fierce, even dangerous.
Roman Reloaded is frontloaded with dizzying monster rhymes, which may put off anyone hoping for another "Moment 4 Life." But Minaj is at her best—at her most compelling, most ingenious, most human—when she indulges every weird mannerism that comes into her busy brain. On "Come on a Cone," she raps relentlessly over a simple beat, pausing briefly to turn a dick joke into a sing-along for The Voice. On the nursery rhyming "I Am Your Leader," she spits yet another dick joke like a playground jeer, slyly undermining hip-hop's traditionally male-centric braggadocio. She's not only participating in phallocentric boasting; she's also inflating the convention with a Swedish penis pump until it's just shy of bursting.
The first third of Roman Reloaded is intense, and despite the surfeit of guest verses—all of them male, all of them pale next to Minaj—the woman calling herself Roman reigns over everything with an easy, giddy authority. As the album progresses, however, she loses focus, allowing for some generic collaborations ("Right By My Side" with Chris Brown, an increasingly unwelcome presence in pop music) and a sex ode that sounds like someone else's song ("Sex in the Lounge" with Lil Wayne and Bobby V). "Marilyn Monroe" is a cotton-candy woe-is-me ode, but alongside so many Roman numbers, it sounds too self-absorbed.
Closer "Stupid Hoe" gives Roman the spotlight once more, possibly allowing the id to attack the ego in a clash of multiple personalities. It's the weirdest moment on a deeply and often wonderfully weird album, and while Roman Reloaded may be scatterbrained and uneven, it nevertheless shows Minaj putting her money where her mouth is. She may have entered a weirdness race with Lady Gaga, but Minaj's eccentricities extend well beyond her persona and wardrobe to define her music. She's not really commenting on celebrity, as Gaga does; instead, she taunts the very idea of celebrity and anyone who might invest in such an idea, herself included. Minaj is a true fame monster, and pop culture is blessed to have her gleefully upending expectations and conventions.