Fantastic Negrito was the first day's first act on the big stage at this year's Newport Folk Festival. That's the nom de musique of Xavier Amin Dphrepaulezz, a very tall man with a high afro atop his head and tightly woven cornrows on the side. Wearing a green silk jacket and baby-blue pants, he wailed in a Prince-like falsetto over funk guitar about a "Scary Woman" whose honesty and independence frightens the male narrator.
This was wonderful stuff, but what did it have to do with America's folk-music traditions? That question was soon answered when Dhrepaulezz, a Somali-American from Oakland, shifted into black-preacher mode. The pacing, arm-waving, quiet-purring, hoarse-shouting, storytelling, sin-denouncing, hope-proclaiming evangelist is as much a traditional American art form as the guitar-strumming bluesmen or the banjo-picking balladeer.
As Dhrepaulezz began the next song, he cued his backing quartet to tamp down the rock 'n' roll roar as he acted out an encounter with a woman. She informs her wooer that she's got no time for a trifling man, because she's "working three jobs to pay my bills." Dhrepaulezz then morphed from playing these two characters into a preacher who asked us in the harborside congregation why a woman has to juggle so much to get so little—and what can be done about it.
That set up the rousing song, "Hump Thru the Winter," which bridged the gap between the preachers he heard as a grade-schooler in Michigan and the Prince records he loved as a teenager in California.
And it set up a three-day festival where performers shifted into preacher mode again and again. It seemed appropriate for an era when health care, free elections, a stable climate, international alliances, even facts themselves are under attack. These musicians didn't feel it necessary to go through the laundry list of troubles one more time; they were more worried about our response to the daily barrage of bad news. They cautioned against the temptations of pessimism, cynicism and isolation. They preached the secular salvation of coalitions, activism and hope.
At the end of Friday, for example, on the same stage nestled up against the gray stone fortification that gives Rhode Island's Fort Adams State Park its name, Jason Isbell & the 400 Unit invited David Crosby to join them. After a vocal duet between Isbell and his guest on Crosby, Stills & Nash's sci-fi anti-war fable, "Wooden Ships," Isbell turned preacher too. Raising his arms forward, he urged his parishioners to not abandon old songs and old performers who fought the good fight. In times like these, he exclaimed, we need that continuity from past to present to have enough momentum for a better future.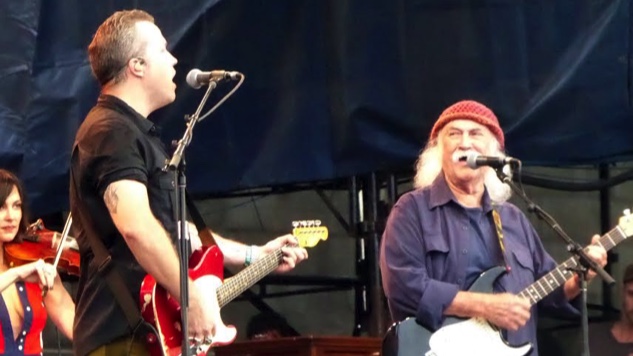 Amanda Shires, Jason Isbell and David CrosbyThat was a set-up for Crosby, Stills, Nash & Young's "Ohio" with Crosby reprising Neil Young's vocal lament and Isbell playing Young's biting guitar attack. "Tin soldiers and Nixon's coming," the walrus-mustached Crosby sang; "we're finally on our own." It was a useful reminder that there have been bad presidents and bad times before—times when they were actually shooting demonstrators—and they were turned around not when a savior from somewhere else arrived, but when we saved ourselves.
Adam Weiner is a most unlikely preacher. The leader of Philadelphia's Low Cut Connie is a piano-pounding, hair-tossing, shiny-gold-jacket-wearing wild man in the tradition of Jerry Lee Lewis. But when he stood on his piano bench, after frantically gyrating his pelvis during "Dirty Water," he got serious.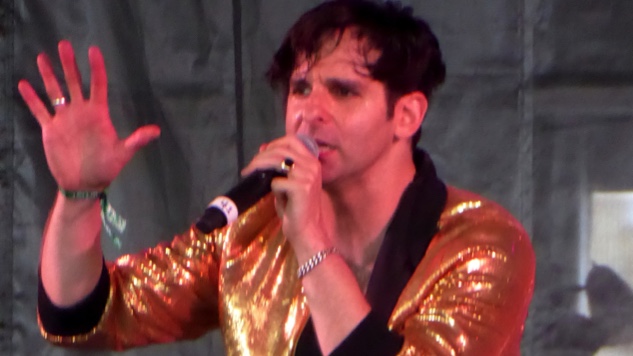 Adam Weiner of Low Cut ConnieStarting his Saturday afternoon sermon, he declared, "I don't care about your race; I don't care about your religion; I don't care about how much money you have; I love every one of you." He punched the air with his first on each "I don't care" and encouraged us to love each other the same way. And how could we resist, bouncing as we were to the groove propelled by drummer Larry Scotton and bassist Lucas Rinz?
Like Weiner, Langhorne Slim stood on the furniture to get his point across. The Pennsylvania singer/songwriter in the straw fedora and white overalls climbed up on the flimsy plastic folding chairs inside the tent Sunday at the Harbor stage and testified to the healing power of love and his determination not to break before hate.
The War and Treaty hasn't even released its debut album yet, but the duo raised Sunday's crowd at the Quad Stage, tucked inside the fort, to its feet with a show obviously rooted in black church services. The husband-and-wife team of Michael and Tanya Trotter grew up in that environment, but they applied those worship practices to the celebration of marital pleasures.
In the middle of one such song, "Let Me Hold You," Michael, a burly, bearded singer/keyboardist in a red African-print shirt, grabbed soprano Tanya in a fervent embrace that illustrated the lyrics' message. But on "Healing Time," the big-voiced couple switched from the value of a unified marriage to that of a unified society. Urging all of us to come together across racial, class and like boundaries, they suggested that their robust voices and stomping gospel-soul music might be the adhesive for such a transformation.
The War and Treaty weren't the only new band to win over the folk festival audience. Tyler Childers, whose Sturgill Simpson-produced breakthrough album Purgatory was released since the last folk festival, led a country-rock sextet at the Quad Stage through songs about a dysfunctional working class in Appalachia.
A better songwriter than his mentor, Childers sang of an Appalachian working class torn between church and the barroom, between a rusting pickax and a smoking pipe. He didn't favor one side of the choices or the other, but on songs such as "I Swear (To God)," "Whitehouse Road" and "House on Fire," backed by fiddle and/or pedal steel, he captured the taut tension of those decisions.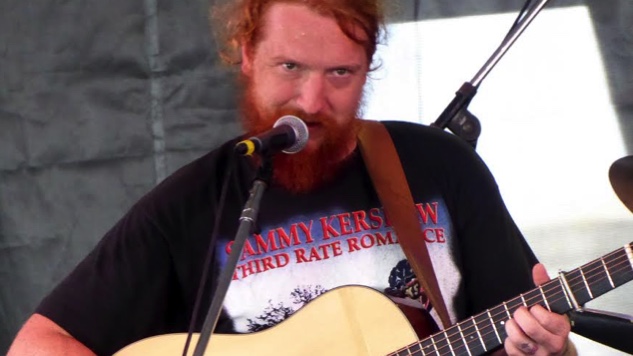 Tyler ChildersAt the Quad on Sunday, the Houston trio Khruangbin presented a new kind guitar-trio instrumental rooted in early-'60s surf music and overlaid with '90s trance music and Middle Eastern melodies. Guitarist Mark Speer and bassist Laura Lee both wore Cleopatra wigs as they swayed in place and played repeating motifs with minor variations in hypnotic repetition. The balding Donald Johnson played drums with a light touch but as steady as a loop. It was as if the Ventures had been court musicians in ancient Egypt or if Motown's Dennis Coffey had teamed up with Palestinian oud master Simon Shaheen.
The festival's smallest stage is hidden away in the state park's tiny museum, where less than 200 lucky listeners can get intimate with a performer. Over the three days of the festival, I snagged a chair inside to hear three of the weekend's best sets: the understated country confessions of Arizona's Courtney Marie Andrews, the Joni Mitchell-like merging of poetry and jazz chords by Oregon's Laura Veirs, and the Randy Newman-esque brilliance of Oklahoma's John Fullbright.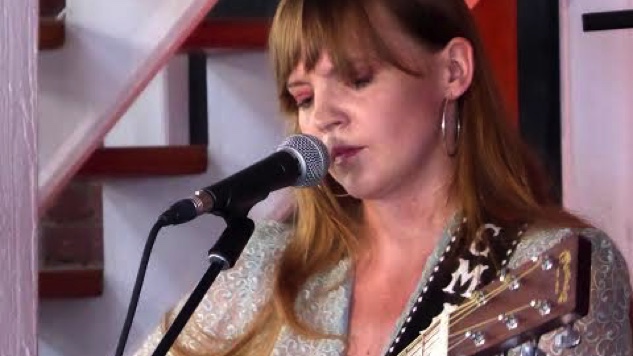 Courtney Marie Andrews"I'm so glad to be here," remarked Andrews. "I can't tell you how many books I've read about this place and all the things that have happened here." It was a common sentiment expressed by those making their Newport debut. The festival is most famous for Bob Dylan's first national breakthrough and his subsequent "going electric," but it's also justly celebrated for reviving the moribund genres of Cajun music, country blues and old-time music and for Johnny Cash's famous showcasing of an unknown Kris Kristofferson.
In recent years, the festival has become known for its unannounced guest artists. This year Lake Street Dive's Rachael Price sang the Stanley Brothers' "Angel Band" during a superb set by the Wood Brothers. And Gov't Mule's Warren Haynes joined a sit-down, acoustic-guitar set by Wilco's Nels Cline to sing Tom Paxton's "The Last Thing on My Mind." Other unbilled appearances included Mumford & Sons, David Crosby, Mavis Staples, Leon Bridges, Jon Batiste and Jerry Douglas.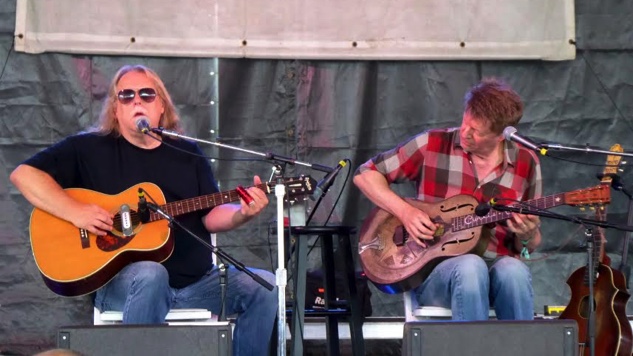 Warren Haynes and Nels ClineBringing all these strands together was Margo Price, whose triumphant Friday afternoon set at the Fort Stage included new material, guest collaborators and even a little preaching. Price [pictured at top with John Prine] unveiled a new song, "The King Is Dead," with Elvis Presley, Martin Luther King and John Lennon each getting their own verse. That was followed by Price joining guest Brandi Carlile on Dolly Parton's feminist line-dance number, "Nine to Five." Price also sang a duet with John Prine on his "In Spite of Ourselves."
At one point she sat alone at a keyboard and, over Paul Simon-like chords, sang "All American Made," an unsparing critique of the turn our nation has taken. Afterward, Price had her own evangelical moment, saying, "I wonder how the president gets any rest at night," and adding, "This is one of the few festivals where I can play that song, so thank you."
Perhaps she was preaching to the choir, but it was a choir that paid quiet attention to the words and needed the pep talk.