The 15 New York City Bands You Need to Know in 2020
Photos by Kevin Condon, Ana Fangayen, Michelle Lobianco
Music
Lists
new york city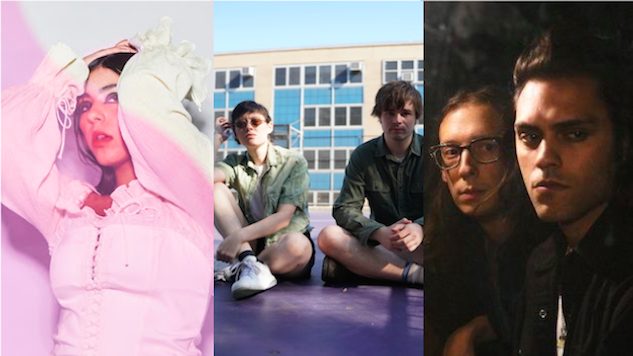 Talking about guitar bands from New York City in 2020 seems a bit strange. The Big Apple has experienced a continuous shutdown of music venues, and just to add insult to injury, the city's iconic punk club, CBGB, was recently turned into a Target-branded gift shop. The cost of living in New York is skyrocketing, and new, worthwhile rock music is almost nowhere to be found on the charts or radio. So where does that leave the hundreds if not thousands of bands who still call New York City home? Well, the odds may be stacked against them, but they're still making records, playing shows and changing lives. Whether you're a resident of one of the city's five boroughs, or whether you're just looking for a sampler of some of NYC's best up-and-coming bands, we've got you covered. You can still see all of these bands in relatively small venues, so catch them while you still can. Here are 15 New York City bands we think you should know about in 2020.
Listen to our New York City Bands You Need to Know playlist on Spotify right here.
1. Activity
Find yourself exhausted by the brand of vibe-y instrumentals and confessional songwriting that permeates much of today's popular music? You should check out the spooky avant-garde quartet Activity. Their eerie, minimal guitar-based orchestrations will drop you into an unearthly dwelling place, but their lyrics, often softly spoken or sung, are underscored by biting human truth. Activity features members of Grooms, Field Mouse and Russian Baths, and their debut album, Unmask Whoever, is out on March 27 via Western Vinyl.
2. Bambara
Fictional, character-driven storytelling in songwriting scratches a completely different itch than other types of music. It leaves you hanging on the lead singer's every word, waiting to discover the fate of characters you've only just met, but are extremely drawn to nonetheless. Athens-bred and Brooklyn-based band Bambara are skilled in this particular craft. For their forthcoming album, Stray (out on Feb. 14 via Wharf Cat Records), frontman Reid Bateh took inspiration from Southern Gothic short stories when creating his characters. The stories feature recurring characters like Death in a somber Georgia setting, and they're paired with ominous, twangy post-punk—it's a captivating underworld that we're lucky to peek into, but are relieved not to exist in.
3. Lightning Bug
Like their band name might suggest, Lightning Bug make soothing music rooted in the elements. This recording project of Audrey Kang and friends Kevin Copeland and Logan Miley began in 2015 with their debut album Floaters, and they reemerged last year with their second album October Song following a several-year hiatus. Their sound is diverse, ranging from lo-fi and electro-pop to folk and shoegaze, but there's always a contemplative, compassionate glow. Kang's cleansing voice and their generous appreciation for details are a godsend.
4. Patio
Post-punk trio Patio happily do more with less. Their 2019 debut album, Essentials, is marked by cutting riffs and chunky bass lines, and while both can easily hold their own, their vocals are particularly mystifying. They take turns on vocal duties—often joining in for harmonies, speaking with detachment or singing gently. Each mode helps them illustrate complicated relationship dynamics and insecurities, and they often do so with dry humor. In short, Patio make 21st century punk for stylish, antsy twentysomethings desperately clinging to their last ounce of hope.
Disclaimer: Patio's Loren DiBlasi is a former Paste editor.
5. Pearla
With singer/songwriters, the name of the game is not just holding people's attention—it's commanding it. Even when you're supplemented by a live band, all eyes are on you to entertain and inspire the audience for the entirety of the set. With 23-year-old songwriter Nicole Rodriguez, who records as Pearla, it's easy to drown in her music—so much so that you won't realize how long you've been gone. Pearla released her debut EP, Quilting & Other Activities, last year, and her gauzy vocals fill each song as they glide over enveloping, dreamy folk-pop.
6. Peel Dream Magazine
Peel Dream Magazine, the project of musician Joe Stevens, combines off-center dream pop with classic shoegaze soundscapes. Both their 2018 debut album Modern Meta Physic and forthcoming LP Agitprop Alterna (out on April 3 via Slumberland Records) exude a hypnotic quiet-loud dynamic, often aided by blurry synths and serene vocals. Mixing the glaring with the pacifying, Peel Dream Magazine are an exercise in dazzling, retro-meets-modern drone.
7. Pom Pom Squad
Brooklyn foursome Pom Pom Squad are fine purveyors of rough-edged indie rock. On their 2019 sophomore EP, Ow, lead singer Mia Berrin takes listeners along on a journey to find her best self, and that means untangling past hardships. Her often painfully vulnerable songwriting meets gnarled guitars, and this collision is demonstrated most powerfully by the EP's slow-building climax "Again" and anthemic indie-punk highlight "Heavy Heavy."
8. Public Practice
Ever since the release of their critically-acclaimed 2018 debut EP, Distance is a Mirror, it was pretty clear that Public Practice have something special. Featuring members of WALL and Beverly, Public Practice surfaced two years ago with a head-turning debut single, "Fate/Glory," which later appeared on their EP. It turns out that the song's rhythmic, incisive post-punk brilliance wasn't just a fluke—Distance is a Mirror is a ravishing display of danceable New Wave punk and pointy post-punk. There's no word on a full-length yet, but with a 2020 U.K. tour already booked, there's likely something cooking.
9. Sean Henry
Sean Henry's latest full-length, A Jump From the High Dive, out now via Double Double Whammy, delights in ways you've been accustomed to before, but his keen melodies have a way of planting themselves inside you like other records don't. Henry melds oddball lo-fi pop with sunny college rock, and the result is feel-good music that's equal parts warm hug, blissful, drunk faceplant and nostalgic bike ride past the old sights.
10. Sunwatchers
Following a pair of 2018 albums—II and 3 Characters—and a 2019 LP Illegal Moves, Sunwatchers are readying their next album "Oh Yeah?", out on April 10 via Trouble In Mind Records. The four-piece makes instrumental, off-the-wall free jazz and mercurial psychedelia, and "Oh Yeah?" is the perfect place to get on the ground floor. You're in for wailing horns, krautrock rhythms, synth dissonance and mind-numbing experimentation, so buckle up before entering this thunderdome of weightless imagination.
11. THICK
Brooklyn punk trio THICK have seen a lot over their six years as a band. They've seen venues close, and they've been repeatedly tokenized by men in the scene, so they're not sorry who's offended by their in-your-face punk. Last year, they signed to Epitaph, and their debut album, 5 Years Behind, is coming out on March 6. Expect jumpy, melodic punk where the personal is political. Samples of men using phrases like "Girl bands are really in right now" characterize "Mansplain" while the rambunctious title track perfectly depicts internal combustion: "I wouldn't feel so overwhelmed / If I didn't let time take control."
12. Urochromes
Urochromes play the kind of arty garage punk that blows bland punk outfits out of the water. You won't find very many tropes on their 2019 debut album Trope House. Dick Riddick's outrageous shredding still lends itself to boisterous live shows, but frontman Jackie Jackieboy's eccentric punk babbling will actually spark a second thought. Album highlight "Milieux" is a bratty, surreal number covered in thick guitar smog, while their sped-up cover of Bikini Kill's "Resist Psychic Death" is super-charged, weirdo punk at its best.
13. UV-TV
Gainesville-formed, Queens-based band UV-TV play classic indie-pop with a punk motor. Their 2019 LP, Happy, features Rose Vastola's sweet and snarled lead vocals—offering tuneful pop pleasure in contrast with their pummeling rhythm section. There are hints of '90s shoegaze, '80s dream pop and modern punk, but none of these labels fully characterize their driving euphoria or moody punk-pop appeal.
14. Water From Your Eyes
Brooklyn duo Water From Your Eyes will surprise and delight you in equal measure. Rachel Brown and Nate Amos make up this experimental pop duo, and their strange textures and song structures make pinning them down almost impossible. There's a harshness and a lightness to almost everything they do. Their latest album, 2019's Somebody Else's Song, available via Exploding in Sound Records, is an amalgamation of acoustic pop, bombastic ambient freakouts, a capella interludes and robotic dance-pop.
15. Weeping Icon
Weeping Icon's self-titled debut album, out now on Fire Talk and Kanine Records, is a chilling adrenaline rush. It's the kind of record that will make you run faster out of fear. Their gothic psych-punk is a noisy, dark tunnel, and the only way you can get out is by riding their wave of pummeling rock 'n' roll. It's an undeniably underground record, and this trio's maniacal cacophonies will appeal to those on the fringes, but all the better given that New York City has more than enough outsiders.
Listen to our New York City Bands You Need to Know playlist on Spotify right here.