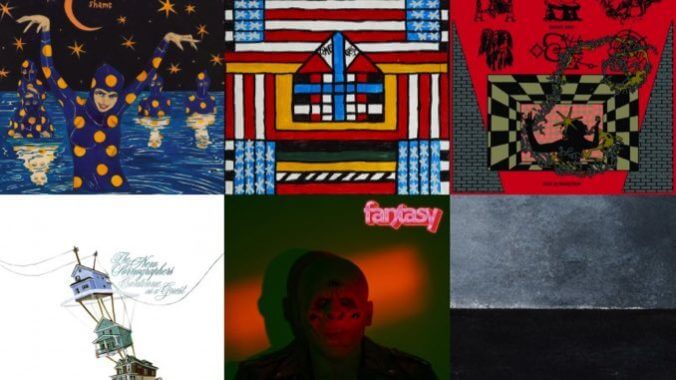 It can be tough to keep track of all the new music coming out in 2023. Impossible, really. But we can certainly try to cover the ones that stand out. We'll continue to update this list of upcoming new album releases on our radar every Thursday throughout the year.
March 3
Constant Smiles: Kenneth Anger
Daisy Jones & The Six: Aurora
Ella Vos: Superglue
Elvis Costello: The Songs of Bacharach & Costello
Fake Names: Expendables
Gee Tee: Goodnight Neanderthal
Kate NV: Wow
Macklemore: Ben
Marc Broussard: S.O.S. 4: Blues for Your Soul
Ron Gallo: Foreground Music
Sharp Pins: Turtle Rock
slowthai: Ugly
Steve Mason: Brothers & Sisters
Tanukichan: GIZMO
The Minks: Creatures of Culture
The National Parks: 8th Wonder
Whitney Walker: A Dog Staring Into a Mirror
Willie Nelson: I Don't Know a Thing About Love
Xiu Xiu: Ignore Grief
Staff Pick | Ron Gallo: Foreground Music
Who says you can't be anxious all the time and still have fun? This is the question at the forefront of Ron Gallo's forthcoming album. Foreground Music is the garage rocker's exploration of what it means to figure out life in this day and age, without exploding from panic all the time. With 11 songs, Gallo uses his time to address the people he judges to be causing the problem, letting them know just the extent of his anger. But that is not the whole tone of the record—it also holds a lot of space for those who are bearing the brunt of it all, trying to give them a catchy song to move to that will maybe even make them laugh. The title track serves as a prime example, where the listener doesn't know whether to laugh or cry. It rides in on a wave of guitar fuzz, setting the stage of panic with echoing questions of dread—"Will any of this matter in one year? Did it ever?"—set next to the questions you have to answer to keep your life moving—"What do you want to eat tonight?" The upbeat tone makes you want to dance and try and shake all this fear off your body … or at least live with it, as Gallo sings, "My favorite thing to do is lie awake and panic." —Rosa Sofia Kaminski
March 10
Ane Brun: Portrayals
Death Cab for Cutie: Asphalt Meadows Acoustic
Fever Ray: Radical Romantics
Frankie Rose: Love As Projection
Godcaster: Godcaster
H. Hawkline: Milk for Flowers
Lana Del Rey: Did You Know That There's a Tunnel Under Ocean Blvd
Lonnie Holley: Oh Me Oh My
Meet Me @ the Alter: Past/Present/Future
Miley Cyrus: Endless Summer Vacation
Rival Sons: Darkfighter
Scree: Jasmine on a Night in July
Shalom: Sublimation
Shana Cleveland: Manzanita
Sleaford Mods: UK Grim
The Nude Party: Rides On
The War and Treaty: Lover's Game
Van Morrison: Moving On Skiffle
Staff Pick | Lonnie Holley: Oh Me Oh My
Alabama visual artist and musician Lonnie Holley has a new album on the way. Oh Me Oh My comes out March 10th on Jagjaguwar, and the first single "Oh Me Oh My," featuring R.E.M.'s Michael Stipe is already out. Following his 2018 debut MITH—one of Paste's best albums of that year—Oh Me Oh My features several collaborators beyond Stipe, including Sharon Van Etten on "None of Us Have But a Little While," Bon Iver's Justin Vernon on "Kindness Will Follow Your Tears," Moor Mother on two tracks and Rokia Koné on "If We Get Lost They Will Find Us." Produced by Jacknife Lee (R.E.M., The Cure, Modest Mouse), Oh Me Oh My focuses Holley's stream-of-consciousness lyrics over gorgeously layered droning instrumentation. "The deeper we go," he sings on the title track, "the more chances there are, for us to understand the oh-me's and understand the oh-my's." —Josh Jackson
March 15
Aly & AJ: With Love From
March 17
100 Gecs: 10,000 Gecs
All Time Low: Tell 'Em I'm Alive
Black Honey: A Fistful of Peaches
Doug Paisley: Say What You Like
M83: Fantasy
Say Hi: Elecrocution Prattle
Sonny Rollins: Go West!: The Contemporary Records Albums
T-Pain: On Top of the Covers
The Cash Box Kings: Oscar's Motel
The Lost Days: In the Store
U2: Songs of Surrender
Unknown Mortal Orchestra: V
Yves Tumor: Praise a Lord Who Chews But Which Does Not Consume; (Or Simply, Hot Between Worlds)
Staff Pick | M83: Fantasy
French electronic legends M83 are back for their first full-length album since 2019's DSVII. Fantasy was recorded over the past two years by Anthony Gonzalez, Joe Berry and Justin Meldal-Johnsen after wanting to make a record that felt like a room of musicians jamming. Lead single "Oceans Niagara" is atmospheric, gentle and sprawling. "I wanted to create this sense of friendship. Listening to that song, I imagine people running, driving fast, or riding spaceships together," Gonzalez said about the single. "It's this sense of going forward, like a magic potion that you take to discover new worlds." The fusion of synthesizers and guitars serves as a callback to the band's great 2005 album Before the Dawn Heals Us. After celebrating the 10th anniversary of their seminal album Hurry Up, We're Dreaming in 2021, M83 aims to further solidify their places among the echelons of dream pop on Fantasy. —Matt Mitchell
March 24
Caroline Rose: The Art of Forgetting
Darren Jesse: Central Bridge
Debby Friday: GOOD LUCK
Depeche Mode: Memento Mori
Fall Out Boy: So Much (For) Stardust
Kate Davis: Fish Bowl
Katie Melua: Love & Money
Kele: The Flames Pt. 2
Matt Corby: Everything's Fine
Nickel Creek: Celebrants
Yours Are the Only Ears: We Know the Sky
Staff Pick | Nickel Creek: Celebrants
After an extended hiatus that saw all three of its members reaching new heights of acclaim in the music industry, Americana/bluegrass supergroup Nickel Creek has reunited to release and tour on their first new album in nine years. The group announced the release of Celebrants, out March 24 via Thirty Tigers.. Since releasing their last album, 2014's A Dotted Line, each member of Nickel Creek has been constantly busy. Thile hosted American radio variety show Live From Here (formerly A Prairie Home Companion) from 2016-2020, until the show concluded. Sean Watkins released solo material and recorded with fellow Nickel Creek member Sara Watkins in the sibling project Watkins Family Hour. And Sara may have been the most dizzyingly active of all, working on the aforementioned sibling duo, along with Grammy-winning roots trio supergroup I'm With Her, alongside Aoife O'Donovan and Sarah Jarosz. She's likewise recorded in recent years with everyone from Phoebe Bridgers to The Killers. Celebrants, meanwhile, apparently "explores the inherent dynamics of human connection," according to the band, across a surprisingly lush 18 tracks that "address love, friendship and time with lyrics both poetic and plain-spoken, as they see bridges built, crossed, burned and rebuilt." The album was recorded at Nashville's RCA Studio A, where the band will return to debut the new material with three "very special" sold-out shows at the historic Ryman Auditorium on April 27, 28 and 29. Additional tour dates will be announced soon. —Jim Vorel
March 31
Alberta Cross: Sinking Ships
Barrie: 5K (EP)
Boygenius: The Record
City and Colour: The Love Still Held Me Near
Deerhoof: Miracle Level
Eddie Chacon: Sundown
James Holden: Imagine This Is a High Dimensional Space of All Possibilities
Michigander: It Will Never Be the Same (EP)
Murray A. Lightburn: Once Upon a Time in Montreal
Nick Waterhouse: The Fooler
PACKS: Crispy Crunchy Nothing
Peter Case: Doctor Moan
Samiam: Stowaway
Scott McMicken: SHABANG
The Hold Steady: The Price of Progress
The New Pornographers: Continue As Guest
The Zombies: Dropped Reeling & Stupid
Wild Child: End of the World
Staff Pick | Boygenius: The Record
Back in 2018 a trio of beloved singer/songwriters announced a new supergroup. Julien Baker, Phoebe Bridgers and Lucy Dacus had united to become boygenius, releasing a self-titled six-song collection that Paste named that year's best EP. If we complained that it's only (forgivable) flaw was that it was too short, the trio has just announced it'll be righting that wrong with a full-length album, the record, coming out on Interscope Records. The album was produced by Baker, Bridgers and Dacus, along with Catherine Marks, and recorded at Shangri-la Studios in Malibu, Calif., over a month of 10-hour days of writing and re-writing and recording an unfathomable number of guitar parts. The album announcement comes with the release of the first three singles: Baker wrote "$20," the hardest-hitting of the trio of new tracks. "In another life we were arsonists," she sings, as they all seem to set virtual fire to their instruments. It's a joy to hear boygenius turn it up to 11 as the song crescendos with a chorus of singing and shouting and shredding and beating holes into the drums. "Emily I'm Sorry," on the other hand is a lovely Bridgers-penned ballad. The harmonies and counter-singing on the chorus are a wonderful reminder of why we loved this particular supergroup. The three friends complement each other so well, adding a musical complexity to the most straight-forward songs. Dacus wrote and takes lead on "True Blue." "I can't hide from you like I hide from myself," she sings. "I remember who I am when I'm with you / Your love is tough, your love is tried and true blue." The care and craft of a month in the studio comes through beautifully in this soaring anthem built on top of atmospheric guitar that gives weight to the sisterly love she celebrates. —Josh Jackson
April 7
Blondshell: Blondshell
Daughter: Stereo Mind Game
Devon Gilfillian: Love You Anyway
Jana Horn: The Window Is the Dream
Matthew Logan Vasquez: As All Get Out
Mudhoney: Plastic Eternity
Overcoats: Winner
Ruston Kelly: The Weakness
Wednesday: Rat Saw God
Yaeji: With a Hammer
Staff Pick | Wednesday: Rat Saw God
Asheville rockers Wednesday have returned with their fifth studio album, Rat Saw God. It's the band's first project of new music since Twin Plagues in 2021, though they released a record of covers, Mowing the Leaves Instead of Piling 'em Up last year. Twin Plagues established Wednesday as a premiere rock band unafraid of mixing the soft and the loud. Kicked off by the heavy, sprawling, eight-minute single "Bull Believer," Wednesday are proving why Rat Saw God is one of the most-anticipated albums of 2023. The track covers an entire country of sounds, pointing to Wednesday's continued growth as a collective. The production is tight, the guitar work is immense and Karly Hartzman's vocals are aweing. Hoping to build on the successes of their past two records, along with guitarist MJ Lenderman's acclaimed 2022 solo effort Boat Songs, Wednesday are back with a well-curated vengeance. —Matt Mitchell
April 14
Bodywash: I Held the Shape While I Could
El Michels Affair & Black Thought: Gloriuos Game
Feist: Multitudes
Fenne Lily: Big Picture
Fruit Bats: A River Running to Your Heart
John Vanderslice: CRYSTALS 3.0
Kid Koala: Creatures of Late Afternoon
Metallica: 72 Seasons
Natalie Merchant: Keep Your Courage
Temples: Exotico
The Tallest Man on Earth: Henry St.
The Wood Brothers: Heart Is the Hero
Staff Pick | Fenne Lily: Big Picture
Bristol-born musician Fenne Lily's third album Big Picture is one of the best forthcoming singer/songwriter projects on the docket in 2023. A follow-up to 2020's BREACH, Big Picture is beautiful and tender, brimming with sharp lyricism and storytelling. The album was mixed by Jay Som's Melina Duterte and some of the songs were done with contributions from Christian Lee Huston and Katy Kirby. Headlined by the mystical lead single "Lights Light Up," Lily, again, is showcasing why she is one of the brightest songwriters we've got right now. "Lights Light Up" features a hypnotizing, supple guitar part paired with a well-paced snare drum. "We held each other while everything burned up 'round us / And inside of me, too / That's called love," Lily sings on the track. Big Picture is a detour from Lily's tales of retrospect on BREACH, as she fills the tracklist with vivid imagery of the present, sketching out a novela-in-song about two people doing whatever they can to keep their heads above water. "Writing this album was my attempt at bringing some kind of order to the disaster that was 2020," Lily said of the album in a statement. "By documenting the most vulnerable parts of that time, I felt like I reclaimed some kind of autonomy." Big Picture is a confident catalog of love amid a mirage of unanswerable questions and doubts. —Matt Mitchell
April 21
Cinder Well: Cadence
Esther Rose: Safe to Run
Everything But The Girl: Fuse
Ian Hunter: Defiance Part 1
Rodrigo y Gabriela: In Between Thoughts… A New World
Silver Moth: Black Bay
The Smashing Pumpkins: Atum
St. Paul & the Broken Bones: Angels in Science Fiction
The Heavy: Amen
The Infamous Stringdusters: A Tribute to Flatt & Scruggs
Trapper Schoepp: Siren Songs
Staff Pick | Rodrigo y Gabriela: In Between Thoughts… A New World
Mexican guitar virtuosos Rodrigo Sánchez and Gabriela Quintero are back with their first album in four years. The duo produced the upcoming album, In Between Thoughts… A New World, at their studio in Ixtapa and sees them "expanding their traditional approach to include inventive electronic and orchestral elements." The first single, "Descending To Nowhere" boasts an irresistible groove that builds and ebbs as it showcases delicious electric licks and the promised orchestral swells. Watch the animated video below. —Josh Jackson
April 28
Braids: Euphoric Recall
Country Westerns: Forgive the City
Inigo De Souza: All of This Will End
Jesse Ware: That! Feels! Good!
JFDR: Museum
Joseph: The Sun
Neil Gaiman and FourPlay String Quartet: Signs of Life
Smokey Robinson: Gasms
The Damned: Darkadelic
The National: First Two Pages of Frankenstein
Tim Hecker: No Highs
Zoon: Bekka Ma'ingan
Staff Pick | The National: First Two Pages of Frankenstein
For the first time in four years, Brooklyn rock band The National have returned with new music. First Two Pages of Frankenstein, the follow-up to the band's critically acclaimed 2019 record I Am Easy To Find, will arrive on April 28 via 4AD. The record will be the National's ninth studio album since their self-titled debut in 2001 and will feature guest appearances from Sufjan Stevens, Phoebe Bridgers and Taylor Swift. First Two Pages of Frankenstein serves as the band's first new music since their 2021 single "Weird Goodbyes," which featured vocals from Bon Iver. The first single teased from First Two Pages of Frankenstein, "Tropic Morning News," points to the National taking an upbeat direction akin to their 2013 project Trouble Will Find Me. With glittering guitars, atmospheric synths and Matt Berninger's sprawling vocals, "Tropic Morning News" is an amalgamation of everything that makes a perfect National song work: fine-tuned arrangements, contemplative yet vulnerable lyrics from Berninger and a great, soul-awakening Aaron Dessner guitar part. —Matt Mitchell
May 5
Atmosphere: So Many Realities Exist Simultaneously
Bailen: Tired Hearts
Gord Downie & Bob Rock: Lustre Parfait
Jonas Brothers: The Album
Nanna: How to Start a Garden
The Album Leaf: Future Falling
The Lemon Twigs: Everything Harmony
Westerman: An Inbuilt Fault
Staff Pick | Nanna: How to Start a Garden
On the heels of "Godzilla," her first single released as a solo artist, Of Monsters and Men's Nanna has a new track out, "Crybaby," both off her upcoming album How to Start a Garden. The Icelandic singer/songwriter wrote all 11 songs from the album outside of her hometown of Reykjavik, in a small cabin, where she spent some time by herself. "'Crybaby' is one of the first songs I wrote for the album," Nanna says via email. "I needed some space, so I went up to my cabin to spend time alone. I remember lying on my floor playing the guitar and feeling a bit sorry for myself. It felt dramatic and then when I caught myself being so serious it felt a bit funny. So, I called the song 'Crybaby' as a way of laughing at myself. I recorded it with [The National's] Aaron Dessner who co-produced the track, in his Long Pond studio and then finished working on it and in Iceland." The song opens with droning notes from what sounds like an old hollow-body electric and Nanna singing, "Do you love me? / I can take it / Do you think we / Can somehow make it?" It immediately picks up and continues to build like the best songs from her band. But Nanna carries this track, dancing wildly in a strange community-center-like bar under fluorescent lights of the video. "I don't have a problem with being alone," she proclaims in the song, and it would seem she's telling the truth. Her first forays into a solo career are promising, with more music to come. —Josh Jackson
May 12
BC Camplight: The Last Rotation of Earth
Cattle Decapitation: Terrasite
Esban and the Witch: Hold Sacred
Eluvium: Whirring Marvels In) Consensus Reality
Overmono: Good Lies
Pete Francis: PTRN SKY!
May 19
Alex Lahey: The Answer Is Yes
Allie Crow Buckley: Utopian Fantasy
Dave Matthews Band: Walk Around the Moon
Graham Nash: Now
Hannah Jadagu: Aperture
Mega Bog: End Of Everything
Robert Ellis: Yesterday's News
Temps: Party Gator Purgatory
Staff Pick | Mega Bog: End Of Everything
Idaho experimentalist Erin Birgy, aka Mega Bog, is back with one of her best songs ever. "The Clown," the lead single off of her seventh record End of Everything, is a perfect piece of synth rock. The arrangements are mesmerizing, concise and immense. The track is apocalyptic yet beautiful, as Birgy makes sense of perspective in a relationship, examining how roles have shifted. '"'The Clown' is about the terrible, sensual, and chaotic release of merging one's own multitudes, showing love to the darkness and insecurities, having curiosity about what is beyond presumed perceptions—surrendering to the uncontrollables, while nourishing the small statues of what we do have control over within ourselves," Birgy said in a statement. It cannot be understated how funny "The Clown" is, too. Birgy is on another songwriting level here, penning verses that aren't weighed down by wordiness. "Met a young man who said / 'You are everything' / And gave me everything / But I really scared him / Because all I talk about with him is / Beheading young men," she sings. "The Clown" is playful, sublime and colorful. Turmoil is clearly on Birgy's mind. Lucky for us, she's translated it into something wonderfully digestible. We are in Birgy's shoes, feeling what she feels, dancing cautiously as the world relentlessly curls inward. —Matt Mitchell
May 26
AJJ: Disposable Everything
Arlo Parks: My Soft Machine
Miya Folick: Roach
Sparks: The Girl Is Crying in Her Latte
Staff Pick | Arlo Parks: My Soft Machine
After a year spent touring with Harry Styles, Clairo and Billie Eilish, among others, Arlo Parks' sophomore album, My Soft Machine, the awaited follow-up to her Grammy-nominated debut Collapsed in Sunbeams, is finally on the horizon. With a title lifted from Joanna Hogg's 2019 film The Souvenir, Parks is aiming to reckon with the highs and lows of her 20s. "This record is life through my lens, through my body—the mid-20's anxiety, the substance abuse of friends around me, the viscera of being in love for the first time, navigating P.T.S.D. and grief and self-sabotage and joy, moving through worlds with wonder and sensitivity—what it's like to be trapped in this particular body," Parks said of My Soft Machine in a statement. Lead single "Weightless" is a fit of electronic joy that puts Parks' soft vocals on a pedestal at the track's forefront, a trend that continues across the singer-songwriter's entire record. —Matt Mitchell
June 2
Ben Folds: What Matters Most
Jack Johnson: In Between Dub
Jake Shears: Last Man Dancing
Noel Gallagher's High Flying Birds: Council Skies
RVG: Brain Worms
Sophie Ellis-Bextor: HANA
The Aces: I've Loved You for So Long
Staff Pick | Ben Folds: What Matters Most
After eight years, Ben Folds returns with a new album What Matters Most. The multi-talented singer/songwriter, musician and composer from North Carolina first found success as the frontman and pianist of the alternative rock trio Ben Folds Five in the late '90s, and followed that a decade later as a solo artist. His versatile approach to writing and composing, along with performing arrangements of his music with symphony orchestras and a cappella groups, has led to a varied career that includes an impressive 20-minute concerto with the Nashville Symphony in collaboration with yMusic. The first single from the album, "Winslow Gardens," is a light, springy tune backed by his iconic keys. The lyrics hint at a couple going away for a trip and finding themselves in that place much longer than expected. Ten weeks turns to ten years, while it all feels like just ten minutes—you lose track of time as small routines with your loved ones become the only things that matter. The swirling, repetitive melody at the end of the chorus, "You started all over / We've started all over again," makes you feel like you're in a that time loop with the characters—and it's not particularly a bad feeling, but a comforting one. —Rayne Antrim
June 6
Drew Holcomb & The Neighbors: Strangers No More
June 9
Dream Wife: Social Lubrication
Feeble Little Horse: Girl with Fish
Jason Isbell and the 400 Unit: Weathervanes
Nicolas Allbrook: Manganese
Squid: O Monolith
The Boo Radleys: Eight
The High Water Marks: Your Next Wolf
Youth Lagoon: Heaven Is a Junkyard
Staff Pick | Jason Isbell and the 400 Unit: Weathervanes
Jason Isbell is back with a new album, Weathervanes, his sixth with his Muscle Shoals band the 400 Unit—Sadler Vaden, Jimbo Hart, Derry deBorja and Chad Gamble—and his ninth overall since leaving the Drive-By Truckers. The band released the first single "Death Wish" from the new album, written and produced by Isbell and due out June 9 via Southeastern Records/Thirty Tigers. "Did you ever love a woman with a death wish / Something in her eyes like switching off a light switch," he sings to open the driving Southern rock song with beautiful strings by Morgan O'Shaughnessey. "Everybody dies but you gotta find a reason to carry on." The song flips the script on Isbell's own experience reaching rock bottom with alcohol and drugs in 2012 and finding support and intervention from those who loved him. Written and produced by Isbell and recorded at Nashville's Blackbird Studio, the album features Isbell's wife Amanda Shires, harmonicist Mickey Raphael, Sylvia Massy, Ian Rickard and O'Shaughnessey. —Josh Jackson
June 16
Bonny Doon: Let There Be Music
Django Django: Off Planet
Maisie Peters: The Good Witch
Staff Pick | Bonny Doon: Let There Be Music
Detroit indie-rockers Bonny Doon have a new album on the way. Let There Be Music will drop on June 16th on Anti- Records, and the first single, "Naturally," is already available. The first release since the band's pair of albums in 2017 and 2018 comes after guitar/vocalists Bill Lennox and Bobby Colombo joined Waxahatchee to play on her album Saint Cloud and join her on tour. Then the band was sidelined because of health—drummer Jake Kmiecik suffered complications from his Crohn's disease and Colombo dealt with a brain injury and Lyme disease. It's great to have the trio back making music again, and lead single "Naturally" shows that they've only improved as they've taken time for healing. The chill vibe is elevated by tasty understated guitar and keys. "There's a lot to talk about," Lennox sings, "and we'll let it happen naturally." —Josh Jackson
June 23
Jason Mraz: Mystical Magical Rhythmical Radical Ride
Lloyd Cole: On Pain
June 30
bdrmm: I Don't Know
TBA
A$AP Rocky: Don't Be Dumb
Azealia Banks: Fantasea II: The Second Wave
Bat For Lashes: The Dream of Delphi
Beyoncé: Act II & Act III
Danny Brown: Quaranta
Diddy: No Way Out 2
Grimes: BOOK 1
GZA: Dark Matter
J. Cole: It's a Boy
Janet Jackson: Black Diamond
Jennifer Lopez: This Is Me… Now
Mac Ayres: Comfortable Enough
Meek Mill: Dream Catching
Morrissey: Bonfire of Teenagers
Playboi Carti: Music
Rihanna: R9
Sky Ferreira: Masochism
Snoop Dogg: Missionary
Sum 41: Heaven and Hell
Swans: Is There Really a Mind?
Wesley Joseph: Glow