10 New Albums to Stream Today
Photos by Ryan Back, Joost Vandebrug, Eric Timothy Carlson & Graham Tolbert
Music
Lists
New Albums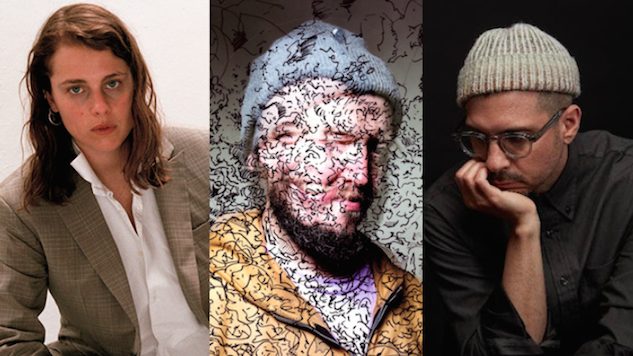 This Friday (Aug. 9) brings highly-anticipated albums from Bon Iver, Marika Hackman, Ra Ra Riot and more, plus hidden gems from Che Apalache, Gaffa Tape Sandy and G&D. Whether you're looking for synth-pop, bluegrass, funk or indie, this week has an album for you. Scroll down to stream 10 notable new records from this New Music Friday.
1. Bon Iver: i,i
One of Paste's most-anticipated albums of August, i,i is the fourth studio album from Justin Vernon's increasingly experimental indie-folk project, their first since 2016's acclaimed 22, A Million. The album completes a seasonal cycle that began in winter with For Emma, Forever Ago, stretching on through spring (Bon Iver) and summer (22, A Million), before finally culminating in the autumn of i,i. Fans have speculated that this new album will be Bon Iver's last—if true, it would be quite a way to go out. —Scott Russell
2. Che Apalache: Rearrange My Heart
Che Apalache is something of a Latin American supergroup with members from Argentina (guitarist Franco Martino and mandolinist Martin Bobrik) and Mexico (banjoist Pau Barjau). Produced by Béla Fleck, Rearrange My Heart is a musical melting pot—you're just as likely to hear flamenco as gospel music and Uruguayan murga as knee-slapping old-time. —Ellen Johnson
3. Electric Youth: Memory Emotion
Synth-pop duo Electric Youth (aka multi-instrumentalist Austin Garrick and vocalist Bronwyn Griffin) had a breakthrough with their soundtrack for Nicolas Winding Refn's 2011 film Drive, which was followed by their 2014 debut album Innerworld. Their second full-length Memory Emotion features rare and original synths like the Yamaha-CS80, Lexicon 224 and their self-made B48 (which houses 624 individual samples of Griffin's voice). —Lizzie Manno
4. Gaffa Tape Sandy: Family Mammal
Featuring the unfathomably catchy "Headlights" and stomping "So Dry," English pop/rock trio Gaffa Tape Sandy have unveiled their second EP Family Mammal. The EP features twin lead vocals from guitarist and singer/songwriter Kim Jarvis and bassist Catherine Lindley-Neilson, and it meshes their sweet, instantaneous melodies with emotionally heavy lyrics. —Lizzie Manno
5. G&D: Black Love & War
Georgia Anne Muldrow and Dudley Perkins (aka Declaime) have teamed up for their third album under the name G&D. Black Love & War is a reflection of the turbulent times we live in and the tragedy and cruelty that led us to this spot in history. With their trademark blend of '70s funk and West Coast G-funk, the duo produce a rich, psychedelic sound in a fluid front of upbeat tracks steeped in the throes of modern-day despair. —Christine Fernando
6. Infinity Crush: Virtual Heaven
Infinity Crush, the indie-pop moniker of North Carolina's Caroline White, dropped a new album featuring the stirring lead single, "Misbehaving." For the new record, Virtual Heaven, White teamed with her dear friend Jordan Bleau, who provides backing vocals on "Misbehaving." It was her first time recording in a studio, she says, explaining in a statement that it was "the most fulfilled I've ever felt after making an album. It was pretty emotional for me to have the resources to really create the best thing I could make." —Harry Todd
7. Marika Hackman: Any Human Friend
Marika Hackman, the folk artist turned synth-rock darling, cares only for the female gaze—the queer female gaze, that is, and more specifically, her own. Any Human Friend—a treasure trove of zippy guitar hooks, glimmering synths and lemony vocals expertly curated by Hackman—is all about human connection. She hones in on her emotional and sexual connections both to herself and others post-breakup. —Clare Martin
8. Ra Ra Riot: Superbloom
Indie rockers Ra Ra Riot released their fifth studio album, Superbloom, which features the singles "Flowers," "Bad To Worse" and "This Time Of Year." The band worked with some outside writers and producers on the LP including their longtime friend Rostam (Vampire Weekend, Clairo, Maggie Rogers, HAIM) who co-wrote and produced "Bad to Worse" and "Flowers." —Lizzie Manno
9. The Regrettes: How Do You Love?
How Do You Love? details the "rise and fall of a relationship—from that first rush of butterflies, through a destructive break-up, to ultimately finding peace and closure," according to a press release. 18-year-old frontwoman Lydia Night wrote most of the lyrics for the album, and took inspiration from her own real-life relationships. —Molly Schramm
10. WHY?: AOKOHIO
WHY?, the moniker for Midwestern indie rock/hip-hop singer/songwriter Yoni Wolf, released their new visual album AOKOHIO, which stars Emmy-winning actress Tatiana Maslany (Orphan Black) and was directed by Sundance Dramatic Special Jury Award-winner Miles Joris-Peyrafitte and James Siewert. It features collaborators like Lala Lala's Lillie West and both members of Sylvan Esso and contains themes of familial anxieties and nostalgia. —Lizzie Manno