The 10 Albums We're Most Excited About in October
This month is almost too good to be true.
Photo by Tom Keelan
Music
Lists
New Albums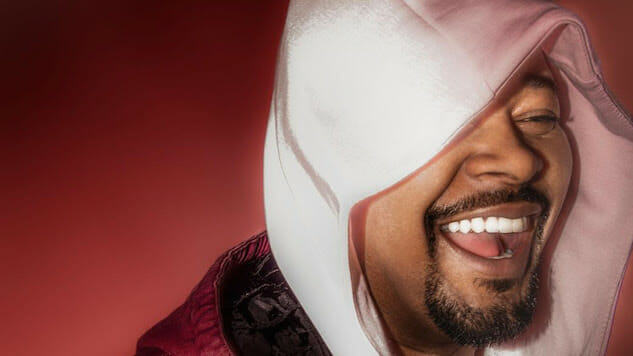 Next to these 10 albums, we could throw in candy corn, seasonal spooking and temps below the mid-90s as things we're excited about in October. The first full month of autumn is finally upon us, and what tends to be a heavy month for music releases is likely going to live up to its reputation. October is top-heavy with new Angel Olsen, Danny Brown, Wilco and Nick Cave and more arriving in the first week. During the second half, we'll dig our fangs into a highly anticipated new record from FKA Twigs, plus new Vagabon, Grace Potter and Mikal Cronin. In other words, October 2019 is all treats, no tricks.
October 4
Angel Olsen: All Mirrors
Jagjaguwar
Olsen still deals with bad partners on her fourth album, All Mirrors, but this time around, she escapes their destruction and finds not just happiness, but catharsis. She narrates her journey alongside a 14-piece orchestra, with string co-arrangement from Ben Babbitt and conductor-arranger Jherek Bischoff (and co-production from the ever-busy John Congleton, who also co-produced her Burn Your Fire for No Witness). Her newfound embrace of violins, violas and cellos elevates her shadowy, often synth-infused rock to extraordinarily goosebump-inducing heights, making All Mirrors her third consecutive (and likely best) masterpiece to date. —Max Freedman
Danny Brown: uknowhatimsayin¿
WARP
"'Cause ain't no next life, so now I'm tryna live my best life," Danny Brown raps on uknowhatimsayin¿'s second single, and it's pretty clear he's trying his damn hardest to do so. Now an Eric Andre-esque host on his own Viceland talk show, Danny's House, Brown has cast aside the impenetrable industrial beats from 2016's Atrocity Exhibition for something more soulful and joyful, yet another indication that he's in a better place than ever before. But regardless of where his head is, Brown is still rap's resident weirdo, hilarious and creative as ever, simultaneously able to air out his "Dirty Laundry" and play a violent cab driver in the song's laugh-out-loud corresponding music video. Throw in the fact that uknowhatimsayin¿ features production from Q-Tip, Flying Lotus, Thundercat, Standing on the Corner and JPEGMAFIA, and we might have one of the best major rap releases in a year full of disappointing ones. —Steven Edelstone
DIIV: Deceiver
Captured Tracks
Brooklyn shoegazers DIIV made a huge splash in indie rock circles and among critics with their two full-lengths—2012's Oshin and 2016's Is the Is Are—but the band eventually came to a grinding halt as a result of frontman Zachary Cole Smith's struggles with drug addiction, which led him to seek treatment. Described as a "soundtrack to personal resurrection," Deceiver is their first new album in four years and their first completely collaborative record with the entire band arranging every track. Inspired by the dark undertones of artists like Unwound, Elliot Smith and True Widow, DIIV recruited producer Sonny Diperri (My Bloody Valentine, Nine Inch Nails, Protomartyr) to create something more brooding. The steamy, filthy chug of the guitars on "Horsehead" and "Like Before You Were Born" set the tone for a much headier sound. Channelling the richness of Swevedriver, the sludge of Deafheaven and the tender harmonies of Nothing, DIIV have never sounded as musically scorched and emotionally renewed. "On Deceiver, I'm talking about working for the relationships in my life, repairing them, and accepting responsibility for the places I've failed them," Cole says. "I had to reapproach the band. It wasn't restarting from a clean slate, but it was a new beginning." —Lizzie Manno
Nick Cave and The Bad Seeds: Ghosteen
Ghosteen Ltd
Over the past 18 years, Metacritic has been carefully aggregating album review scores from critics around the world. They paint an interesting picture, one that can illustrate what widespread critical acclaim actually looks like and give a definitive number to virtually every record released with any fanfare whatsoever over the last 20 years. Nick Cave & The Bad Seeds' most recent album—2016's heartbreaking Skeleton Tree, written largely about the death of Cave's teenage son, Arthur—scored a 95 and tied for the number six best-reviewed album in the site's history with Kendrick's DAMN., OutKast's Stankonia and D'Angelo's revelatory comeback record, Black Messiah. It's even ranked higher than best of the decade contenders My Beautiful Dark Twisted Fantasy, Lemonade, and channel ORANGE. We know next to nothing about Cave's newest album, Ghosteen, announced only last week via his brilliant Red Hand Files newsletter, but if Skeleton Tree—as well as virtually anything else from his massive and accomplished back catalog—is anything to go off of, we might have a late album of the year entry on our hands. —Steven Edelstone
San Fermin: The Cormorant I
Sony Music Masterworks
There are few songwriters today enacting grandiose music centered on literary symbolism and fantasy worlds that mirror a sense of self. Highly specific, I know. But the Decemberists' Colin Meloy comes to mind as perhaps the finest example of this, and San Fermin's Ellis Ludwig-Leone isn't too far behind. For San Fermin's fourth LP, The Cormorant I, Ludwig-Leone stole away to Iceland to write the first of two full-length albums that together weave into a mystical full circle tale. "I was thinking a lot about how memories change over time—the stories you tell yourself and the actual events aren't always in synch," Ludwig-Leone said of the band's first album for Sony Music Masterworks. The complete horns, strings and drum baroque pop ensemble of San Fermin make the Brooklyn group one of the most consistently riveting live bands out there. There's also a new cast of female lead singers alongside male lead Allen Tate, including gorgeous vocals from the emerging Samia on single "The Hunger." —Adrian Spinelli
Wilco: Ode to Joy
dBpm
Maybe this is the half-baked opinion of someone who wasn't around to see and hear their entire rise to indie stardom, but Wilco have never made a bad album. From Being There to Star Wars, Wilco's music has fluctuated, but rarely faltered. So gearing up to listen to the rock band's latest and 11th studio album, Ode to Joy, left me less with concerns about whether or not it'll be good music and more with what kind of music it will be. The answer? Political music, feathered with folk influences and Jeff Tweedy's characteristically sound lyrical ideas. Distinct drum beats and mathematic percussion, what could be a career triumph for drummer Glenn Kotche, guide the entire album, like soldiers marching to battle or peaceful players sharing air in a drum circle. The equation results in larger-than-life soft rock full of both grand ideas about the state of our world and small musings about matters of the heart. Oh, and it's pretty good, too. —Ellen Johnson
More notable October 4 releases: Lisa Prank: Perfect Love Song, The Avett Brothers: Closer Than Together, Alexa Rose: Medicine For Living, Kelsey Waldon: White Noise, White Lines, City and Colour: A Pill For Loneliness, North Mississippi Allstars: Up and Rolling, that dog.: Old LP
October 11
Big Thief: Two Hands
4AD
One of the most critically-acclaimed bands of the last few years is back with their second album of 2019. Big Thief's latest album U.F.O.F.—arguably their best—dropped this past May, and they've already readied a follow-up. Two Hands is described in a press release as "the earth twin" to their last LP, which was dubbed "the celestial twin." Just after they finished recording U.F.O.F. in a cabin in Washington state, they headed to Texas near the Mexican border, surrounded by 3,000 acres of pecan orchards, to make Two Hands. So far, we've heard two selections from it: "Not" and "Forgotten Eyes." "Not" is delivered like an internal monologue, with lead vocalist Adrianne Lenker grasping for a description of a feeling that moves her while fried guitars cry out with painful urgency. The affectionate, acoustic "Forgotten Eyes" is similarly primal and sentimental as Lenker bears her heart for anyone who needs it, unimpeded by the occasional ambient whooshes that characterized their last album. "U.F.O.F. is meant to be more focused on the immeasurable, sort of suspended ethereal playing with textures and colors and layering in the production, staring out into the abyss," Lenker told Stereogum. "And Two Hands is more the micro, zooming into the blood and tissue and guts of being a human, the raw, bare, naked bones, not much layering, capturing just our performances in the room, just very dry, no reverbs, just skin and flesh and human, finite, physical." —Lizzie Manno
More notable October 11 releases: Kim Gordon: No Home Record, Bodega: Shiny New Model EP, Cursive: Get Fixed, The Devil Wears Prada: The Act, Ruston Kelly: Dirt Emo Vol. 1, Devon Welsh: True Love, Allah Las: LAHS
October 18
Vagabon: Vagabon
Nonesuch
Following her 2017 debut Infinite Worlds, Vagabon (aka Laetitia Tamko) became one of the most distinct voices in indie rock. Her husky alto is warm and unforgettable. Now add indie pop to that faction of genres. Her next album, a self-titled effort, breezes through synthy breakdowns and horn numbers with ease, never content to be just one thing. Tamko's voice remains each song's focal point, especially on the bouncing pop numbers, but the album as a whole feels most like a low-lit mood. Hypnotic and transportive, Vagabon feels even more like Tamko's arrival than her warmly received debut. —Ellen Johnson
More notable October 18 releases: Caroline Polachek: Pang, The Milk Carton Kids: The Only Ones, Hovvdy: Heavy Lifter, Jimmy Eat World: Surviving, Sufjan Stevens: The Decalogue, White Reaper: You Deserve Love, Corridor: Junior, Common Holly: When I say to you Black Lightning
October 25
FKA twigs: Magdalene
Young Turks
When FKA twigs burst onto the scene in 2014 with LP1, she was widely seen as one of the most groundbreaking new artists in quite some time. The British act molded pop music into her own singular image, pumping out music that barely resembled anything anyone had heard before. Combine that with her extremely artsy and gorgeous music videos, and it seemed like FKA twigs was about to take over the world. After years of tinkering and failing health, the English singer finally returns with Magdalene, her sophomore full-length and first in five years. FKA twigs gave us the first taste with "Cellophane," a stunning and devastating piano ballad co-written with Nicholas Jaar, but its follow-up, the Future-featuring single "holy terrain," showcases an entirely different side of FKA twigs altogether. It's a mainstream pop track that rivals the best of the chart-toppers at the moment. The rest of Magdalene falls somewhere in the middle, and it's easily one of the best pop records of 2019. —Steven Edelstone
Teebs: Anicca
Brainfeeder
For the past five years, Teebs has been a sleeping giant of sorts for Brainfeeder Records. The producer has been a staple in the L.A. beat scene for the better part of the past decade and he'll finally re-emerge with Annica, his first record since 2014's masterfully trippy E s t a r a. Right off the bat, the collaborations stand out on this one. Lead single "Studie," which features Panda Bear's Noah Lennox on vocals atop Teebs' bubblicious drum beat, is primed for a psychedelic music video à la Panda Bear's "Boys Latin." The full features list includes some of the most on-the-pulse artists in L.A.: composer Miguel Atwood-Ferguson, R&B singer Anna Wise, vocalist and violinist Sudan Archives, beatminder MNDSGN and more. It takes a singular force to bring all of this talent together, and with Teebs at the helm, Annica has all the makings to be the next great album to emerge from the L.A. beat scene. —Adrian Spinelli
More notable October 25 releases: Mikal Cronin: Seeker, Grace Potter: Daylight, Neil Young and Crazy Horse: Colorado, Cigarettes After Sex: Cry, King Princess: Cheap Queen, Michael Kiwanuka: KIWANUKA, Black Marble: Bigger Than Life, Great Grandpa: Four of Arrows, Iguana Death Cult: Nude Casino