10 New Albums to Stream Today
Lucy Dacus wishes you Happy Holidays, FKA twigs returns, Pond jams out and more
Photos by Rin-san Jeff Miller, Elizabeth Weinberg & Matthew Stone
Music
Lists
New Albums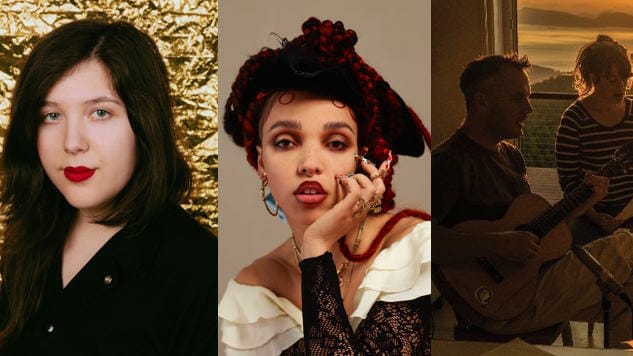 Huzzah! The first week of November is behind us, and that means some folks (not me) have been blasting Mariah Carey's "All I Want For Christmas Is You" for a full seven days now and are probably planning to deck their halls with holiday decorations this weekend (definitely not me), if they haven't already. Nothing against Christmas—I'm just here to fight on Thanksgiving's behalf. Since I'm shelving the carols for a few more weeks, that means I have even more time to dig for new music. Sound like you? 2020 is in sight and album releases are slowing significantly, but there are still plenty of jewels if you know where to look. For all the best new albums out today (Nov. 8), keep scrolling. There's a ton of great stuff out this week, including the long-awaited sophomore LP from FKA twigs and a new Mount Eerie project.
1. Bishop Briggs: Champion
The implied toughness of Bishop Briggs' name suits her well for the performative strength expressed throughout her new album, CHAMPION. The record matches strutting, declarative percussion with the swelling choral elements of arena rock, layering both on a throughline of vulnerability. There's a sobering badassery in Briggs' marriage of aesthetic and naked self-exploration, the kind that invites a listening audience to bop their heads while doing soul-searching of their own, even if only on a subconscious level. Realizing personal introspection with the album blaring at the same time is a challenge: If CHAMPION can be distilled into a single word, that word is "loud," whether in decibels or overdetermined wordplay.—Andy Crump
2. Charles Rumback & Ryley Walker: Little Common Twist
In-demand Chicago studio drummer Charles Rumback and singer/songwriter/Twitter aficionado/unabashed Dave Matthews fan Ryley Walker banded together to make Little Common Twist, a new collaborative record they recorded over the course of 2017 and 2018 with producer John Hughes. This is the pair's second release together, following 2016's Cannots. —Ellen Johnson
3. FKA twigs: MAGDALENE
When FKA twigs burst onto the scene in 2014 with LP1, she was widely seen as one of the most groundbreaking new artists in quite some time. The British act molded pop music into her own singular image, pumping out music that barely resembled anything anyone had heard before. Combine that with her extremely artsy and gorgeous music videos, and it seemed like FKA twigs was about to take over the world. After years of tinkering and failing health, the English singer finally returns with Magdalene, her sophomore full-length and first in five years. FKA twigs gave us the first taste with "Cellophane," a stunning and devastating piano ballad co-written with Nicholas Jaar, but its follow-up, the Future-featuring single "holy terrain," showcases an entirely different side of FKA twigs altogether. It's a mainstream pop track that rivals the best of the chart-toppers at the moment. The rest of Magdalene falls somewhere in the middle, and it's easily one of the best pop records of 2019. —Steven Edelstone
4. Je Suis France: Back to the Basics of Love
Prolific Athens-based experimentalists Je Suis France are releasing their most ambitious record to date today, following the band's sharing its first fizzling, thrashy-trashy cut, "House Style," exclusively at Paste. Unlike the band's latter records, Back to the Basics of Love wasn't written in a constant flux or hashed out between slow internet connections. The record was the product of all of the members of the band coming together from their half-dozen separate cities and communities, and letting their creativity sync up in unison for the first time since 2003's Fantastic Area. —Savannah Sicurella
Editor's note: Ryan Martin, aka Garrett Martin, is a Paste editor.
5. Kate Davis: Trophy
Despite its inclusion of a track called "Dirty Teenager" and its strong focus on romantic hopelessness, Trophy primarily addresses deeply millennial woes: general aimlessness, the quest for self-acceptance, existential dread. "Open Heart" combines these threads via a crafty extended metaphor comparing a hospital visit, open-heart surgery and recovery from the procedure with how we struggle to find meaning after heartbreak, worry how we could possibly go about feeling better and ultimately emerge stronger. As the song's gentle eighth-note murmur swells into an overdriven power-chord charge during the outro, the stitches fully dissolve. Even when Davis opts for more traditional lyrics, her songcraft keeps her music engaging. —Max Freedman
6. Lucy Dacus: 2019
Man created holidays to demarcate time and give us a reason to look around and remind ourselves where we are in this continuous cycle of seconds and days and years. Lucy Dacus, always a melancholic and incisive observer of the human condition, puts her own spin on these special days with 2019, her eclectic collection of holiday songs. With three original tracks and four covers, Dacus simultaneously examines and celebrates New Year's Eve, Valentine's Day, Taurus Season (with a nod at Mother's Day), Fourth of July, Bruce Springsteen's birthday, Halloween and Christmas. —Clare Martin
7. Luke Combs: What You See Is What You Get
Country singer Luke Combs is back with his highly anticipated sophomore release, the follow-up to his 2017 debut This One's for You. The CMA winner is sticking to what he knows on this new release—down-to-earth, often hard-rocking country tunes that don't try to be something they're not. After all, Combs sings it himself on the album's title track: "I guess, be careful what you wish for, is all I meant when I said 'What you see is what you get.'" —Ellen Johnson
8. Matt Maltese: Krystal
A couple weeks after the release of "Curl Up & Die," Maltese announced the details of his Bad Contestant follow-up, Krystal. Out today via 7476, Krystal promises to be "ostensibly a breakup record," something obvious when listening to new single, "Rom-Com Gone Wrong," a throwback to '70s piano-based singer/songwriters. It's not a radical departure from anything on the Jonathan Rado-produced Bad Contestant—though notably it's self-produced and mixed in Maltese's bedroom studio in Elephant & Castle—but it's yet another smooth-as-hell entry in his growing back catalogue. —Steven Edelstone
9. Mount Eerie: Lost Wisdom pt. 2
Mount Eerie's Phil Elverum has endured unimaginable grief. The former Microphones frontman released the beautifully morbid A Crow Looked at Me in 2017, not long before his wife Geneviève Castrée passed away. In the wake of her death, Elverum kept writing and releasing music, including another album, Now Only, in 2018. He later got engaged to actress Michelle Williams, but as he writes in the liner notes for his new album Lost Wisdom pt. 2, "It didn't work out and I had to move again. Finding myself staring into another fire, disoriented by the changes, these songs came out." So, here, we have a new collection of Mount Eerie music, directly inspired by the torrent of changes in Elverum's own life, and it's just as strikingly beautiful as anything he's ever released. Eric's Trip's Julie Doiron sings on the record, following Doiron's and Elverum's first project together in 2008, the original Lost Wisdom. —Ellen Johnson
10. Pond: Sessions
Pond's enchanting, often experimental approach to modern psychedelia has been expanding minds since their inception in 2008, but the group's live approach has shown that their songs are far from static. Instead, Pond's music has grown and transformed over many tours and lineup changes. Coming off their release of Tasmania this year, the Aussie rockers are sharing a studio session collection of their finest recordings titled Sessions. Pond's instrumentation has never been straightforward, with mind-bending synthesizers and effect-laden vocals defining their ever-shifting sound. Since so much is left open to experimentation, Sessions is given ample room to display how Pond's music changes when outside of the studio. —Hayden Goodridge