Listen to These Great Ukulele Covers of Neutral Milk Hotel
On Dec. 5, 2010 Shawn Fogel brought his Neutral Uke Hotel project to Daytrotter.
Music
Features
Neutral Uke Hotel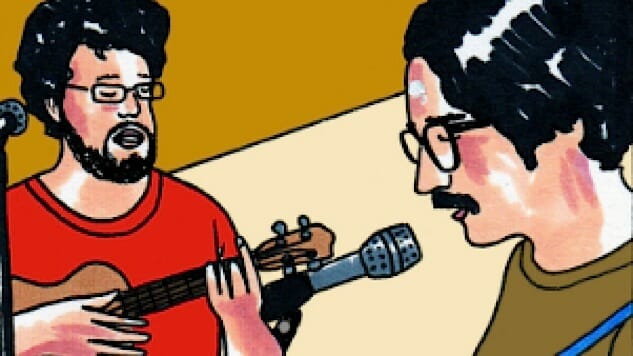 Did you know that Paste owns the world's largest collection of live music recordings? It's true! And what's even crazier, it's all free—hundreds of thousands of exclusive songs, concerts and videos that you can listen to and watch right here at Paste.com, from Louis Armstrong to The Who to U2 to Wilco. Every day, we'll dig through the archive for the coolest recording we have from that date in history. Search and enjoy!
Neutral Milk Hotel, led by Jeff Mangum, made two LPs—1996's On Avery Island and 1998's In the Aeroplane Over the Sea—and when the spotlight got hotter, the man who penned all of the songs removed himself from the picture, choosing instead to get lost in other thoughts. In recent years, Mangum has played the rare solo gig and even showed up at Coachella in 2014, but even so, a sighting of the man who wrote In the Aeroplane Over the Sea is a special thing indeed. He's mostly gone, and efforts to get him to involve himself in the celebration, analysis or recollection of anything involving the album that he began writing after reading the "The Diary of Anne Frank" and crying for three days afterward go largely ignored.
If Mangum is gone, Shawn Fogel is out there, moving around, turning the staggeringly emotional and moving songs that Mangum wrote into magnificent homages to the originals. On Dec. 5, 2010, the Golden Bloom frontman brought his Neutral Uke Hotel project to Daytrotter Studios in Iowa. The songs are close-to-the-vest renditions, and yet they feel less like strict covers and more like tributes with a capital T. This rolling company of buddies in the bands Golden Bloom, the Motion Sick and Fogel's quirky Neutral Uke project share an immediately catchable thread of needing closeness, of looking for those special comers whom they can spend "30 Lives" with or whom they could call on to help see through the gunk to the bright stars, up there somewhere. It's as if a line from the title track to that final and lasting Neutral Milk album played an indelible role in their emotional and romantic development, holding onto the lines, "What a beautiful face I have found in this place that is circling all round the sun / What a beautiful dream that can flash on a screen in a blink of an eye and be gone from me / Soft and sweet / Let me hold it close and keep it here / with me," as if they were gold pieces, to be kept in their pockets forever.
Listen to Neutral Uke Hotel perform "Holland 1945" and "In the Aeroplane Over the Sea on this date in 2010.