Netflix Releases Teaser Trailer for Fyre, Documentary on Disastrous Music Festival
Images via Netflix
Music
News
Netflix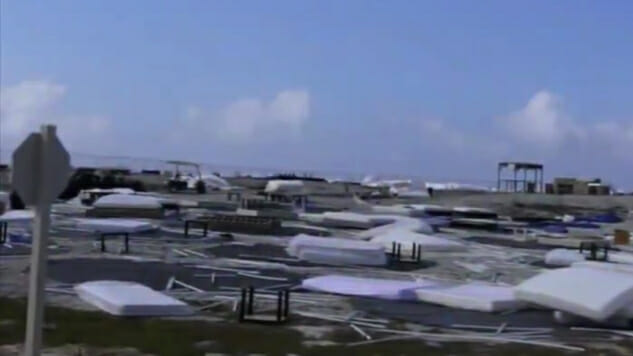 In what was one of the most hilarious failures for normal people across the internet to witness, Ja Rule's "luxury" Fyre Festival went up in, uh, flames last year. The percentage of the world that wasn't conned into shelling out $12,000 for the disastrous event will get to witness the festival's demise through Netflix's forthcoming documentary, Fyre, first teased Monday.
The festival, as promoted in the video above, was billed as "two transformative weekends" on a "remote private island in the Exumas" once owned by Pablo Escobar. Boasting music, arts, food and adventure—which attendees technically had, sort of—the model-endorsed, highly exclusive endeavor was sure to make Instagram feeds everywhere. Needless to say, it didn't quite live up to the hype.
Following the festival's catastrophic failure, its organizers, Ja Rule and Billy McFarland, were sued for $100 million and investigated by the FBI. This investigation eventually led to the arrest of McFarland on one count of wire fraud, who, if convicted, faced up to 20 years in prison—later charged with two counts of wire fraud, McFarland pleaded guilty and has since been sentenced to six years in prison for the felony.
Netflix's forthcoming documentary examines the festival's failure "as told by the organizers themselves," according to the streamer's synopsis. Produced by Vice Studios, Library Films and Jerry Media, the documentary will be directed by Chris Smith (Jim & Andy: The Great Beyond) and will hit Netflix on Jan. 18, 2019. Netflix isn't the only streamer to hop on the Fyre bandwagon, however, as Hulu has also announced a docuseries on the festival, coming in 2019.
Check out the Fyre teaser trailer below.
Get your exclusive first look at FYRE — a revealing new doc about the insanity and rapid unraveling of Fyre Festival: the greatest party that never happened. Premieres January 18. #NetflixNewsWeekpic.twitter.com/B4iaR3UJwM

— See What's Next (@seewhatsnext) December 10, 2018