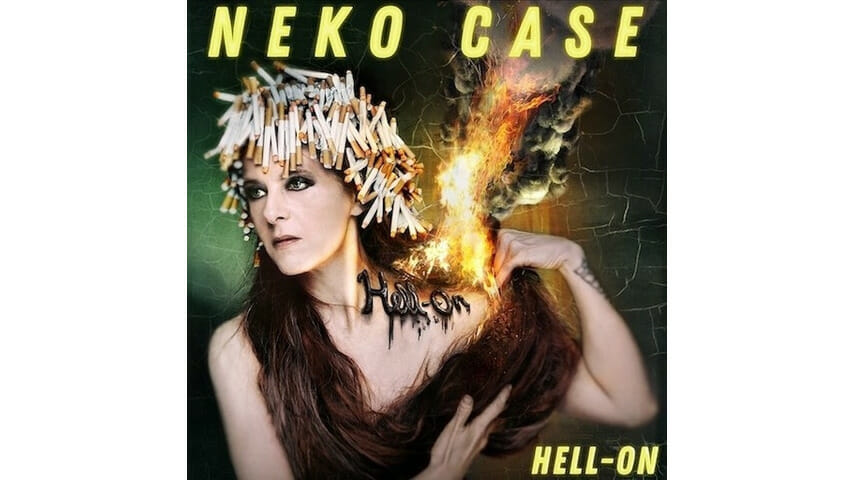 Neko Case writes as if she beams songs in from another dimension, one not bound by our conventions of songcraft. A place where tempos fluctuate, melodies shapeshift, verses can unfold forever and choruses are elusive, and sometimes expendable.
Case's seventh full-length solo album, Hell-On, finds the veteran singer-songwriter pushing and pulling on her own established form, with the help of a whole bunch of talented friends. Among its 11 tracks are some of the poppiest arrangements of Case's career, a few labyrinthine slow-burners and a couple of songs that serve as reminders of her distinctive style.
Hell-On is well-stocked with catchy tunes and simmering rage. On the title track, Case spends three sparse verses comparing God to a "lusty tire fire" and her own voice to a garotting wire before the song suddenly blossoms into a sprightly interlude. Right at the transition point, she warns: "Don't you tell me I didn't warn you that that's some gravity you ought not to play with."
This album was all but finished by the time a fire destroyed Case's Vermont home last year (and before her public battle with the local newspaper over her privacy in the aftermath). Still, she sounds like a fist looking for a fight throughout much of Hell-On. "Last Lion of Albion" intersperses big, dramatic hooks (and background vocals by k.d. lang) among verses that touch on mythology and exploitation. And "Bad Luck" boasts a killer '60s-flavored chorus in between distress signals. It's not hard to imagine Case singing these lines to herself:
Are you tired of things going right?
Things going wrong?
Tired of trying to make everyone happy?
Too tired to sing your own songs
Other highlights include the seven-minute epic (and Mark Lanegan duet) "Curse of the I-5 Corridor," the easy sway and expert harmonies (courtesy Laura Veirs, Kelly Hogan and Nora O'Connor) of "Halls of Sarah," and "Oracle of the Maritimes," a steady crescendo built around insecurity, love and Case's prodigious voice. And then there's "My Uncle's Navy," a song whose upbeat vibe masks a difficult listen about an man so brazenly cruel that Case warns the listener: "If you're tenderhearted, you should stop the tape." Buried near the end of Hell-On—the penultimate track with no famous guests—it feels like the hidden gem here, however unnerving its lyrics might be.
About those two songs that serve as reminders of Case's unique style: One is "Gumball Blue," co-written with A.C. Newman of Canadian power-pop heroes The New Pornographers (the group in which she has been singing for two decades), and the other is a cover of "Sleep All Summer" by Eric Bachmann, a former member of Case's backing band, best known for his work with Crooked Fingers and Archers of Loaf. The former is a laid-back slice of spacey kraut-pop that absolutely pulses with Newman's style. The latter is gorgeous and relaxed, but its straightforward structure and lyrical style flag it as an obvious non-Case song. Both are pretty stunning to hear within the context of a Neko Case album; they're lovely, and they belong, but feel like adopted members of this family.
Therein lies the beauty of Case's music, both on Hell-On and everything that's come before. She's like no one else, with an artistic vision that's deeply rooted and clearly focused, and an adventurous compositional spirit that runs laps around most of her contemporaries. As a result, her catalog overflows with interesting and unconventional songs that nonetheless feel comforting and familiar. That's a catalog worth celebrating, and Hell-On is a wonderful new chapter of Case's career.