Watch Neil Young Perform With Crazy Horse on This Day in 1994
Photo by Frazer Harrison/Getty
Music
Features
Neil Young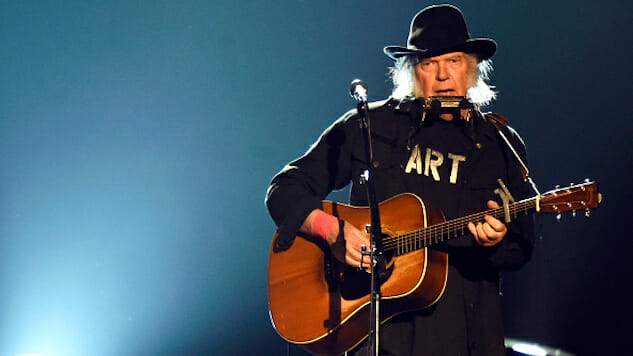 In August of 1994, Neil Young released his 20th studio album, Sleeps with Angels, the follow-up to Harvest Moon and his seventh record with go-to collaborators Crazy Horse. Though most of the LP was recorded early in that year, Young coined the title track in honor of Kurt Cobain, who quoted Young's lyrics in his suicide note in April 1994. Sleeps with Angels, which also features updated versions of songs from 1975's Tonight's the Night, is darker, moodier and more somber than much of Young's music from that era. Young was even influenced by the punk music of the day, by way of the fuzzy screamer "Piece of Crap" on the record.
A few months after its release, on this day (Oct. 1) in 1994, Young and Crazy Horse played through much of Sleeps with Angels during a concert at the Shoreline Amphitheatre in Mountain View, Calif. They begin the show with the first four tracks from Sleeps with Angels—"My Heart," "Prime of Life," "Driveby" and the title track—before breaking out into some Young classics like "My My, Hey Hey." They go onto play through most of Sleeps with Angels, save for five songs. Watch the performance of "Prime of Life" below.
Neil Young has quite the expansive catalogue, and earlier this year he announced a new online home for his music at www.NeilYoungArchives.com. There you can listen to most of his discography for free, but Young is also offering paying members a chance to hear any potential new music before anyone else. You can read more about that here, but whether or not you're locked into the official Neil Young fan club, you can listen to this entire 1994 concert below.