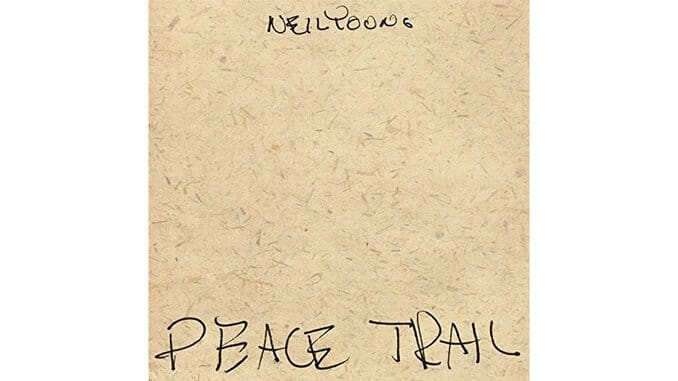 In case you hadn't figured it out yet, Neil Young, as the title of one of his new songs reminds us, "can't stop working." He has never liked to let the grass grow under his feet. Ever since he started out in the mid-'60s as a member of Buffalo Springfield, he's put out a steady stream of records. There haven't been many years since his first solo album came out in 1969 that he hasn't released new music. He records an album, tours on the new songs, and then, as often as not, moves onto something completely different. Young's trajectory and stylistic development as an artist has always been very hard to predict. He followed his only No. 1 record, Harvest, with On The Beach, a moody, pre-grunge downer of an album that did nothing to build on its radio-friendly predecessor. Similarly, when Comes A Time and Rust Never Sleeps from the late '70s re-established Young as a commercially viable artist, it didn't last. He followed those very successful albums with the metallic Re-actor and the early electronica of Trans. It's an arc that has repeated itself throughout his career, as Young has jumped around stylistically from rockabilly to country to R&B and back. Like Frank Zappa before him, Young seems to do whatever he feels like as an artist. He records some songs, throws them out there and waits to see if they stick.
If all of the above sounds like a formula for artistic suicide, it probably is. But, fortunately for Neil Young, there are enough suckers like me out there to keep it all going for him. As I mentioned, Young puts out a lot of records, and against my better judgement, I think I own all of them. You can't be in a hurry to figure him out because his records are a lot like some of the plants in my backyard—they take a long time to germinate, longer still to take root and grow, but if I give them enough time, they always reveal themselves and rarely disappoint, though I still scratch my head over a few all-but-unlistenable records like Landing On Water, Life and Fork In The Road. Still, over the course of a year, I continue to listen to quite a few of them song by song, in bits and pieces. His music continues to grow on me slowly like a conversation or an old poem you can revisit and chew over while washing the dishes or cutting the lawn.
All of this is a way of saying that Peace Trail is quite different than anything Neil Young has put out in quite some time. It's not different in the way that Le Noise, Young's collaboration with Daniel Lanois from 2010 was different. It does not feature another of Young's sonic reinventions. There's none of the youthful energy from Promise Of The Real that made Monsanto Years so much fun. There's none of the big-band sound counterpointed by solo acoustic versions of the same songs that provided Storytone with its unique edge.
Peace Trail, for all of the indignation it communicates, is a quiet, stripped-down record. Recorded at Rick Rubin's Shangri-La studio with Young on guitars and vocals, Jim Keltner on drums and Paul Bushnell on bass, it is one of his most relaxed and direct recordings. The music is simple, but cutting. It's not an acoustic album, as has been reported, although there is lots of acoustic guitar featured. There's also lots of Young's trademark electric guitar, but this is not a "jammy" record and for the most part, his solos are spare and reserved, textured and melodic, serving the songs rather than sonic space.
Peace Trail, despite reports to the contrary, features a very fine set of songs that is likable from the very first listen. It's not likable in the way that Harvest Moon was where fans were given the Neil Young that they wanted. But, rather, it's vintage old weird Neil—naked, loose and unabashed. For point of comparison, it has a bit of an On The Beach vibe with its slowly unravelling songs and at times echoes Broken Arrow and its off the cuff ruminative tone.
The songs on Peace Trail explore many of the same themes as those introduced on Monsanto Years, but they communicate in a much more compelling and emotionally gripping way. The title track that opens the album is one of Young's great meandering narratives, true open and loose. It's easy to hear how it could be a heck of a vehicle for extended jamming in concert. "Peace Trail," like the songs that follow it, reflects Young's environmental and social concerns, but as much as I usually agree with the sentiments he expresses, I've never considered Young as a natural anthem writer. By their nature, anthems are not individual reflections and have to appeal to a collective, but Young's own perspective has always been so idiosyncratic that when he tries to reduce it to slogans or catchphrases it doesn't work as well as it should.
Young has always been at his best when he focuses on the microcosm and sings of small topics. He is a master of detailing offhand moments and reflecting what he sees out his window and relating it to the world at large. Songs like "Indian Givers" or "Terrorist Suicide Hangliders" could have gone terribly wrong were it not for Young's unabashed and off-the-cuff lyrics that reduce big topics to a personal perspective. The same could be said of "John Oaks," which—depending on your perspective—may be one of the best or worst songs Neil Young has ever written. Listened to without prejudice and accepted on its own terms, it is a brilliant piece of work. Part scruffy Woody Guthrie ballad, with a liberal dose of Lee "Scratch" Perry-style chanting added for good measure, it is a staggering performance that comes off as completely mesmerizing and absolutely committed. Without mounting a soapbox or howling anti-corporate slogans, "John Oaks" gets its point across much more artfully than any of Young's other recent political songs. The same could be said of "My Pledge," in which Young recounts his frustration with everything from the alienating effects of cell phones to the corporatization of Jimi Hendrix music.
The Neil Young we share time with on Peace Trail is the Neil Young that people are most attracted to. This is primitive Neil, natural Neil. For every wonderful verbal sleight of hand and clever rhyme Young comes up with, there's another line in the same song that just make you wince. Is this surprising? After all, it's Neil Young we're talking about, and, no matter how often they are compared, Neil's no Bob Dylan in the lyrics department. But, with music so free and natural, with no muscles pulled, does anyone really care if he rhymes "shows up" with "pickup truck"? For as much as Young has displayed a decades-long fascination with technology—whether it's high quality portable digital or clean power for automobiles—there has always been something primitive and child-like just below the surface of much of what he does. The simplicity of "Texas Rangers" with its boom-thwack rhythms might sound like music for hippie cavemen, but if you tilt your ear slightly it becomes naïve rap, delivered without the slightest shred of self-consciousness. Listen to the joyous "HA!" that Young shouts into the microphone before the distorted harmonica break that finishes the song. Love him or hate him, you'd have to travel a long, long way to hear any other music this real and unaffected.
Anyone who has listened to Neil Young lately or who saw him get charged up by playing with Promise Of The Real on the Monsanto Years tour knows that he's on fire these days. You probably also know that this commitment and the sheer joy he expresses playing live doesn't always translate that well into his recorded work. If you've got dozens of Neil Young records already and maybe you don't play some of them very much, it's worth taking a chance on Peace Trail. You might also decide that it's one of the best things he has recorded in a long time.