Neil Young and Crazy Horse Announce New Album, Colorado
Lead single "Milky Way" is out now
Photo by Danny Clinch
Music
News
Neil Young
Neil Young has announced his first new album with Crazy Horse in seven years, detailing Colorado, out Oct. 25 via Reprise Records, and releasing lead single "Milky Way."
Young and Crazy Horse recorded their follow-up to 2012's Psychedelic Pill in—you guessed it—the Rocky Mountains of Colorado, cutting their new songs "mostly live." Young produced with John Hanlon, with additional mixing at Malibu's Shangri-La Studios. "As with every Young release, the resultant audio fidelity is nothing short of astonishing and sounds as if one is present on the studio floor with the band during the recording," promises a press release. Said band currently consists of Young (guitars, vocals, piano, vibes, harmonica), Nils Lofgren (guitars, vocals, pump organ), Ralph Molina (drums, vocals) and Billy Talbot (bass, vocals).
Colorado will be made available via the Neil Young Archives and all digital outlets, as well as on CD and as a three-sided, double-vinyl album set with a bonus 7" vinyl single. Said single features two non-album tracks: "Rainbow Of Colors," a live-recorded, solo Young cut, and "Truth Kills," a Young and Crazy Horse studio track.
Listen to "Milky Way" and watch a 1997 Young performance from the Paste archives below, and find the details of Colorado further down. You can preorder the album here.
Colorado Album Art: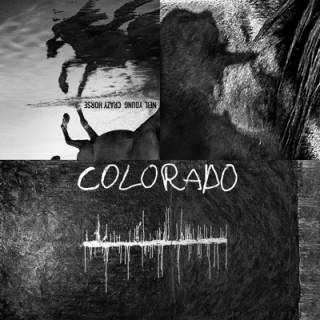 Colorado Tracklist:
Side 1
Think Of Me
She Showed Me Love
Side 2
Olden Days
Help Me Lose My Mind
Green Is Blue
Shut It Down
Side 3
Milky Way
Eternity
Rainbow Of Colors (studio version)
I Do
Side 4
Etched artwork
Bonus 7" Single:
A-Side:
Rainbow Of Colors (solo, live in Portland, Ore., May 17, 2019)
B-Side:
Truth Kills (Neil Young with Crazy Horse – studio)