Mumford & Sons Announce New Album with Release of Single "Guiding Light"
Images via Alistair Taylor-Young, Gentleman of the Road/Glassnote Records
Music
News
Mumford & Sons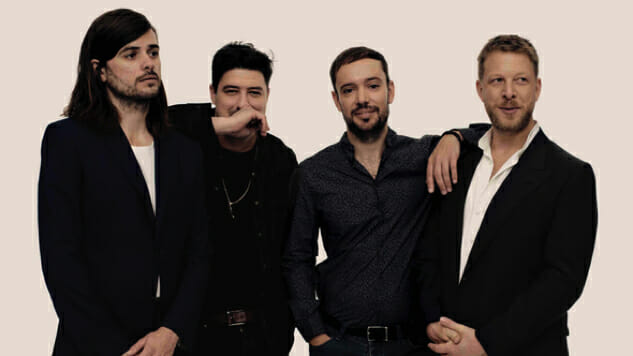 Grammy-winning folk-rock band Mumford and Sons have announced their fourth studio album, Delta.
2018 marks 10 years since the band's formation and three years since their last album, Wilder Mind. The band paired Thursday's announcement with the release of the album's lead single, "Guiding Light."
Lyrically, "Guiding Light" balances between the story of a persevering love and religious sentiments, depending on the listener's perspective. Thanks to producer Paul Epworth, the single is a far cry from the days of Sigh No More, or even the band's more-rock-than-folk endeavors with Wilder Mind. Playing with production and the expression of instruments, facets like Winston Marshall's banjo now bring in an electronica influence, rather than calling back to the band's folk roots. If it's any indication of how Delta will sound as a whole, this could shape up to be the band's most experimental album yet.
Mumford & Sons are scheduled to debut their new single on The Tonight Show Starring Jimmy Fallon on Sept. 24. Though specifics have not yet been announced (and won't be until Oct. 4), the band is expected to embark on a 60-date worldwide tour later this year.
The album is set for release on Nov. 16 through Gentleman of the Road/Glassnote Records and available for preorder here. In the meantime, you can check out the lyric video for "Guiding Light" below, as well as a Bob Dylan cover by Marcus Mumford and Justin Hayword-Young from the Paste archives.