Mumford & Sons Appear in Photo with Alt-Right-Approved Professor Jordan Peterson
Photos by Jesse Grant/Getty, Kevin Winter/Getty
Music
News
Mumford & Sons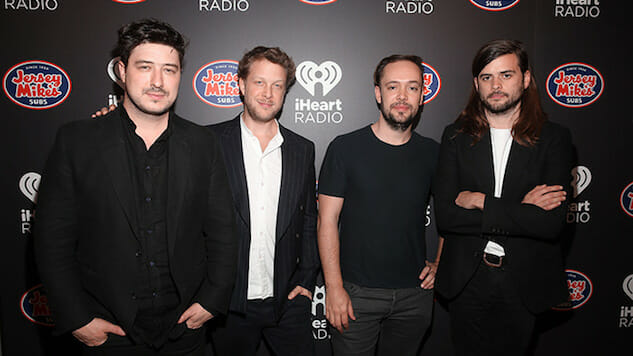 In good Mumford and Sons news, Tom Morello announced he'd be releasing an album in October that features a whole host of superstar collaborations, including the band's titular member, Marcus Mumford. In bad Mumford and Sons news, an Instagram post from May has resurfaced online that shows Jordan Peterson—a controversial Canadian psychology professor, to describe him kindly—in-studio with the band.
Peterson has come under fire for his ideas on political correctness, white privilege, feminism and gender identity. He's made himself an alt-right favorite by refusing to acknowledge gender-neutral pronouns, dismissing white privilege as a "Marxist lie" and the oppression of women as "an appalling theory," and questioning the viability of same-sex families. He also made the case for "enforced monogamy" as a remedy for male violence in a May New York Times interview.
Peterson's months-old Instagram post reads, "With Mumford and Sons at their London studio," and it's unclear why the Twitter world became privy to it on Thursday, but some fans of the band have threatened to never listen to their music again for appearing to support Peterson by having him to their studio and posing for a photo with him.
Paste has reached out to the band's representatives for comment and will update the story with any response. In the meantime, check out a select few of Twitter's responses to the controversy below.
Jordan Peterson would've never hung with Mumford and Sons if they were called Mumford and Daughters. Really makes you think

— Larry Fitzmaurice (@lfitzmaurice) August 2, 2018
Jordan Peterson doing a photo op with Mumford and Sons is like the Yalta Conference for overconfident mediocre white dudes.

— Death Grips for Cutie (@dosboof) August 2, 2018
Hot new Mumford tracks (with Jordan Peterson as backup vocals):

1. Lovers Know Only Two Genders
2. Little Male Man (My Patriarchy Slowly Dies)
3. Disney Is Poison
4. CLEAN YOUR ROOM

— Thomas Jefferton (@ThomasJefferton) August 2, 2018