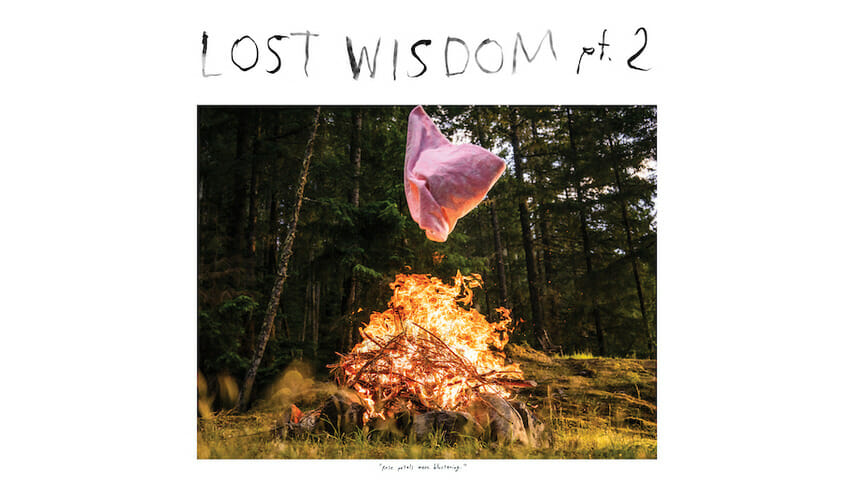 Closure is a myth, isn't it? The word most often associated with it, loss, seems tailored to help us understand that; something—an emotion, a feeling, a presence—is gone. It can't be recovered. Maybe the impossibility of closure is why we go to such extremes to try and find it.
Phil Elverum has always understood that, though never with the clarity of the musician's two most recent albums as Mount Eerie. 2017's A Crow Looked At Me and its expansive 2018 companion, Now Only, both confronted the realities of incalculable grief with unparalleled precision, levying spare instrumentation with visceral lyricism to render a family portrait defined by its negative space. Recounting the events that led to those albums—the birth of a daughter, the death of her mother—feels reductive, especially given that Elverum has already offered the story in such detail.
But that narrative continues on Elverum's second collaboration with Julie Doiron, Lost Wisdom, Pt. 2, this time with the additional layer of Elverum's brief marriage to and separation from actress Michelle Williams. Somehow, though, listening to Lost Wisdom, Pt. 2 doesn't pose the same herculean difficulty that makes A Crow Looked At Me and Now Only so hard to revisit. For the first time since 2017, it's not hard to imagine certain Mount Eerie tracks existing outside the confines of context.
Though Lost Wisdom, Pt. 2 readily picks up themes and images present in 2008's Pt. 1, the album just as often gestures toward the poetic abstractions of Elverum's work with The Microphones as it does the memoiristic approach to A Crow Looked At Me. In effect, that makes this album the easiest point of entry to the Mount Eerie discography in a decade, unburdened (but no doubt enhanced) by self-mythologizing. Perhaps this is a natural result of Elverum writing with another voice in mind; throughout the record, Doiron comments like a Greek chorus ("The wages of dying / Is love / Like the poem says," she sings on "Enduring The Waves,") just as much as she sounds like a cathartic unconscious. Drifting in and out of spectral harmonizing on each of the album's eight tracks, Doiron's simmering soprano always adds impactful texture while still knowing when to let Elverum sing alone.
Elverum also allows himself a sonic levity that likewise harkens back to his earlier work. The magnificent "Love Without Possession" is almost jubilant, a heavily strummed campfire singalong that meditates on the limitations of language to describe connection. It also couches some of Elverum's most downright beautiful writing on the album: "Even if I never see you again / I'll know that when we collided / We both broke each other open," he sings with a wincing smile. Elsewhere, the staggering "Widows" beckons to the noisy sprawl of The Glow, Pt. 2, with crashing cymbals and soaring electric guitars appearing and disappearing like apparitions of a memory. Every time a new instrument appears on the record—plaintive piano chords, a wheezing melodica—it feels like a quiet revelation, particularly on the oppressive album opener "Belief," which finds Elverum reckoning with a reinvigorated loneliness.
Elverum's environmental writing has always felt tapped into a cosmic wisdom, able to turn moments of molecular anguish into ecological disaster. The central image in the quiet "When I Walk Out Of The Museum," a snorkeler caught in kelp, reminds one of Adrienne Rich's poetry, while "Pink Light" is able to make the tired metaphorical resonance of winter becoming spring feel fresh. No song eschews natural imagery entirely, but "Widows" comes the closest, resentfully detailing creations of stubbornly human origin—Mother's Day, tabloids and garbage pits. Throughout Lost Wisdom, pt. 2, fire reappears regularly, sometimes scalding and sometimes cleansing. In the album's liner notes, Elverum writes that fire is "something approaching permanence in the restlessly impermanent world," seeing a special beauty in the embers that linger. Closure may be a myth, but moving on has always been a part of the hero's journey.