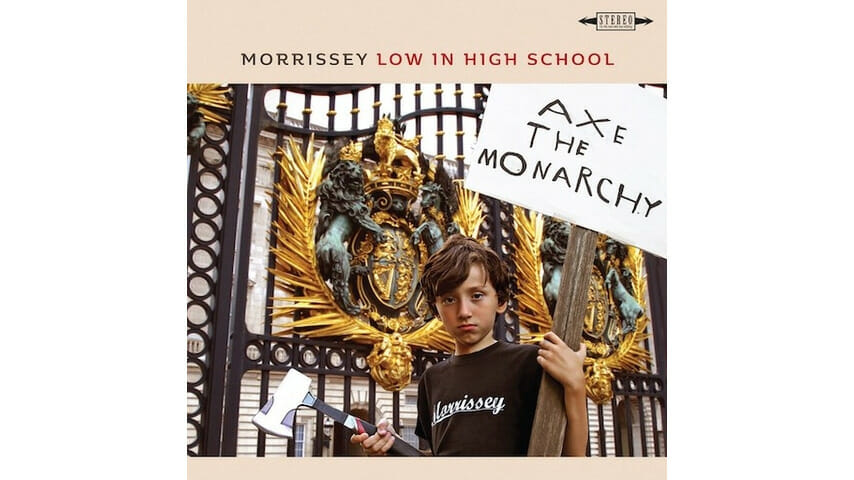 We all have that friend from our past who we think of fondly. The wild times we had, the crimes we couldn't get away with now, memories that all start with a laugh…but now that friend has grown bitter and crass, their Facebook feed hidden so we don't have to see the racist rants, the pyramid schemes, the conspiracy theories that turned our once-fun friend into a bloated monster.
For many music lovers, that friend is Morrissey.
The ex-Smiths frontman's Low In High School is another addition to the ever-weakening Moz canon, a decline that started, frankly, with the B-side of Strangeways Here We Come and continues to fall into a seemingly bottomless pit of snide despair. The same man who wrote the lilting and lovely "Suedehead" is now whining out "Spent the Day in Bed"
(Side note: My editor, the lovely Robert Ham, saw Morrissey in Portland and reported that the merch booth has "Spent the Day in Bed" sleep masks, and my love of rock & roll home goods far outweighs my dislike of this song. What I'm saying is, please buy me one.)
If there's one thing this album does have going for it right off the top, it's that the songs are each musically distinct. They're clearly separate entities; each of them could function as a single. "I Bury the Living" sounds, musically, exactly like you would imagine a song titled "I Bury The Living" would sound like—shivering keyboards and guitars that bounce back and forth like they're being played like a marimba—while "All The Young People Must Fall In Love" has gospel handclaps and fresh, twangy guitars. Unfortunately, they all have heavy-handed Morrissey lyrics on top of them. We're a long way from the exquisite poetry of "Why pamper life's complexities when the leather runs smooth on the passenger seat?" Hell, we're a long way from the subtlety of "Straightened myself out, thank you, drop dead."
But the album's first decent song, "Jacky's Only Happy When She's On Stage" would be much more enjoyable if it had been released earlier this year, but the repetition of "Everybody's running to the exit" conjures up the terrorist attack on the Ariane Grande show in Manchester, Morrissey's hometown, more than the Brexit allegory he may have been trying to spin. But "When You Open Your Legs" is the most honest song on the album. It's simple and straightforward and sad and sweet. In other words, the Morrissey we know and love.
But most frustrating about this album are the shades of old Morrissey; "My Love, I'd Do Anything For You" has shades of "Glamorous Glue" in all of its rock-grind posturing. But lyrically, he far overestimates his influence. "Society's hell/you need me just like I need you," he sings. Raise your hands if you no longer need a 58-year-old hipster to speak for what you feel inside. Similarly, "I Wish You Lonely" and "Home is a Question" sounds like one of the many Morrissey knock-off acts that rose up in the early 2000s; all of the misery, none of the charm. This would be a great Nightmare of You song, but Moz wrote "Sister, I'm a Poet." He has no excuse for this drivel. The songs themselves aren't bad, they're just not good.
Think of Low In High School as you head home for Thanksgiving. Maybe you'll go to the old bar, see who's hanging out. But you know who is going to be there, running his dumb mouth? Your Morrissey. Maybe you'll remember the good times. But more than likely, you'll have to listen to a bunch of drivel. No punches will get thrown, just as you probably wouldn't throw this album out the car window. But you're not going to enjoy the experience, no matter how high your hopes were. The time has passed and while yes, society is hell, we don't need you anymore Morrissey.