Montréal Jazz Festival Was A Diverse Musical Lesson For All
When executed properly, a music festival can be a powerful microcosm for the world around us.
Photos by Adrian Spinelli, including main image of Con Brio
Music
Features
Montreal Jazz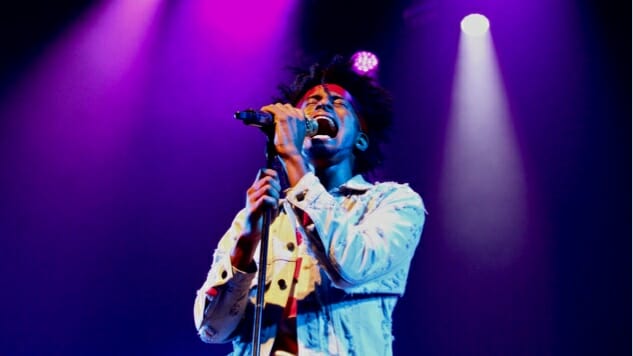 You could say I went to Montréal Jazz Festival on a whim. I had never been to Canada before and the opportunity to be there for the largest Jazz festival in the world seemed like the right time. And while being exposed to jazz greats like Herbie Hancock and Bobby McFerrin was something I was interested in, I was mainly curious to see how a Jazz Festival breathes when decidedly alternative programming like Canadian neo-R&B artist Daniel Caesar, French pop singer Jain, folk stalwart Ani DiFranco and indie soul multi-instrumentalist Moses Sumney, are featured just as prominently on the bill. But it didn't all go as planned.
At the airport, I was relaxed, peaceful even, about to visit our north-of-the-border neighbors for the first time. I was feeling inspired to attend the 39th rendition of this cultural celebration, when I caught wind that Moses Sumney had cancelled his performance at the festival due to the scheduling of a show called SLAV, "a theatrical odyssey based on slave songs." But here's the thing with SLAV: Most or all of the performers were white and were sometimes dressed like slaves as part of the show. This was problematic, and Sumney's stance was an impassioned and reasoned one.
"What the heck am I getting myself into?" I thought, walking through the airport terminal. For the reasonably minded, it's not hard to spot tone deafness in matters of race when you see it, and as someone who recognizes Sumney as "an important voice for those seeking love, compassion and acceptance in all forms; I couldn't help but agree with him and I wondered how the festival would respond.
Once I arrived in Montréal, the topic of SLAV was in the 90-plus-degree air. Passing by the Théâtre du Nouveau Monde, where the show was to be held, SLAV was still advertised on the marquee, yet no performances of the show had transpired since protestors and Sumney stated their case the day before. I wondered why Sumney was the only act to withdraw from the festival (although he scheduled a non-fest-affiliated performance in the city instead) and the whole situation was feeling like a big standstill; albeit an important one. The matter would soon come to an end.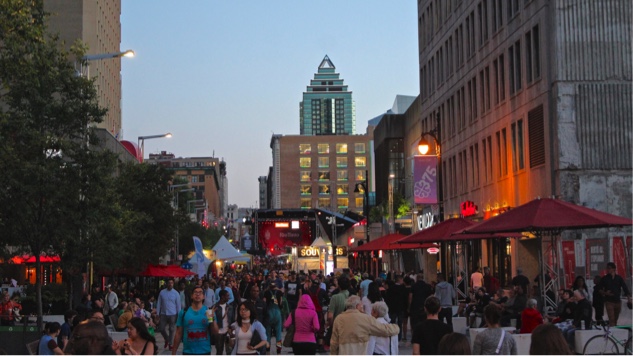 I walked through the festival's enclosed (yet free-to-the-public) Downtown Montréal footprint towards the enormous Place de Festivals. Every evening, free programming took place across six stages, featuring everything from jazz to pop to world music, not to mention daytime performances in the Place, catering to kids, families and any other music lovers.
The main stage is arguably the festival's most iconic drag, where later that evening, up-and-coming Toronto singer Jessie Reyez would play in front of thousands. Philly's The War On Drugs would close out the festival here later in the week, to perhaps the largest crowd of any show. I cruised through what at first struck me as a smaller footprint than I expected, until later in the week when I coursed the grounds and realized I had missed an entire half of the activity space. This was a truly remarkable festival core and all of it is was free, with food trucks, pop-up bistros and bars, merch vendors and more spaces and steps to pull up and relax in the sun (or the night air) than one can imagine.
Montréal Jazz Festival essentially infuses itself into the heart of Downtown Montréal for 11 days (this year from June 28 – July 7), and it's nothing short of a mind-boggling production that is done with heavy support from the Canadian and Québec government. It's no doubt a concerted effort to support the arts and cultural programming.
The festival also includes multiple concert halls just outside of the Downtown sitemap and a slew of nearby venues hosting shows every evening. On that first afternoon, I made my way to one of those concerts halls, Gesú, to see the Mark Guiliana Jazz Quartet. Gesú is a 150-year-old converted church, and the amphitheater has a wide-open-seated plan for 425 people. Kicking off my week with the festival's namesake genre seemed like the right call and it wouldn't be my final trip to Gesú.
In the evening, I headed down historic Saint Catherine Street to MTELUS for the second night of Daniel Caesar's two sold-out performances. The Grammy-nominated Toronto artist had the 2,300-person crowd wrapped around his finger, and they gladly sang along whenever Caesar afforded them an opportunity to join in. In a debate with a Canadian journalist at the show, he posited to me that before Drake brought Canadian hip hop to the forefront, artists in that and similar genres would shy away from labelling themselves as Canadian before they gained real notoriety. But now, for people like Daniel Caesar, being Canadian is his calling card. "It's all because of Drake," the other journalist told me. I chuckled and thought for entirely too long about how he was probably right.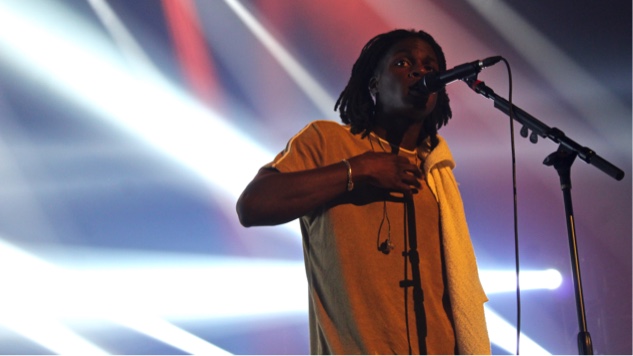 Daniel Caesar at MTELUSBack at Gesú at the start of the next evening, perhaps my most poignant moment of the week was happening. Jeremy Dutcher, a classically trained opera singer and member of the Indigenous Canadian Wolostoq Nation, took to the stage behind a grand piano and a microphone. Dutcher's music is sung in his people's language, and he explained that the more-than-century-old music was made illegal in Canada until 1951. He explained that an anthropologist had recorded the tribal music on wax and preserved it. And on Dutcher's latest record, the Polaris Prize-long-listed Wolastoqiyik Lintuwakonawa, he revives the recordings alongside his vocals and then some.
"I want to reconnect my people with what has been lost," Dutcher said to the crowd. "This is why I do what I do."
It was an eye-opening moment to see Dutcher performing on this platform that the festival had made possible for him, and his music rang strong with the soul of Canada's First Nations tribes. It was a fascinating discovery and lesson into the plight of these indigenous communities, and Dutcher paused his incredible performance to address the crowd on something that had been on his mind.
"I've always looked at Jazz Festival as something that I'd dream to do," he said, explaining that SLAV had been on his mind for "months" and he grappled with the idea of this performance in light of it. "I want to voice my solidarity with black artists in this city. Because If non-indigenous people were to take these songs and put them in a show and give them a platform, I would be very unhappy."
The festival's spread-out footprint, made it so perhaps only the people in that room could hear Dutcher's message. But it was an essential perspective on the matter at hand which brought the festival much attention for all the wrong reasons. A few nights later, Lido Pimienta would mention the topic during her performance at L'Astral and I could only assume other artists were doing the same at the festival's 500+ concerts. Dutcher drove the point home for me on just how deep the SLAV issue could run, and I knew then what I wished the festival would do regarding the issue.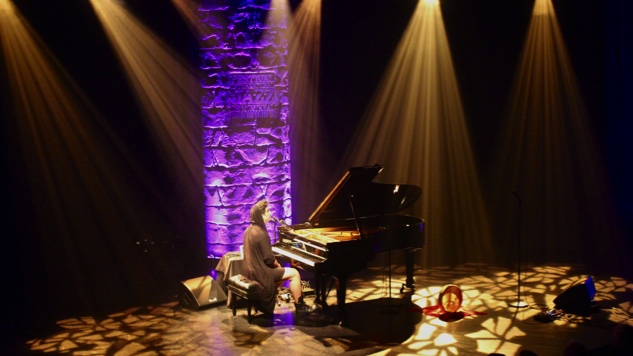 Jeremy Dutcher at GesúThe next morning, Montréal Jazz Festival announced that they had cancelled all future performances of SLAV at the festival. "This episode led us to reflect deeply and take into account all the constructive remarks directed our way, which can only be beneficial for future editions," a press release said. And Dutcher's perspective again spoke volumes, because he embodied part of the diversity and representation that Montréal Jazz puts out there so well. Heck, when I left Gesú after Dutcher's set, I stopped at Théâtre Maisonneauve to see acclaimed activist, feminist, musician Ani DiFranco, then headed back to MTELUS for Bay Area funk explosion Con Brio's opening set, followed by a spiritual showing from Alabama's St. Paul and the Broken Bones. It struck me how intentionally multicultural Montréal Jazz Festival is, and festival programmer Maurin Auxéméry echoed that thought to me.
"We are an African American music festival. We're doing jazz, hip hop, R&B, world music," Auxéméry said. "And diversity isn't only about color; it's about women and Native people too. We work on this lineup all year long."
This intention was never lost as I happily bounced between shows, from Jain's dazzling, international pop-music mastery to Lido Pimienta's Polaris Prize-winning vocal collision of Columbia meets Canada, to the budding jazz ensembles gracing the festival's second largest outdoor stage every afternoon. But there was another aspect in particular I noticed that Montréal Jazz Festival did better than any music festival I've ever attended: They made their festival grounds especially accessible to disabled attendees. I had never been surrounded by so many disabled festival goers enjoying themselves throughout the week, with what seemed like unprecedented freedom of mobility. There were designated viewing areas at all stages, and walkways and streets were flat, had ramps, were wide open, and were just plain friendly and accessible to patrons in wheelchairs or motorized vehicles.
Frances McAlpine Sharp, a disabled attendee who uses a motorized wheelchair, said she took a para-transport bus to downtown every day during the festival. "I come from Connecticut every year for the festival," McAlpine Sharp said. "All the venues have access … and people are all polite. They're doing a good job—4.5 outta 5!"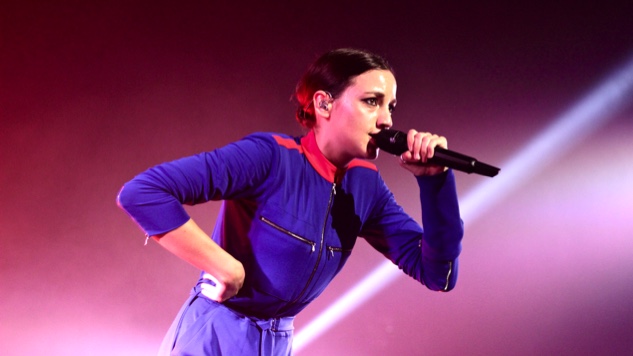 Jain at MTELUSWhen you go to enough music festivals, after awhile, you start demanding a certain consciousness out of the experience. Namely, that the producers of the festival consider matters of diversity, accessibility and, ultimately, the legacy that the festival leaves behind each year. What Montréal Jazz festival has been building can be seen in the sheer diversity of their attendees: Different ages, races, classes, family sizes (so many families!) were all represented and had an opportunity to experience Montréal Jazz however it suited them best. Whether they wanted jazz music, world music, or indie up and comers, whether they wanted to splurge on tickets at indoor venues or enjoy free shows at outdoor stages, everyone had options at all times. And if you needed relief for a day, you could venture out into Montréal and experience the beautiful and approachable city (their glorious bagels and delis are worth the trip alone).
And while the 39th edition of Montréal Jazz festival might best be remembered for the controversy that put the festival to the test, it was a reflection of the world and the growing challenges we face with regards to representation. In the end, people came together to consider each other's views, accept when some parties may have erred and learned from the interactions. This is the power that can be found within a festival ecosystem. Here's to next year's 40th Anniversary of Montréal Jazz surely being all about the vibrant, diverse celebration that it is.