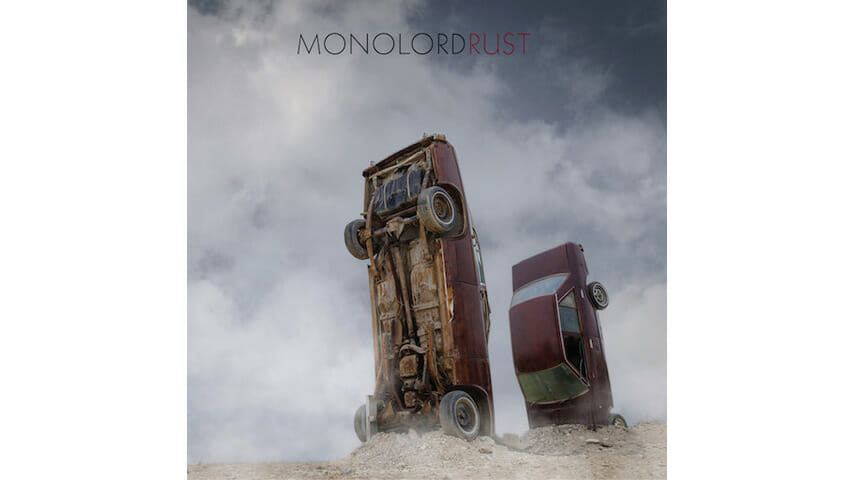 Mankind cannot advance if it knows nothing about the past. One must be fully informed about each and every step of those that came before them—successes and failures—in order to go forward. This concept applies to everything; science, politics, philosophy, technology, and most importantly, the riff.
Now, the history books show that Tony Iommi invented the riff, consequently influencing anyone that came after him. Everyone that has written a real beefcake of a riff post-Black Sabbath took cues from him in one way or another. There's absolutely no point in arguing, it's fact. There have been worthy warriors like guitarists Scott "Wino" Weinrich and Jus Oborn of Electric Wizard who have injected their personal style and constructed inventive tones that brought the riff to different planes of existence, but they couldn't have built anything without the bedrock and bone Iommi provided for them.
With their third full-length Rust, Sweden's Monolord hoist their Sabbathian riff flag high, clear, and give it a prideful salute. The opening riff for "Where Death Meets The Sea" is monstrous, bleak, and powerful; much like the riff that opens Black Sabbath's "Black Sabbath." Just about every subsequent, spotlit riff on all six tracks of Rust is the same strain as the slow, skulking side of Sabbath's discography. In moderation that's fine, but for Rust it means that the record's pace from end to end is the same. There's no peaks or valleys, just hills and plains.
The riffs aren't the only Sabbath tell on the record. Guitarist and vocalist Thomas Jäger's vocal pattern is akin to Ozzy throughout. It's simple, high-registered, and bends effortlessly over his riffs. The pace and heavy effects on Jäger's voice used on all the track is very "Planet Caravan." Bassist Mika Häkki lays down a swinging bass line seven minutes into the almost 13 minute epic "Forgotten Lands" that Geezer Butler wrote a few times already. Of course, it's not a note for note knock off, but the feel and structural leanings are there.
Monolord doesn't pull everything from Sabbath on Rust. Tracks "Dear Lucifer" and "Wormland" have some soaring, heart wrenching melodies that are very tragic and Pallbearer inspired. It adds another facet to an album that sorely needs it, but unfortunately it's not employed as much as it could've or should've been.
In the end, the riff driven doom of Monolord's Rust is actually pretty great. Sometimes the wheel doesn't need to be reinvented, it just needs a stylish new look, or a different tread to operate on a specific terrain. Besides, there's nothing wrong with being a little derivative if the band you're plucking jewels from is perfect like Black Sabbath.