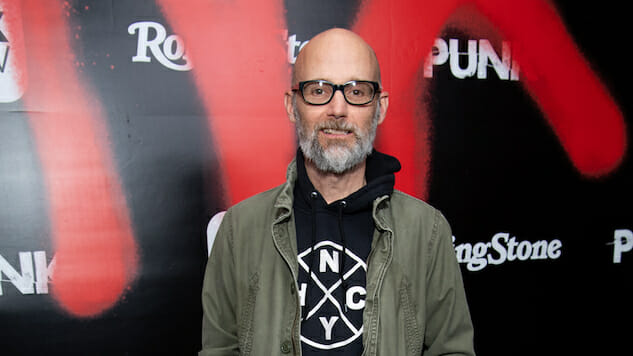 Well, we should've seen it coming. Electronic musician Moby has canceled the rest of his book tour in light of the explosive backlash surrounding his newest memoir.
In a statement released on Instagram, the musician wrote: "I'm going to go away for awhile. But before I do I want to apologize again, and to say clearly that all of this has been my own fault. I am the one who released the book without showing it to the people I wrote about. I'm the one who posted defensively and arrogantly. I'm the one who behaved inconsiderately and disrespectfully, both in 2019 and in 1999."
Since its release earlier this month, Moby's second (yeah, second) memoir, intuitively titled Then It All Fell Apart, in which he quirks about courting a pre-fame Lana Del Rey, hanging out with David Bowie and being denied a collaboration with Andre 3000 because the songwriter thought "too many people were hating" on him, hasn't been received warmly.
The straw that broke the camel's back was Moby's claim that he dated a then-20-year-old Natalie Portman, a claim the actress has since vehemently denied.
"I was a bald binge drinker who lived in an apartment that smelled like mildew and old bricks, and Natalie Portman was a beautiful movie star," he wrote. "But here she was in my dressing room, flirting with me."
Portman debunked Moby's misbelief in an interview with Harper's Bazaar, remarking that her recollection of that time was "a much older man being creepy with me when I just had graduated high school," and claiming negligence on behalf of the publisher. She also corrected that she was 18 at the time, not 20.
Moby later apologized in an Instagram post, writing that it was "inconsiderate" of him to not contact Portman before using her name and likeness in the memoir.
That brings us to now: It appears likely that Moby wanted to put a cap on the bad press and has since canceled the European leg of his book tour, on which he was slated to make four appearances in the U.K.
The musician's website now reads: "moby is canceling all upcoming public appearances for the foreseeable future." Too bad, but at least this will all make good material for his third memoir.