Mister Heavenly Announce New Album Boxing the Moonlight, Share Lead Single and Tour Dates
Images via Dan Monick, Polyvinyl
Music
News
Mister Heavenly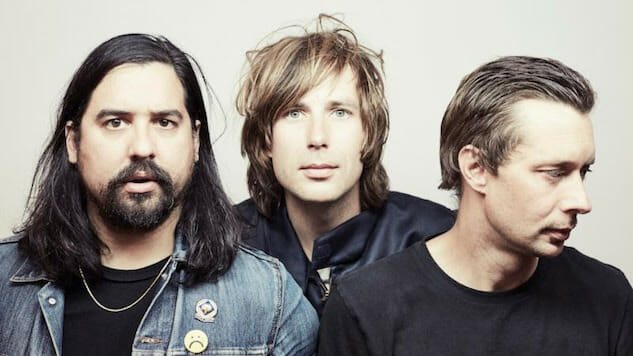 Indie-rock supergroup Mister Heavenly have announced their sophomore album, Boxing the Moonlight, which will release Oct. 6 on Polyvinyl. The trio has also shared the album's opener, "Beat Down," along with its lyric video. The song draws the listener in with a piano-driven verse that propels into a double-time, upbeat chorus.
Boxing the Moonlight also marks the first album in six years from Ryan Kattner (Man Man), Nicholas Thorburn (The Unicorns, Islands) and Joe Plummer (Cold War Kids, Modest Mouse, The Shins).
"It seemed like it was a good idea to pivot from the subject matter of the first record," Thorburn said in a statement. "That was maybe a more emotional thing, and I think this record is much more physical."
Kattner said that he wants this album to emphasize an extensive range of styles. Musical diversity seems like it will be a vital component of Boxing the Moonlight.
"I personally hate albums where every song sounds the same," Kattner said. "It all makes sense in the grand scheme of things. People are complicated. People have a lot of different vibes running through them at any given moment."
Each member of Mister Heavenly is involved in another expansive musical project, and Thorburn said that when they finally came together to work on the record, they had to relearn the material. However, he said it wasn't too much of a problem because there was a "built up reserve of energy" and that "[they] were ready to hit it fast and hard."
Kattner added that, with this album, the band was trying to "write the perfect little nugget," which is one of their long-term goals. He wants Mister Heavenly to be preserved through a potential apocalypse, even.
"When you find that melted jukebox, and that Mister Heavenly record is spinning, you're going to try your damndest to find a coin to put in it," Kattner said.
Along with the album announcement and track release, Mister Heavenly have also announced a North American tour, with support from Fan on select dates. See the tour dates below, as well as the tracklist and artwork for Boxing the Moonlight, which you can preorder here. You can also listen to "Beat Down" and a Mister Heavenly performance from the Paste Cloud below.
Boxing the Moonlight Album Art: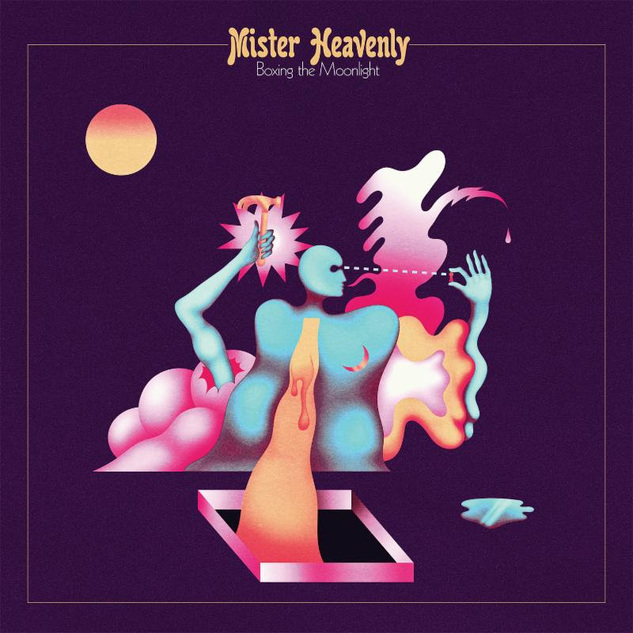 Boxing the Moonlight Tracklist:
01. Beat Down
02. Blue Lines
03. Makin' Excuses
04. Hammer Drop
05. George's Garden
06. No Floor
07. Magic Is Gone
08. Pink Cloud Compression
09. Crazy Love, Vol. III
10. Dead Duck
11. Out Of Time
Mister Heavenly Tour Dates:
October
20 – San Diego, Calif. @ Casbah #
21 – Los Angeles, Calif. @ Resident #
22 – San Francisco, Calif. @ Swedish American Hall #
24 – Portland, Ore. @ Doug Fir Lounge #
25 – Seattle, Wash. @ Barboza #
November
02 – New York, N.Y. @ Le Poisson Rouge
03 – Allston, Mass. @ Great Scott
04 – Providence, R.I. @ Alchemy
05 – Philadelphia, Pa. @ Johnny Brenda's
06 – Washington, D.C. @ Black Cat
08 – Toronto, Ontario @ Drake Hotel
09 – Columbus, Ohio @ Rumba Cafe
11 – Chicago, Ill. @ Lincoln Hall
(# = w/ Fan)