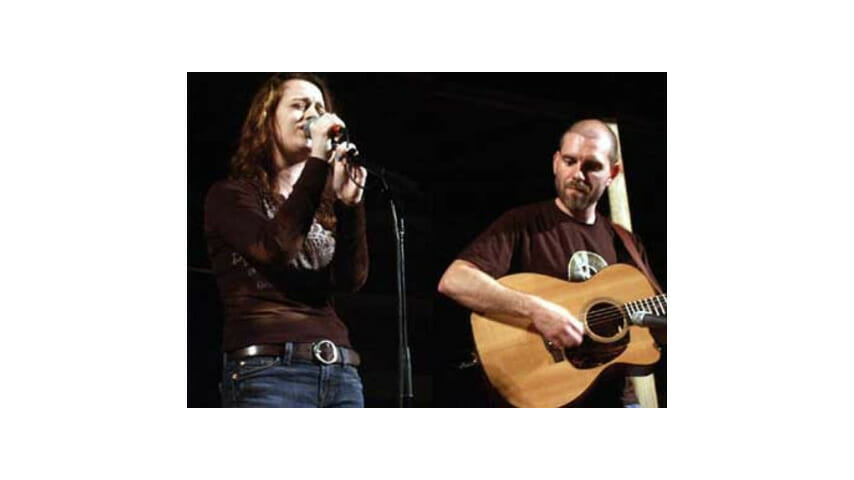 Americana rookie of the year Mindy Smith took to the stage at Pittsburgh club The World with a self-proclaimed "Julie Miller-like song" that brought the chattering crowd to attention. Dressed the part in jeans and a long flowing scarf, Smith's opener played on themes of love and the devil before moving into more typical fare with the song "Hurricane."
Though the Miller reference seemed lost on much of the twenty-something crowd, the influence of formative artists like Miller, Gillian Welch and Alison Krauss was clearly stamped on the entire evening.
When played live, Smith's songs take on a new life. For example, near the beginning of the show, as Smith played "Hurricane," she slowed the tempo slightly to allow longtime bandmate Lex Price's mandolin to carry the tune. This variation brought a simple directness to a song about a lover struggling to move on after a failed relationship:
I need a Hurricane to empty out this place, seems it's the only way to salvage any sense I have left to move on. But there's no signs of rain anywhere
To her credit, Smith didn't spend the entire evening easing through quiet ballads. She showcased her musical range with the raucous "Hard To Know." During the song, Smith and her band brought out the full-on twang of a country-rock number with electric guitar and lap steel, though the lyrics never strayed far from Smith's common theme of adversity. As the song built to a musical and lyrical climax, Smith cranked the energy level up, singing the fiery chorus as if it were cut from an old Johnny Cash record:
Sometimes you don't know that you need to be saved until you hit the bottom and rattle that cage. Sometimes you gotta keep digging away, until you break through to the light of day.
The evening was enjoyable, if a little uneven, with Smith swinging between casual introspective tunes and more high-energy pieces—the struggles of faith, hope and loss woven into every number. Smith's real gift lies in her lyrical honesty and directness, and this was well evidenced when she played "One Moment More" a powerful song about not wanting to say goodbye. While lines like, "Hold me, Even though I know you're leaving, and show me all the reasons you would stay" might appear trite on the page, this is not a song about a boyfriend but rather about Smith's own reaction to losing her mother, who died of breast cancer in 1991. As an introduction to the song, Smith talked about sitting by the hospital bed during her mother's final days and how it inspired her not only to write the song but to support organizations like City of Hope in New York that raise money for research to fight cancer and diabetes. (In fact, Smith donated a portion of the proceeds from each ticket to City of Hope, as well as the revenue from her T-shirt sales.) With this context the song brought considerable feeling to the closing lines—"Please don't go, Let me have you just one moment more. Oh, all I need, all I want is just one moment more. You've got to hold me and maybe I'll believe."
"One Moment More" provided the perfect set up for the night's strongest performance. Coming on stage alone after the first encore, Smith strummed a gorgeous, straightforward version of the Gillian Welch classic "Orphan Girl." For an artist still developing her own voice she couldn't have picked a better place to start.