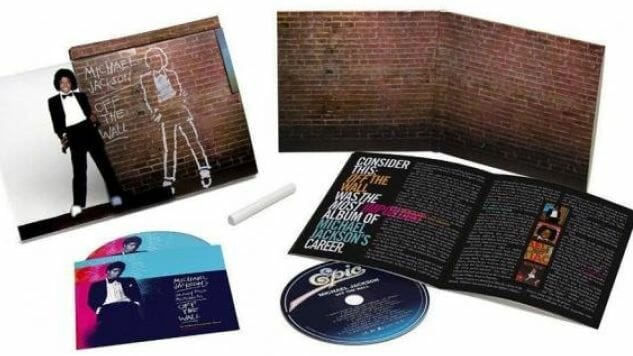 Michael Jackson became a superstar in 1982 with the release of Thriller. Determined as he was to make that album a triumph, even he couldn't have imagined what an explosive success it would be—or foreseen how that success would ultimately become a millstone around his neck. Over the next 27 years he would only manage to release another four albums. And by the time of his death in 2009 the image of Jackson in most people's minds was that of "Wacko Jacko," a man whose musical talents were overlooked in favor of the latest juicy scandal.
But what if Thriller hadn't happened? That's the thought that goes through your mind when listening to Off the Wall, originally released in 1979, and newly reissued in a set that also includes the Spike Lee documentary Michael Jackson's Journey from Motown to Off the Wall. Just 21 years old when the album came out, Off the Wall is Jackson's first statement of musical independence, shaking off his teen idol past as lead singer of the Jackson 5, and emerging as a compelling new adult talent. It was a moment when the possibilities must have seemed endless.
Jackson had been hoping to launch an acting career at the time, landing a co-starring role in the 1978 film version of The Wiz. The film was a legendary flop, but it had one big pay-off for Jackson; the film's musical arranger was Quincy Jones, whom Jackson asked to produce his next album. Off the Wall was the potent result, a sleek and slinky album that spun off a then-record five singles and went on to sell over 20 million copies.
The album opens on a joyously confident note with "Don't Stop 'Til You Get Enough," a funky piece of pop (or a poppy piece of funk?) that's a natural successor to "Shake Your Body (Down to the Ground)," which Jackson co-wrote with his brother Randy for the Jacksons (as the Jackson 5 was renamed when they left Motown). Jackson's songwriting was still in the early stages, and he only had a hand in two more tracks on Off the Wall, both geared toward getting the listener moving, "Workin' Day and Night" and the self-explanatory "Get on the Floor." The crisp production and concise arrangements make the songs really snap.
Jackson's skills as a highly emotive singer are also nicely on display. "She's Out of My Life" is the most highly touted in this regard, and rightly so; it goes for restraint in a weepy number than other hands might've opted to take in a more bombastic direction. But the delicate "Girlfriend" (released as a single in the United Kingdom) is also worth rediscovering, a playful song that shows how nuanced a performer Jackson could be.
These slower songs, "I Can't Help It" among them, highlight Jackson's vocal abilities, while the upbeat strut of the rest of the album underscores his versatility. It's a winning combination that makes Off the Wall sound so relevant nearly 40 years later. There were greater career successes in the years ahead for Jackson. But never again would he sound so fresh and optimistic in his work.