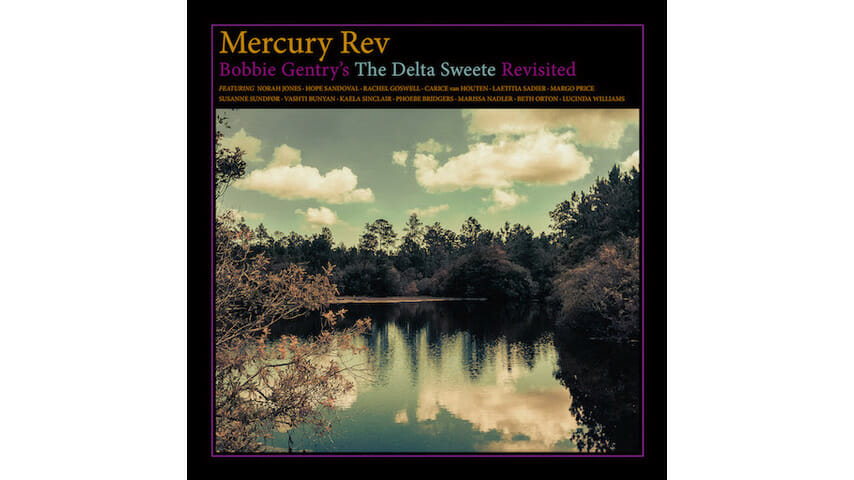 If the critical cliché "forgotten masterpiece" didn't exist, Bobbie Gentry would have had to invent it. The pioneering country singer from Mississippi was just 25 when her sweeping, Gothic-tinged 1967 hit "Ode to Billie Joe" knocked the goddamn Beatles out of the No. 1 slot and made her a star—and just 36 when she retired from the limelight for good.
In between, Gentry released seven studio albums, one of which, 1968's conceptually minded The Delta Sweete, received limited success upon release but has since been heralded as—well, yes, a "forgotten masterpiece." Though it failed to yield another Billboard smash, The Delta Sweete did deliver a lush, interconnected suite of vignettes reflecting on, and dramatizing, the singer's farm upbringing in Chickasaw County, Mississippi. Gentry wrote and recorded her own material (the record also contains four covers) at a time when listeners weren't accustomed to female singers maintaining such creative control, and she paired her sensual, closely-miked voice with ambitious orchestral and brass flourishes. In new liner notes, veteran critic David Fricke calls it "the first country-rock opera."
It would be a substantial understatement to say that country listeners of 1968 were not prepared. Now, a half century later, The Delta Sweete is receiving something more than the typical retrospective box set and anniversary thinkpiece: Mercury Rev has recruited a murderers' row of guest vocalists to reinterpret Gentry's album track-by-track, with the band holding fort as a sort of psychedelic house band. Bobbie Gentry's The Delta Sweete Revisited is a layered, affectionate and often gorgeous tribute to an album that never got its due, even if the band's string-drenched grandeur occasionally smoothes over the swamp-rock grittiness of Gentry's music.
This project would have seemed inconceivable in 1993, when Mercury Rev, led by loose-cannon vocalist/mutterer-in-chief David Baker, was a freakish noise-pop act known for being kicked off the stage at Lollapalooza for playing at an ungodly volume. But Baker is long gone, and with Jonathan Donahue in the lead, the group long since abandoned its feedback squalls for soaring strings and singing saws. That approach peaked on 1998's cinematic siren-song Deserter's Songs and 2001's rather underrated All Is Dream>/i>. In recent years, the group's output has been less frequent and its sound less fresh. This new project makes for a fascinating reset.
The Delta Sweete Revisited is the first Mercury Rev album since 1993 not to center around Donahue's endearingly odd voice. That's the correct decision for Gentry's material, given both its feminist spirit and the caliber of talent on display here. Hope Sandoval is at her dreamy best lazing up the tempo of "Big Boss Man," Slowdive's Rachel Goswell utterly transforms the squabbling "Reunion" into dreampop incantation—the album's least faithful rendition by far, which is not a qualm—and Stereolab's Laetitia Sadier goes full croon on the record's romantic centerpiece, "Mornin' Glory."
The album's guestlist includes relative newcomers like Phoebe Bridgers, whose understated voice struggles to be heard amid one of Mercury Rev's more syrupy arrangements, and veterans like Lucinda Williams, whose decision to cover "Ode To Billie Joe" is somewhat bewildering, given both its already-high profile and the fact that it did not appear on The Delta Sweete. Norah Jones helps transform the swampy "Okolona River Bottom Band" into a majestic orchestral overture, but the swagger and nimble groove of Gentry's original is sorely missed. Still, the album does not aim to recreate arrangements from a half-century prior; the emphasis is on radical reinterpretation, and that mission succeeds.
The injustice here is that The Delta Sweete Revisited will invariably receive a small fraction of the attention afforded to another all-covers album by a band that rose to prominence during the '90s, Weezer's Teal Album. That album traffics in a shrugged simulacrum of familiarity—"Remember this song? Here it is again, mostly the same!"—whereas Mercury Rev's project revels in a spirit of discovery and transformation. If you haven't heard The Delta Sweete before, here's a gift for you. And if you have, here's something new.