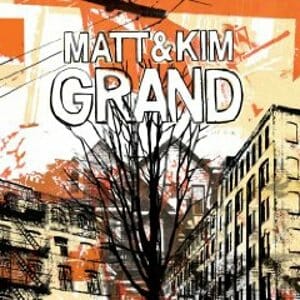 Brooklyn two-piece ready for the floor, but not much else
Despite lyrics that ache to suggest otherwise, Brooklyn-based noisemakers Matt Johnson and Kim Schifino haven't done much growing up since their buzzworthy 2006 debut. The trademark drums, synths and handclaps, coupled with youthful exuberance and angst, resurface here. Luckily, the duo hasn't forgotten why people flocked to them in the first place: for impeccably crafted indie dance tunes buoyed by disarmingly catchy, bustling beats. Grand's euphonious opening tracks don't disappoint, particularly the jubilant single "Daylight," which is so good it warrants a closing remixed version. But Matt and Kim have supplemented their charming recklessness and spontaneity with heavier production values, often disrupting any feeling of cohesiveness. The album's latter half oscillates between forgettable ("Turn This Boat Around") and exasperating ("Don't Slow Down"). Even so, the fleeting euphoria generated from the outset makes the talented twosome difficult to ignore. "The checkered flag means we've just begun," Johnson proclaims on "Cutdown." Let's hope so.
Listen to Matt and Kim's "Daylight" off Grand on MySpace.