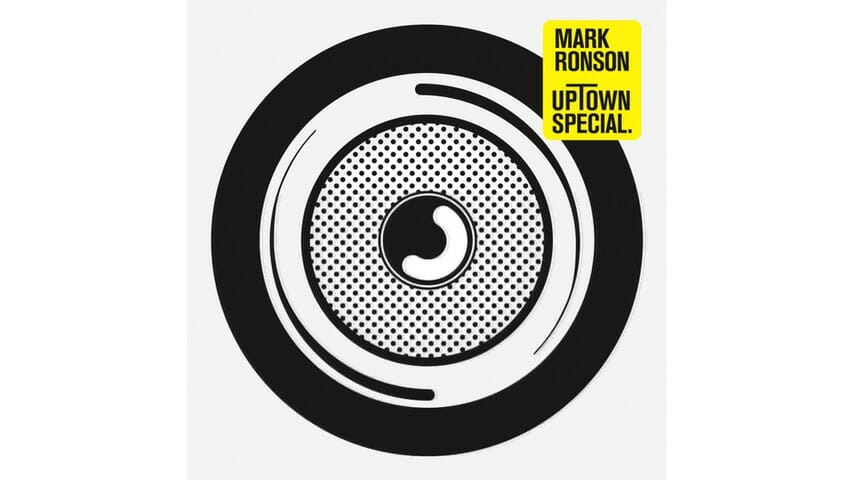 If you say "cultural appropriation" three times into a mirror, a hologram of the Rolling Stones' original lineup appears and performs "Ambitionz Az a Ridah." We're at a time when those two words have reached an insurmountable level of buzz-worthiness. Really, though, what's the difference between appreciation and what could possibly be George Carlin's eighth dirty word of he were still alive?
Mark Ronson's always had an affinity for black music, so to speak. His first record, Here Comes The Fuzz, was a compilation rap album wholly indicative of its time. Released in 2003 it features the likes of Saigon, M.O.P. and the Nappy Roots along with Mos Def, Q-Tip and Ghostface Killah. His follow-up, Version, takes pop and rock songs and funkifies them. Ronson turns songs by Coldplay, The Smiths and Radiohead into nearly unrecognizable incarnations. A cover of Britney Spears' "Toxic" with Ol' Dirty Bastard comes across a completely different song. Along with his third album, Record Collection, an ode to synthpop and funk alike, Ronson has always made interesting choices with his own albums, but they strike short of metabolizing into anything as potent as his work with Amy Winehouse. As Quincy Jones with Michael Jackson and Noah "40" Shebib with Drake, the perfect muse was found.
In Uptown Special, Ronson has found something beyond what was once a one-note premise and has saved his brightest collaborative work for a project of his own. We're all familiar with the remarkable single "Uptown Funk" featuring Bruno Mars, which takes the best line of Trinidad James' career, "don't believe me just watch," and turns it into more than just a raw boast, but with the ornamental horns and galloping bass licks, it's a conscious recollection of swagger. Even though the song feels destined to ring in theaters during the corniest scene in the next huge romantic comedy, it's unmistakably fun and catchy.
Ronson's best choices on the album are the ones straight out of left-field. It isn't inconceivable that he'd one day work with Stevie Wonder, but slow ballads that bookend the album with Mr. Wonder on the harmonica as well as lyrics penned by Pulitzer Prize-winning author Michael Chabon are a write-in answer on Cards Against Humanity. Chabon's contributions on the album bring a level of intelligence rarely seen in songwriting in pop songs outside of Vampire Weekend or the brightest rappers. On the Keyone Starr-assisted "I Can't Lose" the song opens with: "In the back room of the El Mago Casino/ under a portrait of Doris Day/ You and I / and a pair of C-notes/ soft candy betting hard eight."
Another left-field choice is a move that might resurrect the career of Mystikal, who served six years in prison for sexual assault from 2004-2010 and three months for violating probation because of being charged with a misdemeanor count of domestic abuse. The song, "Feel Right" is a loose funk jam with jingling repetitive guitars, an instrumental horn bridge, and refrains from a backing chorus. Mystikal's ease on the track, scratchy voice, and all of its moving parts come together to form the closest incarnation of James Brown we'll be able to find in 2015 and perhaps beyond.
Another standout and weird choice is one of the two Kevin Parker of Tame Impala-assisted tracks, "Daffodils." The song features Parker's airy falsetto, plenty of psychedelic rock influences and the pulsating thunder of Ronson's funk production.
What makes Uptown Special great is also its curse. These are great pop songs that cannot be separated with their inherent desire to be and feel cool. They're groovy, yes, but are sometimes needy and try-hard. In spots you feel like you're listening to an audio manifestation of the guy who says groovy in 2015, pops his collar and wears sunglasses at night.
The thing that allows people to skirt the cultural appropriation tag is if they express an appreciation and understanding of the culture from which the art is derived. Ronson has an obvious deep appreciation and knowledge. It helps not to completely reupholster your image in hopes of monetary gain (see: Cyrus, Miley). But, what really matters is the art, the music; if it's good, no one cares about the ancillary shit, and no one should. Ronson's Uptown Special is his best work yet and one of the best funk albums you'll come across in recent memory.