The 15 Manchester Bands You Need to Know in 2019
The hometown of Oasis, The Stone Roses and The Smiths is overflowing with fresh new talent
Illustration by Danny McKeever
Music
Lists
Manchester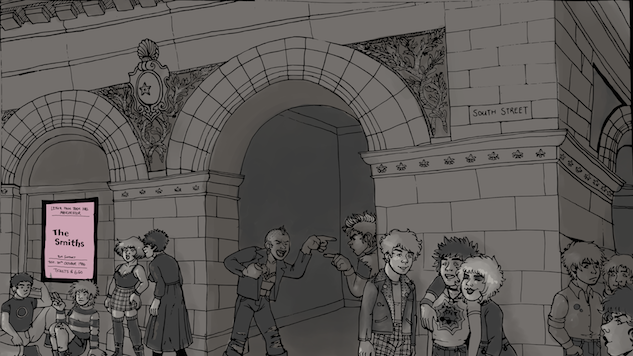 Dozens of cities around the globe claim to be among the best music scenes ever, but few come anywhere near the musical lineage and glory of Manchester, England. Manchester was the home of the gritty Britpop of Oasis, the jangly college rock of The Smiths, the sensitive punk rock of Buzzcocks, the soaring New Wave of New Order, the euphoric baggy rock of The Stone Roses and the enigmatic electronic music of The Chemical Brothers. Home to the historic Free Trade Hall (depicted above), Tony Wilson's Factory Records and Salford Lads Club, more recent acts have called the city home like Elbow, Doves, I Am Kloot, The Courteeners, The 1975, Everything Everything and more. From The Fall and The Bee Gees to Take That and The Hollies, there's something for everyone in this storied Northern English town. As Morrissey once sang, "Oh Manchester, so much to answer for" and musicians continue to live up to that heady tradition. Fans of grime, rap and underground drum and bass music know the city as the U.K. mecca of those genres, while fans of pop and rock have seen names like WU LYF, Hurts and Blossoms spring to the forefront in the last few years. The city's next generation of musicians show a lot of promise for 2019, and if there's one thing that fans of Manchester City and United can agree on, it's that something magical happens when Mancunians pick up a mic or guitar. Paste chose 15 promising new acts from the city, listed alphabetically below.
1. Aitch
Aitch has been hailed as one of the U.K.'s most-buzzed-about rappers and it's easy to see why. The Manchester-based MC released his debut single "Trust Me" a few months ago and before that, dropped a freestyle video called "Straight Rhymez" that took the Internet by storm. After working with producers such as Zeph Ellis, Toddla T, Diztortion and ADP and gaining support from the biggest names in grime (Wiley and Stormzy), this MC has made a name for himself with his dexterous flow and blinding freestyle ability. Don't be fooled by his 18-year-old face, his mix of grime, rap and drum and bass is chic and astute, and his use of internal rhymes is just mind-numbing. His latest single, "Miss Me With It" just dropped on Christmas, and he spits quick-witted bars ("Right now, I've got my left hand glued to the pen / So when I tie my lace / I got blue on my creps") with a twitchy adrenaline. And he's not shy about his own rapping abilities ("You don't know 'bout flows if you don't like Aitch"). Keep an eye out for the release of his EP next year.
2. Beach Skulls
Beach Skulls don't just make breezy dream pop, they also have a ramshackle, surfy garage-rock side that counterbalances the saccharine with some bitterness. Their first LP, Slow Grind, came out in 2016, and their latest album Las Dunas dropped this year. Las Dunas brings more prominent touches of neo-psych and Spanish and American garage, and though they hail from Manchester, a city of grey skies, their murky soundscapes have an unmistakable sunny glow. Singer and guitarist Ry Vieira's vocals are elegant, pretty and almost feminine while his guitar influences span many decades with flickering garage pop melodies and at times leisurely rhythms and other times sputtering freak outs. Beach Skulls' cinematic aesthetic is full of sandy imagery, bittersweet sonics and alluring personality.
3. The Blinders
The Blinders released their highly-anticipated debut album, Columbia, earlier this year via Modern Sky. Originally from Doncaster, this Manchester-based trio takes lyrical inspiration from dystopian science fiction, beat poets, modern-day political turmoil and societal outcasts while echoing the doomy musical mannerisms of Nick Cave and the sinister desert rock of Humbug-era Arctic Monkeys. One of their earliest tracks "ICB Blues" commemorates the brutal killing of Eric Garner by police while "Brave New World" pays homage to the Huxley novel of the same name and pokes fun at Trump's ludicrous border-wall proposal. Frontman Tom Heywood's clever, offbeat growls position him as prophetic town crier while vigorous guitars circle around him like a pack of hungry wolves. Columbia is what you get when a young rock band grows up on Bob Dylan, but decides to make something saltier and with an added pinch of danger.
4. Bugzy Malone
Bugzy Malone has been an instrumental part of the U.K. grime revival. His three EPs—released between 2015 and 2017—all made it onto the top 10 of the British album charts and his debut full-length, B. Inspired, finally dropped a few months ago. His bars on B. Inspired are refined and brutal—fusing desolate realism with playful swagger—and his beats are feverish and smooth. Though his success has been largely confined to the U.K., he's capable of following in the footsteps of Skepta and Stormzy who both have began to grow their American fanbases. However, his sound does contain plenty of British references and he's well aware of his Manchester roots (on his album track "Ordinary People," he sings, "'I'm from a place where no one expects us to make it / There was The Stone Roses and Oasis / But when they were big we were still babies").
5. Caoilfhionn Rose
Singer/songwriter Caoilfhionn Rose released her debut album, Awaken, a few months ago via Gondwana Records. Rose also contributed vocals to the Durutti Column's latest album, 2014's Chronicle XL. Awaken is a cavernous folk-pop album with touches of swirling psych guitars and Rose's breathy, almost jazz-like vocals. The album's expansive production really compliments Rose's sprightly, glimmering pop vocals. She's a supremely talented vocalist and her meticulous lyrics cultivate a woodsy, mystifying beauty. There's also a distinct ambient dream-pop bent to these songs with Rose's wispy vocal melodies and lush guitar lines. Awaken may not be a big-label release, but Rose possesses the songwriting abilities and artistic intrigue of a much more high-profile musician.
6. False Advertising
Rock three-piece False Advertising don't care that the music they make isn't necessarily fashionable any more, but their noise-pop and grunge is worthy of your ear space any way. Their last release was a critically acclaimed 2017 EP, I Would Be So Much Happier If I Just Stopped Caring, though they also released a compilation of tracks from their last two years as a band for a Japanese exclusive album, Belligerent (also available digitally on Bandcamp). Their songs are hazy, hook-centric and bursting with elated fuzz and youthful, turbulent angst. Songs like "Hey You" and "Not My Fault" fuse scintillating grunge-pop with melodic alternative rock a la Garbage or Veruca Salt. As of now, there's no word on a forthcoming album release.
7. Gorgeous Bully
Thomas Crang, who records under the name Gorgeous Bully, released his latest album Closure via Breakfast Records earlier this year. Recalling the likes of (Sandy) Alex G or Empath, Closure is full of melancholy lo-fi bedroom pop with occasional stabs of foggy punk rock. Crang has been churning out music on Bandcamp since 2012 and the prolific singer/songwriter only seems to be improving. Closure runs the sonic gamut—the lead track "I'll Be True" is thundering in its sadness, "Gum" is sweet and dainty in its meloncholia, and "Infinite Sadness" is forceful and grubby in its yearning.
8. IAMDDB
After coming in third place in the BBC's highly-coveted Sound of 2018 list, this Manchester rapper Diana Debrito (aka IAMDDB) has been drawing headlines with her jazz-inflected hip-hop, trap and self-described "urban jazz." So far, she's released four mixtapes—most recently, this year's Flightmode Vol. 4. Though she's based in Manchester, she is of Portuguese and Angolan descent and took part in Angola's local jazz scene. Her voice fluctuates from soulful singing to stuttering raps and her lyrical voice is commanding, defiant and provocative. Despite her domineering lyrical presence, these songs are softened with suave, chilled-out beats and understated synths. The downtempo "Watrfall" is polished and sedating while "Drippy" is coolheaded and flaunts her gripping flow and unique vocal tone.
9. Kiran Leonard
Despite having released two records prior, Kiran Leonard's latest album Western Culture is his first professional studio album and his first with the backing of his live band. Though assisted by some additional players, Leonard contributes the lion's share of instrumentals with everything from guitar, organ, piano, violin and vocals to sandpaper, goat bells and frying pan. After releasing a five-movement concept album last year, Western Culture is similarly elegant, but far more expansive and pop-oriented. Leonard's brand of baroque pop-tinged rock is both astoundingly pretty and wildly vigorous. Tracks like "The Universe Out There Knows No Smile" and "Working People" sound almost too highbrow and meticulously composed to be considered rock, yet too dogged to be classified as classical or baroque-pop. Western Culture isn't just a gorgeous album of nuance, it's also laced with musings on the recurring problems plaguing the populace like the lack of communication and feelings of alienation.
10. Luxury Death
Luxury Death are a duo made up of Ben Thompson (formerly of Nai Harvest) and Meg Williams and their latest release was last year's single, "Diluted," backed with "Kids of the Club." They put out three singles and their 2017 debut EP on Stockholm, Sweden's PNKSLM Recordings. Their debut EP Glue was a microcosm of their penchant for sparkling pop and synth-rock exultation and candid lyrical vulnerabilities ("Your body aches for another fake embrace"). "Diluted" and "Kids of the Club," on the other hand, take more cues from New Wave and electro-pop—glistening with bright pop melodies, spacey synth riffs and contagious boy-girl vocals with a punky delivery.
11. Man Made
Man Made were always doomed to get too much attention for the fact that their frontman, Nile Marr, is the son of The Smiths' Johnny Marr, but these guys are deserving of attention and praise on their own terms. Their 2016 debut album, TV Broke My Brain, is a concoction of instantaneous, hook-heavy pop-rock and power-pop and they actually sound far more indebted to American bands like The Posies than Manchester's jangly, baggy or Britpop guitar traditions. Songs like "Bring Some" and "Hi Tech Low Life" embrace the immediacy, structure and clarity of pop music much more than your typical run-of-the-mill indie-rock band. TV Broke My Brain is emblematic of a band that isn't afraid to write hooks that other bands might find too cheesy or catchy. These guys are the antithesis of all the sad-sack, reverb-heavy bands that are too shy to make eye contact with the crowd. Man Mare are uplifting and celebratory, and in a weird way, in today's musical landscape, that seems rebellious. They're currently working on their second album.
12. Murlo
Murlo (aka Chris Pell) is a DJ and producer who's been grabbing headlines recently for his mix of dancehall, grime, garage and electronic music. He previously released three EPs for the New York-based Mixpak label and his latest EP, Wind Me Up, came out last year via London grime label Butterz. His debut album, Dolos, is due out in spring 2019 and the first cut we've heard is called "Evaporate." It's bone-chilling and spasmodic with its fluttering rhythms, disorienting synths and boisterous beats. Murlo is a master of biting, lustrous percussion and intoxicating melodies and however complex and pain-staking, his music is immediately satisfying. It's as dizzying and ethereal as it is soul-stirring.
13. New Luna
New Luna are a young four-piece band with only a handful of releases so far, but an abundance of promise. They released their self-titled debut EP back in 2016 and a string of new singles this year—"Opinionated," "Knew Too" and "Red Music." New Luna play a blend of noisy alternative rock, hazy dream pop and transportive post-rock, and their frontman Tommy Deedigan's spirited vocals are the warm, benevolent ying to their frenetic guitar yang. They've supported bands like Happyness, Her's and Sløtface, and their latest single "Red Music" was self-produced and mastered by Pete Maher (Jack White, Pixies). "Red Music" has a steady, taut build up of tension, but the payoff is monumental. Deedigan's vocals are numinous and earnest ,while Zack Bamber's guitars radiate with so much humanity—you'll find withering pain, intensifying joy and reckless abandon all within the same coda.
14. Pale Waves
If you're into sleek guitar pop, Manchester four-piece Pale Waves will be right up your alley, particularly if that's a charmingly dark alley out of a Tim Burton movie. The distinctly '80s goth look of frontwoman Heather Baron-Gracie is striking and their smooth, jangly guitars call to mind indie-pop bands of yesteryear as well as the glossy pop of today. Pale Waves released their debut album, My Mind Makes Noises, earlier this year via U.K. indie giant Dirty Hit, best known for The 1975 and Wolf Alice. The 1975's Matty Healy and George Daniel also co-produced this album with Pale Waves' drummer Ciara Doran and recording engineer Jonathan Gilmore. "One More Time" is indicative of their heartfelt soaring choruses that make dancing inevitable, "Noises" features a life-affirming guitar solo and "Eighteen" has those lyrics that will transport you inside the mind of an angsty teenager, regardless of your actual age.
Read our recent interview with Pale Waves here

15. Sharda
Sharda got the tap from fellow Manchester DJ Murlo to release his debut EP on Murlo's Coil Records this summer. Sharda's highly-anticipated, self-titled EP is vibrant and lucid as it explodes with hints of classic house, garage and jungle hardcore. Each pumping beat, throttling piano riff, soulful vocalization and feisty bassline is carefully placed for optimum bewilderment and warrants a spiritual escape within each and every note. Though still at an embryonic stage of his career, Sharda opts to preserve a level of mystery as there are no interviews to speak of yet and you'll have trouble tracking down a press photo without his face turned away from the camera.