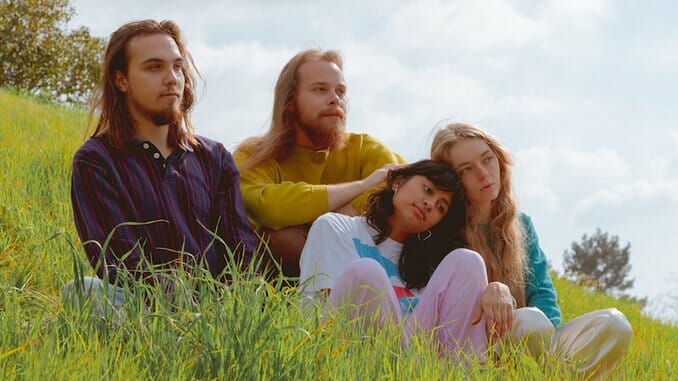 Los Angeles-via-Austin band Mamalarky have shared a new single "How To Say" via Fire Talk Records—their second since signing with the label late last year. The band is currently working on their debut album, due for release later this summer.
"How To Say" explodes with lo-fi guitar chirps and suave dream pop vocals. It's quite a tightly-packed ball of robust strums and lyrical yearning, bound to burst any minute, but its underlying graceful stroll always reels it back in. The song comes with an accompanying video, filmed and directed by the band and cloaked in a golden summer haze.
Lead vocalist Livvy Bennett says of the song:
I'm bored. We're all bored. We wrote and recorded a song during this boring time. Here is exactly what it sounds like as a waveform. It's about falling in love and not knowing exactly how to say it yet. This concept of shared love—'you say you love me but what does that mean?' It's like…does love mean the same thing to both of us? Can it ever entirely mean the same thing, being different people who experience life so differently? Maybe that's why they invented the 5 love languages, to reconcile with these little differences in how we give and take and feel love? Maybe this expression that you're listening to now is as close to an understanding of love as anything else.
Everything on this track is the first take, meaning we only recorded each part once. It was home recorded, right after SXSW was called off by the covid. It was meant to be a demo and then we were like…actually this sounds more genuine than it would if we just sat in a studio and hacked away at different takes, trying to make it perfect. The result is organic and cage free, but may contain soy and tree nuts.
Listen to "How To Say" below.