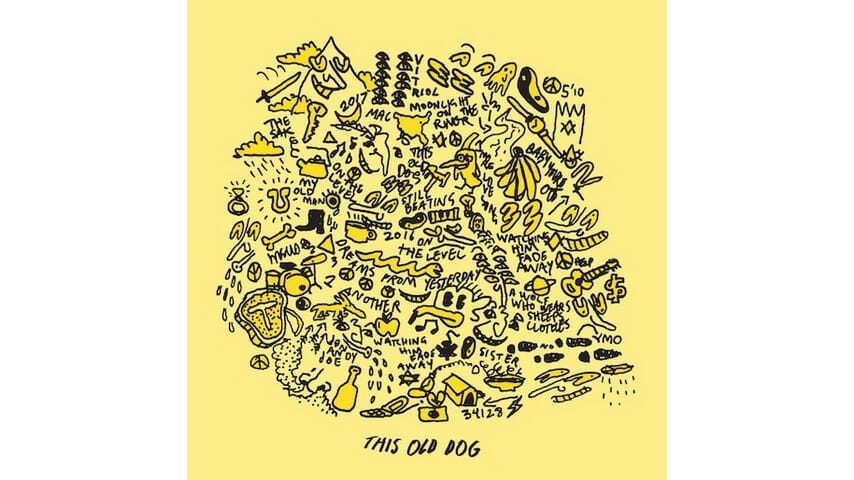 Whether you want it to or not, the dreaded fangs of adulthood sooner or later gnash at everyone. So it goes, albeit somewhat sooner than expected with the crown prince of goofy pop, Mac DeMarco. The heavy-lidded jams of Demarco's breakthrough record 2, and later on Salad Days, are largely absent on This Old Dog, replaced by the sounds of a more introspective crooner staring mortality right in the eyeballs.
The void left by the disappearance of much of Mac's subtle ribbing is arresting, bringing to mind the initial shock felt by early listeners of Beck's bummer-study standout Sea Change. As an anti-star who, at his heart, would likely be happy playing in a Midwest basement for beer money, DeMarco possesses innately strong songwriting abilities, endearing him to bedroom lo-fi purists and besandled Parrotheads alike. A move from Queens to Los Angeles allowed time for his new demos to marinate a bit longer than he is normally in the habit of permitting. On This Old Dog, the intimacy of those demos seems to have shown through, as aside from a couple of tracks, the record is steeped in the more somber tones of acoustic guitars, moody synths and drum machines.
A song as melancholy as the title track peels back his infamous tongue-in-cheek disposition. It begins sleepily, DeMarco admitting "Sometimes my love may be put on hold/Sometimes my heart may seem awful cold" while a loose Neil Young rhythm ripples beneath. The song broods in a current of doleful rearview reminiscence, with every instrumental moment seemingly draped within a gray cloud. It's the first sign of bad weather, though he seems to keep a silver lining nearby should he need it.
DeMarco nearly solicits a wink-and-nudge on the schlocky synth ballad "For the First Time," where disproportionately cheesy lyrics mirror a kind of puppy love role play. Despite that misstep, throughout This Old Dog, his vulnerability is exposed in the tenderness of tracks like "One More Love Song," a kind of slacker psych-ditty that pulses in nighttime heat like a Barry White ballad. "One Another" lends credence to the original demos being largely untouched, as DeMarco fidgets with a Laurel Canyon groove with fluid bass and an out-of-tune synth.
Later, "On the Level" slithers like an opioid trip, replete with a prominent ambulance siren synth lead that offsets the song's underlying slow funk plunk. "Moonlight on the River" continues the lazy vibes, with slow, plunky bass driving a tune that finds DeMarco singing, "I'd say I'd see you later/If I thought I'd see you later/And I'd tell you that I loved you/If I did." The essence of the song's transient shrug is in its indecisiveness, where he's saying goodbyes he's not sure he wants to, as alluded to by the second-half chorus line, "I'm home/there's moonlight on the river/everybody dies."
Without the typically busy electric guitar runs, This Old Dog uncovers much more of DeMarco's enlightening lyricism, laying bare his emotive underbelly with opuses drenched in California malaise and millennial indifference. You wonder what DeMarco not writing from a conceptual character's point of view—a la his debut Rock and Roll Night Club—might have sounded like at 21 instead of 26. The jester lurking within DeMarco's creative outlook may be maturing, but considering how seamless his transition to more heartfelt songwriting sounds, perhaps this old dog is ready to learn some new tricks.