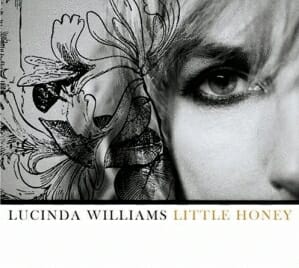 Lucinda gets her joy back

Lucinda Williams has a great laugh—it's a joyful sound to hear on the aptly titled Little Honey, the 10th album in her three-decade career. A sweet sense of renewal imbues Williams' latest work, which encompasses all the elements of her eclectic catalog—from her stark early sets Ramblin' (1979) and Happy Woman Blues (1980) to her 1988 self-titled breakthrough to last year's textural West, co-produced with Hal Willner (Lou Reed, Bill Frisell). But not since her masterpiece, 1998's Car Wheels on a Gravel Road, has Williams dug so deep and come up with an album that brims with such varied, impeccable writing. Aided by loose-limbed playing from her band Buick 6, some notable party guests, and a voice full of everything from righteous gusto to hard-won wisdom, Little Honey is Lucinda Williams at her best.
A sharp contrast to the studied tapestry of sound and embittered lyrics of West, Little Honey finds Williams in celebratory mode, with raucous rock, bluesy testimonies and tongue-in-cheek twang. Her brooding introspection—found here on a handful of moody tone poems and mournful ballads—adds depth to the proceedings. A decade ago, the Louisiana-born Williams proffered that her best work was borne of emotional crises and the ensuing solitude—exactly the circumstances surrounding West, which examined a harrowing breakup and the devastating loss of her mother. But Little Honey proves that philosophy wrong: This time out, Williams has found "Real Love," the barnburner that kicks off the album, and she sings "Tears Of Joy," a stunning Chicago-meets-Texas blues. On both tracks, her chansons d'amour are abetted by the straight-ahead backing of her touring group: longtime (for Williams) guitarist Doug Pettibone, joined by axman Chet Lyster, bassist David Sutton, and drummer Butch Norton, who give the album its punch.
The direct, autobiographical narrative "Tears of Joy" could have been written by Memphis Minnie: "Uprooted and restless, I paid the cost / I've been a mess, misguided and lost / But I've been so blessed since our paths have crossed / That's why I'm crying tears of joy." Williams gets straight to the heart of the matter with some of her strongest vocals ever. Likewise, on the spare "Heaven Blues"—on which she pays tribute to the Delta, recalling Blind Willie Johnson's "Dark Was the Night, Cold Was The Ground"—Williams has been to hell and back and is ready to make her own heaven. Norton's inventive percussion (including a washing machine and a manhole cover) is the perfect rhythmic backing to Williams' crossroads declaration.
Little Honey also acknowledges the other roots music that has so informed the Americana queen's songcraft. Her peals of laughter follow the wry honky-tonk number "Well Well Well," with its classic C&W ending: "If you hang around trash you can't come out clean." Helping out on harmonies are Ryman throwback Jim Lauderdale and the eightysomething Charlie Louvin, the surviving member of country's great duet, the Louvin Brothers.
Williams playfully nods to the tradition of "he said/she said" duets—think the evil twins of Conway and Loretta—on the fabulously fun "Jailhouse Tears." As the "three-time loser," Elvis Costello hasn't relished such a down-home vocal role since he took on the guise of a country killer in "Psycho."
Little Honey does have its somber moments, and this is where Williams' poetry shines: Both "Knowing" (a dozen of its lines starting with "I didn't know") and the exquisite "Rarity" employ a lamps-down-low horn section and ?Hammond B-3 to create a lush soundscape for Williams' bruised delivery. "Little Rock Star," its soaring chorus provided by Matthew Sweet and Susanna Hoffs, is the follow-up (a beautiful loser, L.A.-style) to "Drunken Angel," Williams' 1998 character study of doomed Texas songwriter Blaze Foley. And remorse is the theme of windswept ballad "If Wishes Were Horses" and the mothballed "Circles and X's," written in 1985.
One of the most moving moments on Little Honey is the stark "Plan To Marry," which features Williams alone with her acoustic guitar: "When the destitute and isolated / Have all been forgotten / And the fruit trees we planted / Are withered and rotten." Williams once described the difficulty of writing a truly meaningful protest song—she's done it here.
Little Honey is bookended by glorious rockers: Following a false start of blasting guitar, "Real Love" finds Williams swept up in a sea of crunchy Fenders, reverb and Rob Burger's Wurlitzer. And straight from the School of Rock (or is it hard knocks?), she closes with AC/DC's "It's A Long Way To The Top," bringing gospel-style fervor to the hell-raisin' nugget: While Williams belts it out, Memphis soul sister Susan Marshall and company join her in a frenzied testimony. In between, there's "Honey Bee," a lusty rocker during which Williams bares all.
Co-produced by West engineer Eric Liljestrand and Williams' fiancé, Tom Overby, Little Honey is the happy ending to 1998's "Joy." During the finale of her late-'90s concerts in ever larger halls, Williams and her band were known for vamping on the song's rhythmic hook, "You took my joy / I want it back." A decade later, on Little Honey, she's got it and she gives it. How sweet it is.

Listen to tracks from Lucinda Williams' Little Honey on her MySpace page.