Exclusive: Lower Dens Share Mythical, Polychromatic "Hand of God" Video
Photo by Torso
Music
News
Lower Dens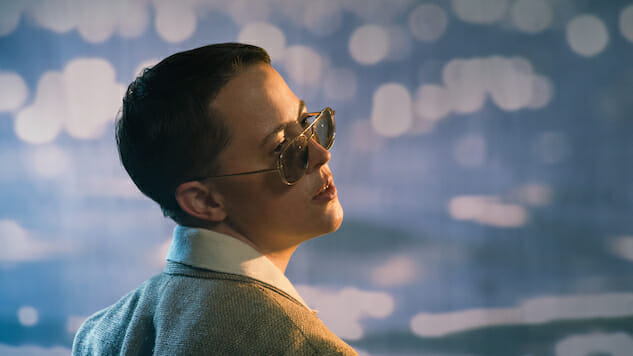 Baltimore alternative-pop band Lower Dens have shared a new video for "Hand of God," taken from their 2019 album The Competition, available now on Ribbon Music. The video is premiering exclusively via Paste, and it was directed by Aaron Brown and Robby Piantanida. After supporting Of Monsters And Men on tour last year, they're embarking on a headline tour this year, and you can view their upcoming tour dates below.
"Hand of God" is marked by fluttering electro-pop synths and vocalist Jana Hunter's passionate croon. It's a touching, danceable pop nugget that soars far beyond the plane of mortal existence. In the song, Hunter explains the dramatic, mythical saga that's about to take place: "I am going on a journey 'cause I'm very brave / I am risking all I have to hunt and conquer God." The video is set in a colorful, nondescript dimension where we see the actual hands of God intervening.
"It's like Cowboy Krautrock," says Hunter. "Imagine a wild west adventure, like 'City Slickers,' with the star, a wealthy white man. He's devised a way to conquer God. He has some kind of vaguely dangerous journey, then comes upon God and declares victory. In his hubris, he goes to shake God's hand, at which time he is psychedelically humbled, his little brain imploding."
Paste wrote of the album, "Much of the The Competition's power lies in the way Hunter zooms in and out between perspectives—often on the same song. Like a master cinematographer, he frames certain lines as carefully backlit scenes within a greater narrative message."
Watch the video for "Hand of God" exclusively via Paste below, and check out Lower Dens' 2010 Daytrotter session and upcoming tour dates further down. Read Paste's full review of The Competition here.
Lower Dens Tour Dates:
February
13 – Millvale, Pa. @ Mr. Smalls Theatre
14 – Washington, D.C. @ Songbyrd
15 – Raleigh, N.C. @ Kings
16 – Nashville, Tenn. @ The High Watt
18 – Atlanta, Ga. @ The Earl
19 – Birmingham, Ala. @ Saturn
21 – Austin, Texas @ Barracuda
22 – San Antonio, Texas @ Paper Tiger
23 – Dallas, Texas @ Ruins
25 – Phoenix, Ariz. @ Valley Bar
26 – San Diego, Calif. @ Soda Bar
27 – West Hollywood, Calif. @ The Roxy Theatre
28 – San Francisco, Calif. @ Rickshaw Stop
March
02 – Seattle, Wash. @ The Crocodile
03 – Portland, Ore. @ Mississippi Studios
05 – Salt Lake City, Utah @ Urban Lounge
06 – Denver, Colo. @ Globe Hall
08 – Minneapolis, Minn. @ 7th Street Entry
09 – Chicago, Ill. @ Lincoln Hall
10 – Detroit, Mich. @ Deluxx Fluxx
12 – Toronto, Ontario @ Velvet Underground
13 – Montreal, Quebec @ Bar Le Ritz PDB
14 – Boston, Mass. @ Brighton Music Hall
16 – Portland, Maine @ SPACE Gallery
17 – Portsmouth, N.H. @ 3S Artspace
19 – Brooklyn, N.Y. @ Music Hall of Williamsburg
20 – Philadelphia, Pa. @ World Cafe Live
21 – Baltimore, Md. @ Ottobar