"I'm 100% That Bitch": Mina Lioness on the Tweet That Became Lizzo's Most Famous Lyric
The British artist, who originally tweeted the 12 most famous words on Lizzo's Grammy-nominated "Truth Hurts," explains how the song changed her life
Photo by Dave Simpson/Getty
Music
Features
Lizzo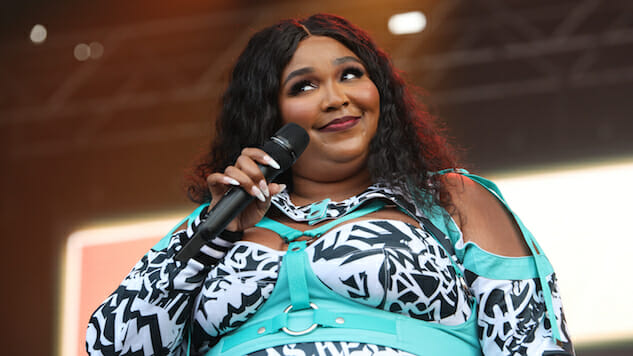 British musician Mina Lioness has published more than 209,000 tweets since she first made an account in April 2011, but one in particular changed her life forever. On Feb. 25, 2017 at 4:34 a.m., Lioness tweeted 12 now-immortal words: "I did a DNA test and found out I'm 100% that bitch." It wasn't the first time she'd gone viral, and in a sublime act of premonition 18 hours later, she replied, "This my 4th tweet to blow this week bitch… I own my royaltiesss."
Halfway across the world, Lizzo, then a rising artist but not yet a household name, later saw a meme based on the tweet and included it in what would become her signature song, "Truth Hurts," which she initially released in 2017 before including it on her 2019 album Cuz I Love You. Even still, there is much uncertainty surrounding who does/doesn't deserve songwriting credits for the late blooming hit—Pitchfork published a lengthy piece appropriately titled, "Who Wrote Lizzo's 'Truth Hurts?' Who Knows?"—and multiple lawsuits are still pending. But after some back and forth, Lizzo gave Lioness a songwriting credit on Oct. 23, 2019, announcing the news on Instagram.
Ever since, Lionness and Lizzo's teams have been on good terms, particularly after "Truth Hurts" was nominated for three Grammys, including Song and Record of the Year. Julie Greenwald, the Chairman/COO of Atlantic, spoke with the CEO of the Recording Academy on Mina's behalf in hopes that she would receive a nomination as well, as Lioness' lawyer Ibrahim Ojaali explained to Paste. It doesn't look like she'll get a trophy if "Truth Hurts" takes home the big prize, but Lioness, as it stands, will get a certificate and recognition from the Grammys for her contribution. "They took it to the top," Ojaali says.
That recognition means the world to Lioness, who hails from Edmonton, a neighborhood in North London. But the whole situation is a powerful example of the future of music. "In 2020, where things are not so analog anymore, things are digital and not everybody's going to be in the room writing a song with you," Lioness explains. "Things are given over email, telephone, Instagram, whatever. For the Grammys to have acknowledged that, that would have been a moment in history."
Just after the Grammy nominations were announced, Paste chatted with Lioness and Ojaali about the events that led to her songwriting credit on "Truth Hurts," the nominations themselves and what it would mean if Lizzo shouted her out in an acceptance speech on international TV during Sunday's broadcast.
Paste: "Truth Hurts" is up for Record and Song of The Year at the Grammys. How do you feel?
Lioness: I knew it was going to happen because that song was really big all year. I knew it was bound to get some level of recognition from the Grammys. Personally, I was happy. I was happy for Lizzo. I was happy that the song got its recognition.
I know that, through our emails, there are all of these negotiations behind the scenes over whether or not you will get a Grammy if it wins. What's going on there right now?
Lioness: What happened is that they'll recognize my songwriter's credit as an interpolation as opposed to having full intention of being involved in the songwriting process of "Truth Hurts" because of the context of where the songwriting came from. Because it came from a tweet, it's like I was indirectly involved in the creation of the song. That has led to me not being eligible to be nominated for any Grammy, but I'm able to receive acknowledgement from the Grammys themselves, a certificate to say that I have a songwriting credit on a Grammy-nominated song. There was some push from Lizzo's people to have me acknowledged as well as the other songwriters, but rules are rules, and I guess that's just how it goes. I'm still ecstatic regardless, to be honest.
How do you feel about this whole process since the nominations came out? Do you want the trophy?
Lioness: Of course! I don't even know what it'd be like to know that I'd be nominated for a Grammy based on a tweet. That'd be such an experience for me; I don't even have the words to describe it. It would have been lovely for me to be nominated for the Grammy. It would have been such a moment in history, especially approaching the age we're approaching now. But, at the end of the day, I understand the rules process that they have up as their terms and conditions. As I said, I'm just happy regardless.
You mentioned it was Lizzo's team that was trying to make you eligible for the award. Since there was quite a bit of back and forth to get your songwriting credit on there, what's your relationship like between your team and Lizzo's?
Lioness: She acknowledged me as an artist, as a fellow black woman who's just out here trying to get her art out there and be acknowledged for her own talents, and I give her the same respect. There's a very mutual respect for each other. If she ever needs support from me, I'm happy to give. I feel confident in saying that if I needed any support from her, I could reach out to her.
Have you met before?
Lioness: Yeah, when she came to London, she invited me to her first show, and I got to meet her backstage. It was a really positive moment. We embraced each other. I gave her props and she gave me mine. It was just mutual respect for one another and it was a beautiful moment.
It sounds like it all resolved itself in a really nice way.
Lioness: Here's the thing: A lot of times in the media, whenever two artists are in some level of dispute or whatever, it always comes across as so nasty and we have to hate each other and we have to feud. It was none of that at all. It represents a sisterhood and how we treat each other and how we communicate with one another. I'm really thankful it went that way because I don't want to be a part of any media storm against her, and she felt the same. It was all friendly, all approachable. I never had any ill wishes against Lizzo in the first place.
Let's say the song wins. What would it mean to you as an artist if the song wins and Lizzo shouts you out?
Lioness: I don't really know! [laughs] There are rarely any opportunities for people from my community to be assented on such a grand stage, especially for music. It would be such a moment in history that I can't believe I could get to be a part of. I hope that she does win, I really do.
You're a musician as well. How has this whole process influenced your own career? Has it given you more confidence?
Lioness: Absolutely. It's let me know that I'm not crazy. It has increased my self-esteem and my confidence and my songwriting abilities to know that what I'm saying is important and is of value to people. I've just taken that motivation and have gone full speed ahead with that. I'm working on my project now. I'm also working on a project with a songwriting partner of mine. I'm a busy bee.
It seems like it's all been resolved in such a positive way.
Lioness: I'm still taking it all in. I'm adjusting to it all and trying my best to remain focused on my own career and hopefully make something out of this for the rest of my life.