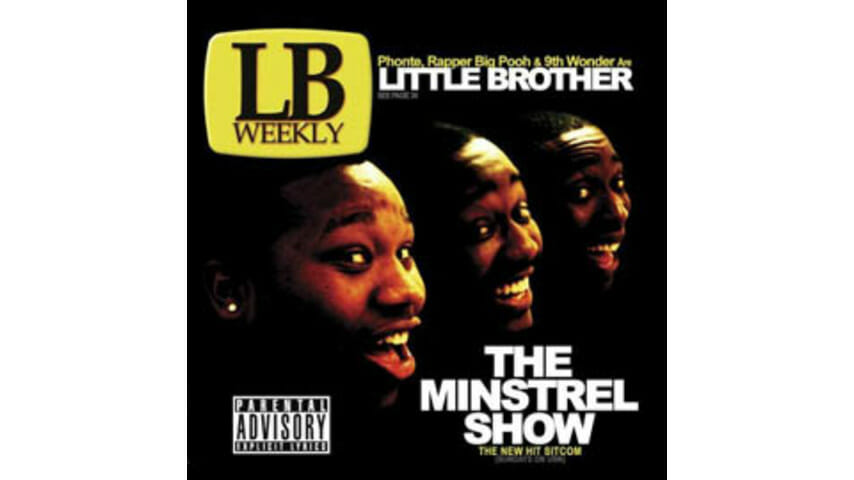 Stickin' It To The 'Mang': Rap trio attempts grand statement about institutionalized racism
The trio Little Brother—rappers Big Pooh and Phonte with DJ 9th Wonder—has officially popped off, and finally, N.C. rap has a respectable national foothold, toppling Petey Pablo from a very tiny pedestal. Emerging from a larger crew called the Justus League in 2001, the trio built regional buzz with frequent performances and an honest approach—eschewing glamorous fantasy, they rapped about their day jobs, insecurities and dreams. After generating Internet buzz, Little Brother signed a deal with Oakland label ABB and released its debut, which sparked enough national interest for 9th Wonder to sell beats to Jay-Z and Destiny's Child.
On the group's major-label sophomore effort, Little Brother acknowledges that the stakes are higher: "Niggas is listening now, so I better have something to say to 'em." In meeting these expectations, Little Brother hunkers down in its familiar style, and if the musical content of The Minstrel Show could be described with one word, it's "solid." Lyrically, Pooh and Te split time between textbook braggadocio rhymes and inspirational raps about the perils of coming up in the rap game from a middle-class background; each is an intelligent MC, opting for substance over flash. They admirably resist the urge to cash in on Southern rap's current cachet—there's no affected Southern slang, no ad libs or crispy-fried crunk inflections, no "jawns" or "mangs." The beats are serviceable and melodic, if a bit rote. On "Still Lives Through," there's the line, "Today's fan is tomorrow's rap critic / One day they giving you the thumbs up, the next / They telling 9th to go and switch his drums up." Maybe the criticism is more friendly advice than hating: All good producers have a recognizable aesthetic, but 9th might've painted himself into a corner, as the entire album relies so heavily on soul breaks, tinny synths and, especially, the same flat, compressed snare, that it starts to blur by the end. Thematically, The Minstrel Show lambastes a rap establishment where white powerbrokers get rich exploiting black performers. Some rap critics have blasted the group for being hypocritical, for recycling A Tribe Called Quest in The Year That Kanye Made and trying to pass it off as revolutionary. This is due to Little Brother's heavy-handedness—they'd have done better to omit the didactic skits and make their point by tacit counterexample. "All For You" is a humane investigation of paternity's challenges in the vein of OutKast's "Ms. Jackson," and the respectful come-ons of "Slow it Down" are the opposite of the Ying Yang Twins' portrayal of the black man as a misogynistic sexual predator. If it's too naive to say Little Brother is altruistically crusading for social justice, it's too skeptical to say they're cynically exploiting their audience's sense of self-righteousness. The trio's screed stems from a complex mixture of both impulses, and in the end what we get is a group of ambitious young men grappling with large concepts and trying to articulate their place in the game.