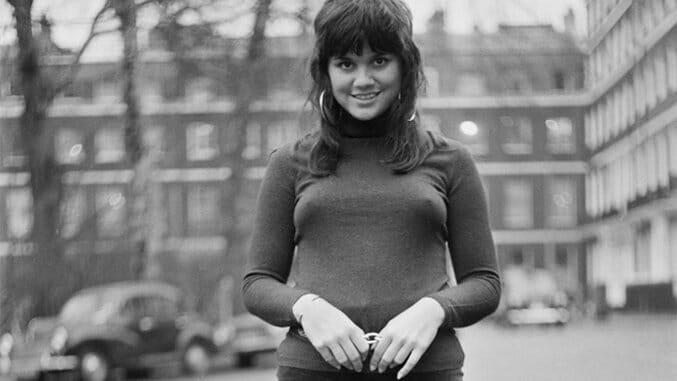 This article was initially published Sept. 14, 2017, and republished in honor of that beautiful Last of Us episode, featuring our #2, "Long Long Time."
Few voices are as synonymous with the '70s country-rock scene as Linda Ronstadt's. During her nearly 50 years of music-making, the Tuscon, Ariz., native also divided the walls separating pop, rock, mainstream country and traditional Mariachi music. She could easily slip into whatever musical style she so desired, and went on to sell millions of albums and singles and garner countless awards and hardware. Tragically, Parkinson's disease stole her voice back in 2013, although she suspects she was first hit with the illness 12 years earlier.
Ronstadt's legacy remains strong, though. Following two LPs as frontwoman of The Stone Poneys, including Evergreen Vol. 2, featuring the Top 20 hit "Different Drum," she parted ways and released her solo debut album, Hand Sown…Home Grown in 1969. Instantly, it was evident she was destined for bigger and better things. Through subsequent acclaimed, landmark records, such as 1974's Heart Like a Wheel, and 1987's Trio (a collaboration with Emmylou Harris and Dolly Parton) and Canciones de Mi Padre, Ronstadt injected music with grizzly excitement, raw soul-punches and an incomparable vocal artistry few other artists have ever cleared. Most known for a slew of covers, she never let someone else's compositions hold her back and Linda Ronstadt's greatest include even better, fuller-bodied work than the originals.
Another of Ronstadt's most important albums, 1977's Simple Dreams, celebrates its 40th anniversary this year, and Rhino Entertainment will reissue the set Sept. 15. The remastered disc will include three bonus live versions of "It's So Easy," "Blue Bayou" and "Poor Poor Pitiful Me." In honor of that album and her outstanding career, here are Linda Ronstadt's 15 best songs.
15. "Different Drum"
Along with musicians Bobby Kimmel and Kenny Edwards, Ronstadt fronted the short-lived Stone Poneys in the late '60s. Through two studio albums, 1967's self-titled effort and Evergreen Vol. 2, the trio unleashed a charred folk-rock style not too far removed from Ronstadt's later solo endeavors. From the layered guitar work and an eerie resemblance to Peter, Paul and Mary, the song (off the latter record), sees Ronstadt relinquish a lover for being too clingy. "It's just that I am not in the market for a boy who wants to love only me / Yes, and I ain't saying you ain't pretty," she sings charmingly. If you didn't know any better, you'd think she as declaring her unconditional love for him.
14. "That'll Be the Day"
Much of Ronstadt's songbook is rooted in introducing a new slew of fans to pioneering giants, covering everyone from Hank Williams to Frank Sinatra. Her 1976 album Hasten Down the Wind, scattered with other favorites like "Rivers of Babylon" and "Someone to Lay Down Beside Me," presented a sterling cover of Buddy Holly's "That'll Be the Day," which he initially released in 1956. Ronstadt played down the doo-wop, jazz-inflections in favor of vibrant guitar licks and one of her best growls on record. "That'll be the day when I die," she howls about a scorned lover threatening to break her heart. Her delivery is both somber and cunning.
13. "How Do I Make You"
Ronstadt's 1980 LPMad Love is a severely underappreciated body of romping pop-rock joyrides. "How Do I Make You" is spun together with her sly effervescence and a hear-me-roar rumble, and displays a clever knack for digestible, yet delightful new wave influenced rock music. From her slide into her trusty upper register and the rattling electric guitar solo, it's no wonder she continued to show remarkable versatility and cultural relevance for nearly 30 years afterward.
12. "The Only Mama That'll Walk the Line"
Clocking in at just over two minutes, this early deep cut (from her solo debut, 1969's Hand Sown…Home Grown) is a direct answer song to Waylon Jennings' 1968 original, "Only Daddy That'll Walk the Line." By reversing the gender (and rearranging some of the lyrics), Ronstadt make a rather bold statement for the time period, exposing the flagrant disregard for women's rights. The singer, who also spoke out about heinous sexism she encountered, in a round-table chat with Fusion, makes her version significantly more striking through variations of piano-based honky-tonk and blustering Cali-rock style.
11. "Don't Know Much"
Much of Ronstadt's later material, particularly in the '80s, consisted of exploring her vast other influences, including slick pop and adult contemporary. Her 1989 triple-platinum, collaborative album Cry Like a Rainstorm, Howl Like the Wind, featuring Aaron Neville's luscious tenor, is one of her more cohesive. On "Don't Know Much," originally recorded by Barry Mann in 1980, the pair shifts between raw intimacy and power balladry. Ronstadt has rarely sounded so exquisite as she does flipping into her head voice, exemplified by Neville's unquestionably earthier mix.
10. "Someone to Watch Over Me"
Originally from the 1926 musical, Oh, Kay! (featuring music composed by George Gershwin with lyrics by Ira Gershwin), this sweeping jazz standard was famously recorded by prolific interpreters like Judy Garland, Frank Sinatra and Ella Fitzgerald. Ronstadt courageously sharpened her teeth on a book of traditional pop styles on 1983's What's New, which also featured her versions of songs like "Crazy He Calls Me" (Billie Holiday), "I Don't Stand a Ghost of a Chance with You" (Bing Crosby) and "I Guess I'll Hang My Tears Out to Dry" (introduced by Jane Withers in Glad to See You). Ronstadt, however, flexes the full extent of her vocal chords, stepping comfortably into the orchestral structure—recorded with bandleader and arranger Nelson Riddle. The album is the first of a trilogy they worked on together; Lush Life came in 1984 and For Sentimental Reasons in 1986.
9. "To Know Him Is to Love Him"
The extensive work over two full-length albums, 1987's Trio and 1999's follow-up Trio II, with Dolly Parton and Emmylou Harris, could have easily comprised a considerable portion of this list. While Harris does take the lead here, the heartfelt intensity would not have been the same without Parton's feathery harmony and Ronstadt's caramel-smooth contribution. The song, written by Phil Spector, was first recorded by The Teddy Bears, of which Spector was a member, in 1958, and was inspired by words scrawled on his father's tombstone.
8. "Tumbling Dice"
Tackling this 1972 Rolling Stones hit was a stroke of genius for Ronstadt. Again, a woman shaking up the status quo with a groovy, provocative song was groundbreaking and became a tent pole of her catalog. The focus remains, satisfyingly so, on the sharp piano and guitar work, conjuring up a torrential force of pleasure and escape. Ronstadt's vocal more than lives up to expectations, never rushing the arrangement but letting it ebb and flow as it chose. A standout moment on 1977's Simple Dreams, her version is a classic in its own right.
7. "Silver Threads & Golden Needles"
Having first recorded this Wanda Jackson tune for her 1969 debut LP Hand Sown…Home Grown, she later revisited for her fourth full-length, 1973's Don't Cry Now. Not only was her voice far more nuanced and somehow richer on the latter recording, but also, the production received facelift with its rockier elements subdued and the country tones brightened. The revamped version became a Top 20 hit on country radio.
6. "Willin'"
Ronstadt's 1974 studio album, Heart Like a Wheel, was a creative benchmark for both rock and country music and can be felt today listening to the work of Miranda Lambert and Margo Price. Not just anyone could take on this trucker song about "weeds, whites and wine," but Ronstadt's frank portrayal of desolate nights on the road exposed new textures of this Little Feat original (written by band member Lowell George). As Ronstadt muses about pivotal truck stops around the country, like Tucson and Tucumcari, her vocal approach paints a lively, cinematic picture, rising and falling beneath you.
5. "Poor, Poor Pitiful Me"
Ronstadt possessed unmistakable abilities in being able to squeeze out deeper meanings in her peers' work. Taking on Warren Zevon's 1976 song, she fearlessly uncovers more harrowing layers of "Poor, Poor Pitiful," which she recorded for her 1977 album Simple Dreams. She recounts laying her "head on the railroad tracks," getting abused by a man out in Hollywood who eerily reminds her of outlaw Jesse James and a unlikely brush with sadomasochism. In her very capable hands, her interpretation is both honest and humorously drawn. The album would later come in handy as the title for her 2013 memoir, mixing lightheartedness and sincerity.
4. "Blue Bayou"
This hit Linda Ronstadt song, a Roy Orbison standard, is deceivingly plodding at first, but once the chorus kicks in, she catapults into the stratosphere with one of her most potent vocals of her career. One thing is for certain: she knows exactly how to let a song simmer and build slowly but concisely. "I'm so lonesome all the time since I left my baby behind on Blue Bayou," she muses on this Simple Dreams cut, reminiscing on lost love and wanting to reclaim that euphoria. The way she sings, "I'm goin' back someday, come what may, to Blue Bayou / Where you sleep all day and the catfish play on Blue Bayou," you could almost feel the saltwater on your tongue.
3. "Desperado"
In the pantheon of music, The Eagles' "Desperado" (the titular track found on the band's 1973 studio album) is one of the most performed songs of all time. Few covers come close to inhabiting the sorrow and restlessness of the original, but Ronstadt's searing version on her fourth LP, Don't Cry Now, arguably surpasses it.
2. "Long Long Time"
Embellished with luscious strings and a quiet command, the track appeared on her second solo album, 1970's Silk Purse, famously known for cover art of Ronstadt posing in a muddy pig pen with hogs gleefully playing beside her. It is among her most defining country-inflected collections, also containing her versions of "Lovesick Blues" (Emmett Miller, Rex Griffin, Hank Williams), "Will You Love Me Tomorrow?" (The Shirelles) and "I'm Leaving It Up to You" (Don Harris & Dewey Terry). The sparseness of "Long Long Time" highlighted her milky alto and confirmed her insightful storytelling skills early on in her career. "I've done everything I know to try and make you mine," she wails, feeling the weight of defeat.
1. "You're No Good"
Linda Ronstadt's top songs don't come any better than "You're No Good". Written by Clint Ballard, Jr. (Wayne Fontana, The Mindbenders) and first recorded and performed by Dee Dee Warwick in 1963, this smoldering, rollicking track opens Ronstadt's iconic Heart Like a Wheel. Her interpretation brings out soul-country undercurrents in ways only she could conjure. The production is suitably heavy on electric guitar but breezy enough to let Ronstadt lead and satisfyingly slinky to tap into her uproarious female strength, as she lets an ex know just how shifty he really is. "I broke a heart over someone like you / I'll beg his forgiveness on bended knee / I wouldn't blame him if he said to me 'you're no good,'" she then reveals, detailing her own treacherous ways. It is one of many chart-toppers she scored on the Hot 100 and sounds just as good all these decades later.