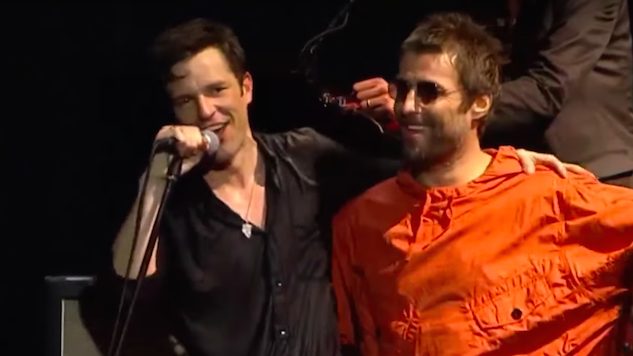 The Killers were headlining Lollapalooza Brazil on Sunday night, and they received a mid-set, surprise visit from a high-profile guest: Liam Gallagher.
The Las Vegas band were performing their hit "All These Things That I've Done," taken from their 2004 album Hot Fuss, when frontman Brandon Flowers was met by none other than Gallagher, who had performed earlier that night.
In the video below, you can see Gallagher wander onto the stage at around the 20-second mark. Flowers is clearly spooked by his appearance and later wraps his arm around the bright orange jacket-clad Gallagher, laughing and introducing him as "fucking Liam Gallagher." The duo later get on one knee and bow down in respect towards each other as Flowers continues singing the song's chorus. Then come the confetti cannons as Gallagher quietly exits the stage.
The Killers have announced an extensive set of upcoming U.S. festivals, including headlining slots at Bonnaroo, Panorama NYC and Hangout Festival. Gallagher, meanwhile, recently announced a U.S. headlining tour alongside fellow Brit-pop frontman Richard Ashcroft of The Verve. The pair will make six stops in cities including Los Angeles, New York City and Toronto. Revisit Gallagher's recent interview with Paste here as he chatted about his debut solo album As You Were.
Watch Gallagher stage-invade The Killers' Lollapalooza Brazil set below.