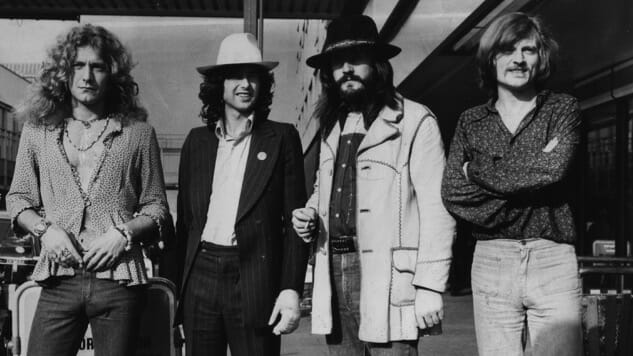 Led Zeppelin, the original hammer-swinging band of rock gods, is back—and all it took was Chris Hemsworth to pull it off. (Or is that Liam?) The English supergroup of the 1970s is now the supergroup for the 21st-century superhero set, with its stomping 1970 classic "Immigrant Song" powering the Thor: Ragnarok trailer to record downloads and entering the Billboard charts for the first time since its release. (There's also a rumor swirling that Zeppelin may reunite for this summer's Desert Trip Festival.)
Before it soundtracked a Marvel movie trailer, of course, "Immigrant Song" was the opening track from Led Zeppelin's 1970 monument, Led Zeppelin III, with Robert Plant's banshee wail heralding a new era of hard rock and metal. For all its innovation and impact, though, few fans rank Led Zeppelin III as the band's finest hour. But now that it's back on the air and seducing a new generation of listeners, perhaps it's the perfect time to revisit the group's catalogue and sort it out for an audience eager to explore Zeppelin's legendary 11-year recording career.
Here are all of Led Zeppelin's albums ranked, from their 1968 debut to their 1982 swan song, Coda.
10. The Song Remains the Same (1976)
This live, two-disc soundtrack for Zeppelin's 1976 concert film was remixed in 2007, and the whole thing has a "I guess you had to be there" vibe. The band was tired at the end of their 1973 tour and not quite in top form. There's no reason to endure the 26-minute "Dazed and Confused" or the 12-minute "Moby Dick" extended drum solo. The reissue included a far more representative set and better songs: "Black Dog," "Over the Hills and Far Away," "Since I've Been Loving You," and "The Ocean.", but it was too little too late. The re-issue would rank eighth on this list.
9. Coda (1982)
Coda released after drummer John Bonham's death via alcohol poisoning in 1980 effectively killed the band as well. Bassist John Paul Jones has said that Zeppelin didn't have much unreleased material at the time of Bonham's death, and the only standout among the unreleased tracks cataloged here is "Wearing and Tearing," a frenetic song that was guitarist Jimmy Page and singer Robert Plant's (it seems almost silly to identify them this way, like saying "baseball player Babe Ruth") response to the punk movement, marketed as the antidote to their sprawling (or as punks said, "lumbering") sound.
8. Presence (1976)
This is the only Zeppelin album without any keyboards, and there's only one appearance by an acoustic guitar. That's probably because guitarist Page took over the making of the album while Robert Plant recovered from a serious car accident. So it's not really a group effort. Presence was recorded and mixed in just 18 days, which reportedly amazed The Rolling Stones, who had studio time following them for "Black and Blue." The blues "Nobody's Fault But Mine" showcases that classic Zeppelin stomp and a solid Plant harmonica solo, but overall Presence does sound rushed, lacking direction and any sense of forward momentum for the band.
7. In Through the Out Door (1979)
Zeppelin's penultimate album—and the last with John Bonham—was reviled by many of the group's rabid fans for seeming to jettison the signature Zeppelin sound for more contemporary stylings. Page thought the album was "a little soft." But the group rarely sounded better than on "Fool in the Rain," with a piano hook for the ages and a great Plant vocal. Surprisingly, Bonham was big fan of the ballad "All of My Love," at least as it relates to Plant's singing. "Carouselambra," at 10:32, is the second-longest Zeppelin studio song—and sounds it.
6. Led Zeppelin III (1970)
Here's where it starts to get tough. With its celtic acoustics and country vibe, Zeppelin III was the antithesis of Led Zeppelin II— meaning way more Zeppelin (light/acoustic) than Led. The acoustic, black-magic inflections of "Friends," "Gallows Pole" and "Bron-Y-Aur Stomp" revealed Page's budding fascination with the British and American folk revival, particularly with Scottish folk guitarist Bert Jansch. In fact, the only heavy song on this album is the opener, "Immigrant Song." But Plant and Page work together fabulously on the bluesy "Since I've Been Loving You," far more assured than we heard on their 1968 debut. "Tangerine" is the (relatively) unknown gem in their catalogue, a tight and pretty song that ultimately finds a rock groove and features great Plant singing and playing by the entire band.
5. Led Zeppelin I (1968)
"Good Times, Bad Times" hits you right away with a one-two punch of a riff, and when Bonham kicks in and Plant starts wailing you can't help but imagine that everyone listening in the late 1960s instantly knew something new and unforgettable was happening. But then three straight six-plus-minute tracks follow with "Babe I'm Gonna Leave You" actually clocking in longer than "Dazed and Confused." With a few exceptions (e.g. the gorgeous folk-rock number "Your Time Is Gonna Come"), Zeppelin seemed to be aping musical styles rather than re-interpreting them—although "Communication Breakdown" was a blueprint for generations of hard-rockers to come. Page has said that the band didn't really come together until Zeppelin II.
4. Led Zeppelin II (1969)
A bundle of brilliant tunes makes this the top choice of many, but it's a different Zeppelin than what ultimately emerged—way more "Led" than "Zeppelin." It's heavy metal and sounds raw given the haphazard recording. Page's solo in "Heartbreaker" inspired a generation of guitar gods including Eddie Van Halen, and his "Whole Lotta Love" riff may just be the most iconic in rock history. Meanwhile, the gentle strums of "Thank You" and "Ramble On" presaged the folk leanings of Zeppelin III. Initial reviews were mixed, with Village Voice scribe Robert Christgau famously reversing course after initially mocking it, ultimately calling it "an artistic triumph." Plant described it as "virile" and "carnal." With plenty of "lemon juice" to spare, this is the top choice if you like your rock not only heavy but raunchy.
3. Led Zeppelin IV (1971)
This is the group's classic-rock champ. "Stairway to Heaven" is perhaps the most played song in the history of FM radio—on its 20th anniversary in 1991, it had reportedly been played often enough to fill 44 years straight through. But five of the other eight tracks ("Black Dog," "Rock and Roll," "Misty Mountain Hop," "Going to California" and "When the Levee Breaks") are also heavy rock-radio staples to this day, with the swinging, organ-led "Misty Mountain Hop" rising above them all while nearly falling apart two minutes in and then getting it back together. That's rock 'n' roll.
2. Houses of the Holy (1973)
Houses marked a real departure for the band after four numeric juggernauts—Rolling Stone initially hated it, before ultimately bestowing a five-star rating 30 years later. Houses is off-beat for the band, but that's its charm. The transition to the more eclectic style would find its apex on Physical Graffiti. Like Robert Christgau wrote at the time, "I could do without "No Quarter.'" But that track is listenable in the context of the entire album. "Dancing Days" really is danceable. "D'Yer Mak'er" (pronounced "didja maker") is the unforgettable Zeppelin take on reggae, with the tropical solo from Plant. "The Rain Song" soars. "The Song Remains the Same" is kinetic but the sped-up Plant vocal is love-it or hate-it. And "Over the Hills and Far Away" is arguably the greatest Zeppelin song ever. From front to back, Bonham sounds like he's going to pound his way right through the speakers and into your brain.
1. Physical Graffiti (1975)
Self-indulgent sonic virtuosity has never sounded better. Zeppelin was a sprawling band, so the Zeppelin experience should begin here, in their eight-million-unit selling double LP that finds them at the peak of their musical and production prowess. After a two-year recording hiatus that, laughably by today's standards, was unbearably long at the time, Zeppelin had too much material for a single LP. The effort is considered the group's best by both Plant and Page. Page's most underrated guitar solo is on "The Rover," which rocks hard along with about one side's worth of material. The iconic "Kashmir" defies categorization but is so hypnotic it's guaranteed to chase away any uninvited ear worms. Every rock genre is covered, from blues ("In My Time of Dying") to acoustic ("Black Country Woman") to funk ("Trampled Under Foot") to even progressive ("In The Light"). But it still carries all the Zeppelin signatures.