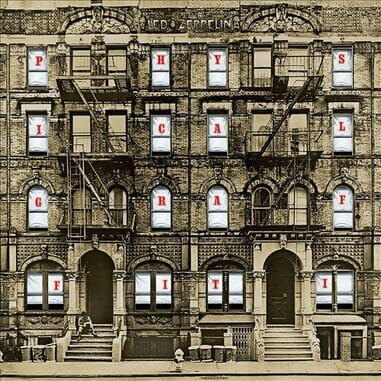 Remastered Album Score: 9.5
Deluxe Material Score: 4.5
Led Zeppelin's sixth album, 1975's Physical Graffiti, is the greatest double-LP in rock history—a sprawling, ambitious masterwork that showcases all of the band's obvious (and not so obvious) strengths.
But it could have easily been a trainwreck. Exhausted from their expansive Houses of the Holy tour, the hard rock legends nearly imploded during the album's initial November 1973 sessions, with bassist/keyboardist John Paul Jones on the verge of quitting. The quartet—Jones, guitarist-producer Jimmy Page, frontman Robert Plant, drummer John Bonham—eventually regrouped the following year at their infamous Headley Grange rehearsal space, whipping up 55 minutes of music in the form of eight explosive new epics. Stuck with more material for one album but not enough to flesh out two, they decided to pilfer their vaults, padding out the tracklist by reworking a series of fascinating—and occasionally bizarre—leftovers from the previous four years.
Physical Graffiti is an exhausting, whirlwind 82 minutes. And it's shocking how much territory Zeppelin covered even during the Headley Grange sessions: mystical, progressive hard-rock ("In My Time of Dying," "In the Light"), metallic funk (the clavinet-tinged "Trampled Under Foot," "Custard Pie"), Eastern-symphonic bombast ("Kashmir"). No doubt, Graffiti would have made a killer single LP—but it's infinitely more fascinating in its scattershot final form. The country-rock of "Down By the Seaside" would have never fit stylistically on Led Zeppelin IV, but its soulful tremolo twang makes perfect sense within Graffiti's hodgepodge; ditto Page's shimmering acoustic instrumental "Bron-Yr-Aur" (tracked for the third album in 1970) and the tossed-off 1972 blues jam "Black Country Woman," during which Page tosses off a tasty harmonica solo and Bonham's bass drum thumps like a goddamn marching band.
In keeping with the previous reissues, Page's remastering is subtle but detectable—particularly in the low-end. But without an audio-engineering degree, it's hard to identify what's punched up and what simply still sounds fantastic. And the lovable blemishes remain: Plant's vocal on "The Rover" still scrapes like sandpaper; Bonham's infamous "Squeak King" kick pedal still pesters in "Houses of the Holy."
This album already kicks an incalculable amount of ass. Why re-invest when the original hasn't soured? As usual, the biggest selling point is the unearthed bonus material. But Graffiti's rough and alternate mixes are of especially limited interest, even to diehards. An "initial" version of "Trampled Under Foot" (re-titled "Brandy and Coke") gives more presence to Plant's stereo-panned vocals, though it also downgrades Page's main riff to a whimper. The big reveal of the "rough" take on "Houses of the Holy"? Some added tambourine on the chorus. Thankfully, the set has one silver lining: "Everybody Makes It Through," an early take on "In the Light" featuring completely different lyrics and a descending clavinet pattern reminiscent of the main "Stairway to Heaven."
No amount of reissue padding will ever tarnish the mesmerizing mess of Physical Graffiti. It's funny—only now, 40 years later, has the true filler finally emerged.