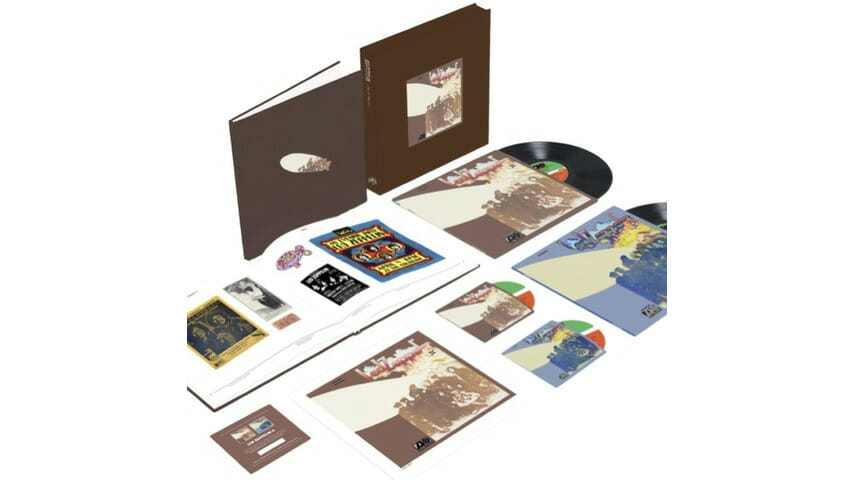 Individual Ratings:
Led Zeppelin: Remastered Album (9.5), Deluxe (5.0)
Led Zeppelin II: Remastered Album (9.5), Deluxe (8.0)
Led Zeppelin III: Remastered Album (9.0), Deluxe (9.0)
Led Zeppelin reinvented the vocabulary of rock music many times throughout their decade-long career, but their most radical burst of creativity came straight out of the gate. In a historic run shorter than two calendar years, the quartet released three mind-altering rock milestones—twisting blues riffs (and rips), metallic noise, incense-tinted folk, Indian drones and flower-power psychedelia into a magnetic yet indefinable sound often generically labeled "hard rock."
Such a shame, then, that these albums—on CD form, at least—sound like they were recorded in a tin can. For years, Zep-heads have tolerated the murky fidelity of the '90s remasters, but thanks to a new expanded reissue campaign led by guitarist-producer Jimmy Page (which will eventually trace the band's entire studio output), Led Zeppelin I, II and III finally punch and shimmer instead of fizzling in fuzz.
Each album sounds fuller, warmer—with added resonance added to John Bonham's godly kick-drums and John Paul Jones' nimble bass (check the juicy thump of "How Many More Times" or the rhythmic clarity on "Heartbreaker"). From a purely sonic standpoint, these new versions are impossible to disregard. These are far from major-label cash-grabs—after all, it's admirable that they haven't been reissued a million times already. And Page's involvement is the kicker: He's the chief musical architect of this music, and if he felt the albums needed a polish, it's impossible to argue.
The deluxe edition bonus material is more hit-or-miss. Since the Led Zeppelin vaults had basically already been emptied, Page tosses in a bonus Paris live show from 1969; the eight-track set has already circulated as a bootleg for years, and it remains inessential—the very definition of "for completists only." It's fascinating to hear the band toy with medleys and transitions (check how Page quotes the main riff from "Dazed and Confused" during "I Can't Quit You Baby"), but the show also demonstrates Zeppelin at their most bloated, sloppily fumbling through rhythmic cues and extending tracks to their breaking point (an echo-laden "Dazed and Confused" stretches out to 15 minutes, eight of which were clearly not necessary).
The bonus material on Led Zeppelin II and III is more revelatory, showcasing the band's creative process through assorted alternate takes and rough mixes. An alternate version of the epic "Immigrant Song" adds subtle tweaks to Robert Plant's banshee wail, revealing previously unheard vocal layers toward the song's climax; the mix on "Bathroom Sound" is more lively than the original "Out on the Tiles," boosting Bonham's kick drum without the claustrophobic reverb. (Even the distracting bass drum squeak on "Since I've Been Loving You" sounds quieter—or maybe this is some kind of sonic placebo effect.)
But the true gems here are the unheard b-sides, particularly the closing duo on Led Zeppelin III. That album threw critics a curveball back in 1970, toning down their blues influences and infusing folk and Celtic strains; the two unheard tracks from that LP help fill in the missing transitional blanks: "Jennings Farm Blues" is a psychedelic blues workout, an electrified version of "Bron-Yr-Aur Stomp" that offers some rhythmic variations on that acoustic barnburner. Meanwhile, "Keys to the Highway/Trouble in Mind" takes a more subdued approach to their beloved traditional blues, with Plant tossing out sensual, tremolo vocals and excellent harmonica over an acoustic Page riff.
Quibbles aside, these reissues feel like the closing of a chapter in Zeppelin history—in his twilight years, Page can rest far more comfortably on his masterful body of work. Across the planet, 16-year-old kids are hearing these albums for the first time—in the way they were intended to be heard.