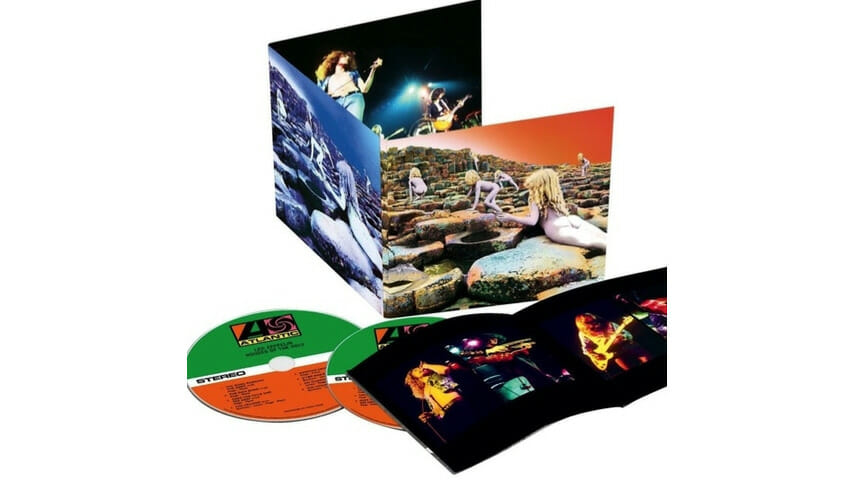 Individual Ratings:
IV: Remastered Album (10.0), Deluxe (5.0)
Houses of the Holy: (9.0), Deluxe (5.0)
The scene: Rock legend Jimmy Page, fresh off announcing a series of revelatory Led Zeppelin reissue campaigns, sits flummoxed behind a vintage mixing console. "Is this really all there is?" he asks an anonymous studio gopher. "Yes, Mr. Page," the young man responds, averting eye contact. "Welp," Page says with a gulp. "On with the show!"
The one-two punch of 1971's IV and 1973's Houses of the Holy is the imaginative centerpiece of the Zeppelin catalog—the coalescing of the band's road-sharpened heaviness and studio expansiveness. But their long-awaited reissues don't offer extra proof of such brilliance. Unlike the first three LPs—which were re-released back in July with eye-opening studio run-throughs and live tracks—albums four and five are stocked mostly with inessential fluff that fans will cue up one time and promptly forget exists.
There are no aural revelations buried in the piano-free mix of psychedelic ballad "The Rain Song," no eye-opening epiphanies from the boosted keys in a rough mix of the funky "The Crunge." There are no unreleased songs to speak of—Zeppelin pretty much unloaded everything the first time around. And even diehards will have a hard time spotting the alterations in these alternate mixes.
That said, select moments cut through the tedium—like Page's country-fried guitar solo on the "Guitar Overdub Reference Mix" of "The Song Remains the Same," or Robert Plant's unhinged, cracking vocals on an alternate "Black Dog." The supposedly "rough" mix of "Dancing Days" is sturdier than the final take—if, for nothing else, cutting out the distorted hiccup that plagues the original intro.
The true value here rests in the remastering. Page's production on the original LPs remains unimpeachable, but these reissues give the tracks a subtle sheen—removing mountains of hiss (the quiet vocal section of the pummeling "The Ocean," the smoky intro to "Misty Mountain Hop"), with improved clarity and instrument separation (the ethereal mellotron in "The Rain Song," the swampy electric fuzz on "No Quarter") that enhances the overall sonic picture.
As for the songs themselves? They remain wonderfully the same. The mandolin-clad Plant-Sandy Denny duet on "The Battle of Evermore" still conjures visions of medieval warriors and mystical seances. Your hedgerow will continue to bustle on "Stairway to Heaven," the most majestic rock song ever laid to tape—a prog-folk-metal Tolkien fantasia inhabited by elven 12-strings and witchy cauldrons of black magic soloing. (We'll let the courts settle whether or not it's a Spirit rip.) Here's to my sweet Satan, indeed.