New Led Zeppelin Documentary Announced, the First to Feature the Band's Surviving Members
Photo by Kevin Mazur/Getty
Music
News
Led Zeppelin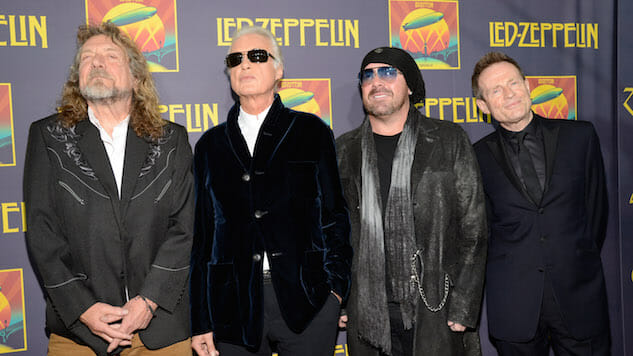 A new documentary on the legendary rock band Led Zeppelin is being shopped at the Cannes Film Market this year. The still-untitled film is currently in postproduction and is billed as the band telling their story in their own words to celebrate Led Zeppelin's 50th anniversary. It features new interviews with the three surviving band members, Jimmy Page, Robert Plant and John Paul Jones, as well as archival interviews with the band's late drummer John Bonham, marking the first and only documentary in which the band have participated in 50 years.
The documentary will trace the individual stories of each band member through the music world of the 1960s before their fateful first meeting for a rehearsal in 1968. It follows them through the year 1970, when their album Led Zeppelin II knocked The Beatles off the top of the charts and ushered in a new era for rock music.
Documentary filmmaker Bernard MacMahon is set to direct the project for the band. His PBS docuseries American Epic explores the beginnings of recorded music in rural 1920s America, and it inspired Led Zeppelin's surviving members to participate in the film.
"When I saw everything Bernard had done both visually and sonically on the remarkable achievement that is American Epic, I knew he would be qualified to tell our story," Zeppelin guitarist Page said in a statement.
"The time was right for us to tell our own story for the first time in our own words, and I think that this film will really bring that story to life," said bassist Jones.
The Led Zeppelin documentary comes from the same team that did American Epic, with MacMahon as writer and director, Allison McGourty as a writer and Dan Gitlin as editor. The project is produced by MacMahon, McGourty, Duke Erikson and Ged Doherty, and it's executive produced by Peter Saraf and Marc Turtletaub. The film is set to arrive in time for the Cannes Film Market, which takes place in conjunction with the film festival from May 14-23.
Listen to a 2006 Plant performance from the Paste archives below.