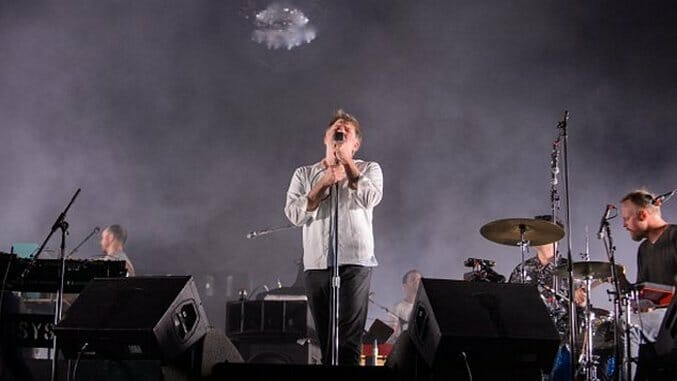 It seems that this is finally happening. James Murphy made an announcement during LCD Soundsystem's performance at Sasquatch! Music Festival this past weekend that the band has completed its highly anticipated new album.
The news came from a fan who shared it on Reddit, and later was confirmed by Pitchfork by one of the band's representatives. The mysterious no-name album will be LCD's fourth, and their first full-length since 2010's, This Is Happening, right before the band called it quits (not).
The band has been teasing fans with new music for a while now, from a depressing Christmas song ("Christmas Will Break Your Heart") to releasing two tracks from the forthcoming album, "Call the Police" and "American Dream," which they performed on SNL earlier this month—and although there's still no definite date, this news has everyone on edge.
In a Facebook post earlier this month, James Murphy, in a typical James Murphy-fashion, mused to fans about the new album, its rollout process and its release date, stating:
That's hard to say in specific, but here's some info. i insist that there is vinyl on the day it's released (because… well… because i'm an old person) so it will go like this: finish last mix > get to bob to master > get masters to pressing plant > plant takes X amount of time > records get to distro so that they can go to stores > record released. however long that takes = when the record will be out. i can control the first part, and i'm furiously trying to get everything to bob before shellac goes on tour and that pushes things further back, and then there's the jockeying for position in line at pressing plants, and various other things i don't control nor fully understand, but i've been assured by folks i trust that there are a series of fast runners in sweat wicking clothing waiting at the line for the baton to then bolt forward…
So, even though there's no actual date set in stone yet, we can all be happy knowing that the new album is complete and new LCD Soundsystem is imminent. Enjoy an LCD performance from the Paste Cloud below.