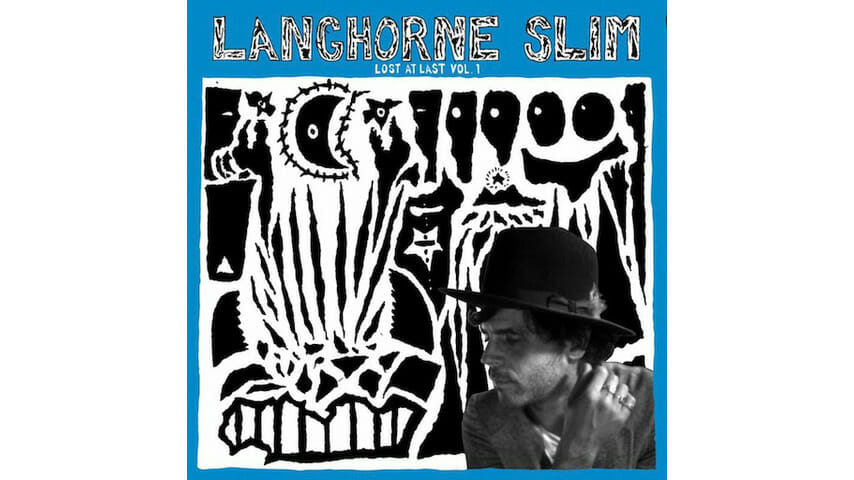 Cat Stevens once said, "I let my music take me where my heart wants to go"—an idea that inspired Langhorne Slim (real name Sean Scolnick), and lies at the center of his new album, Lost At Last Vol. 1. Following your muse, taking the path less traveled—whatever trite way you want to put it, it's easier said than done. "Attaching one's identity to the artificial and superficial as opposed to living in amazement, wonder and following our soul's actual calling is a great human tragedy as I see it," he explains in the album notes. "We look to our phones, drugs, sex, whatever to find ourselves when it's already right here"—the importance of connecting, feeling, stripping things down until we get reacquainted with our true selves serving as his mission statement.
The conviction of this message is bolstered by the sound of the album—mandolin, stand-up bass, and backing vocals from real, live humans—but also spelled out explicitly in lyrics like "Let's fall in love with our telephones off" ("Never Break") and, "What a gift it is just to be still" ("Bluebird"). It's all supported by a through-line of warm, cozy production that imbues the album with a pleasant nostalgia, he kind we've come to expect from Slim and his reworking of dug-in American genres like folk, country, and blues.
This time around, he gets to a wider-range of Americana sounds than ever. "The DA's trying to prove a point/And lock my ass up in the joint" he sings on "Private Property," using gentle acoustic, close-knit harmonies, and mandolin to evoke a Guthrie-esque, Depression-era feel for the decidedly more contemporary crime of what seems to be growing marijuana ("I got busted planting seeds/on my private property"). The only other song that sounds more bygone being the romping "Bluebird"—zydeco accordion, back porch strings, and a Southern stomp creating the illusion of a long-lost Creole shanty, simultaneously providing a taste of Slim's famously raucous live performances.
There's also the gospel-inflected soul of "Alligator Girl," with ripples of bluesy, electric guitar thrown in for good measure, the country-fried pedal steel on "Zombie," and the Dixieland brass of standout "House Of My Soul (You Light The Rooms)"—the life-affirming power of what sounds like a full choir backing his proclamations of love. It's the elegant strings and pastoral picking of "Life Is Confusing," and the stripped-down swell of "Never Break" that mainline Slim's themes. Both songs of resiliency and movement forward, the first is a shrug of acceptance—"Life is confusing/people are insane"—the second, an oak-solid declaration of strength.
Guiding us through it all is Slim's voice. It's pure, distinctly American, but without region, a twangy yodel always waiting at the back of his throat. It can go from a whisper to a raspy holler, but always remains trustworthy. A reliable, everyman guide through the many sounds and eras he traverses. While Scolnick certainly has gripes, Lost At Last Vol. 1 is inarguably a positive record, with "Better Man" serving as the final uplift. "I know that life is short/Know we can't stay long/But one thing's for sure/I know that I'll be strong" he sings, the optimistic strings swelling around him in agreement.