The Power and Sincerity of Lady Gaga's Las Vegas Show Enigma
Photos courtesy of Park MGM
Music
Features
Lady Gaga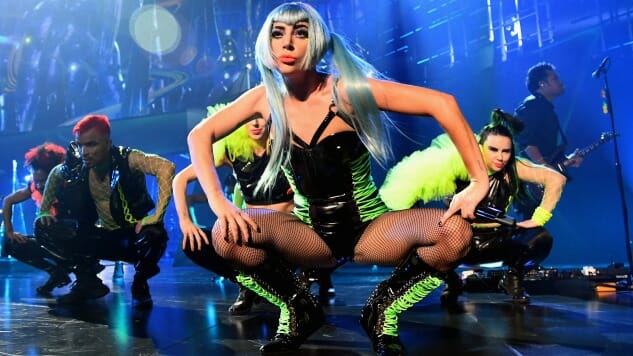 Lady Gaga isn't subtle. She is genuine, though, and that makes her new Vegas residency show, Enigma (running now through November at the Park Theater at Park MGM), an emotionally powerful spectacle.
This is a woman who enters her show by floating above the audience in a sequined jumpsuit while playing a keytar and singing "Just Dance." Whose show has a plot about an alien artificial intelligence that represents all the parts of Lady Gaga that she doesn't understand making a simulation to guide her on an interstellar journey of self-discovery. Whose show features several animated anime-style vignettes, like cut scenes in a videogame. Who wears a high roller's suite worth of flashy outfits and wigs over the show's two hours, and at one point enters the stage riding what looks like a giant mech straight out of Gundam or Metal Gear. Enigma is one of the most proudly over-the-top concert extravaganzas I've ever seen, fully embracing the outrageous persona Lady Gaga was originally known for, and yet by the end of the show it's also a touchingly earnest and heartfelt performance by a woman who loves and supports her fans with utter sincerity.
Musically, Enigma is a greatest-hits show. If, like me, you are only a casual listener of Lady Gaga, familiar with her radio hits and little else, you'll still recognize almost every song in the set list. Gaga and her five-piece band play through the songs in roughly chronological order, starting with her early hits from The Fame—"Just Dance," "Poker Face" and "LoveGame"—and gradually moving to songs from Born This Way and ArtPop. It culminates with "Bad Romance," followed by what is clearly the crowd's favorite song, "Born This Way." After a short break Gaga returns for an official encore of "Shallow" from A Star is Born; if you're lucky, like the audience at the show a week after the one I was at, you might get to see Bradley Cooper show up to sing that one with his co-star.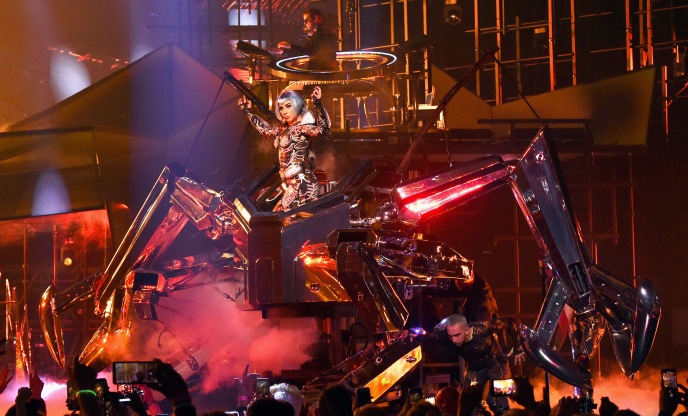 When you get past all the glitz of Enigma—the ornately choreographed dancing, the elaborate stunts, the animations that play on the giant screen—you're left with a show that fully embraces and celebrates the lifestyles of its audience. Enigma isn't just a concert, but a pop art rally that exults in the wide spectrum of humanity and sexuality, inviting all and only chastising those whose minds are tainted by bigotry and prejudice. At the show I attended, Gaga went on a passionate speech about Mike and Karen Pence's connection to a Christian school that doesn't accept LGBTQ students, calling the vice-president "the worst representation of what it means to be a Christian," while also delivering multiple heartfelt speeches encouraging us to believe in and feel comfortable about ourselves. You might read that and think it sounds like boilerplate motivational jive from a poised, professional and now Oscar-nominated performer, and yet in person it feels completely genuine, off-the-cuff, and straight from the heart. Gaga's support—both in her words and in songs like "Born This Way" and "You and I"—clearly touched a wide portion of the audience, much of which was in tears by the end.
I am not a Little Monster. I am not normally a fan of modern commercial dance music. When I go see a band play it's usually in some hipster dive with, at most, a few dozen other people in the room. I would not typically go out of my way to see a Lady Gaga show, and although I fully support the LGBQT community, and can empathize with how liberating it must feel to witness a two-hour concert spectacle devoted to celebrating who you are in a society that's still stacked against you and seems to want you to disappear, I am not myself a member of that community. And yet, by the end of Enigma, as Gaga's empowering words filled the theater, and I saw all the joyously tearful faces of people who needed to hear them, I too felt overwhelmed with emotion. Lady Gaga's Enigma show doesn't just overpower you with lights, music and pyrotechnics, but with a sense of pride and inclusivity that, for two hours at least, makes the world feel like it's on the right track. And it all works because of how genuine Lady Gaga is in her love and respect for those who have too long felt unloved and disrespected by the world they live in.
---
Garrett Martin edits Paste's games and comedy sections. He also writes about music, travel, food, theme parks and more. He's on Twitter at @grmartin.