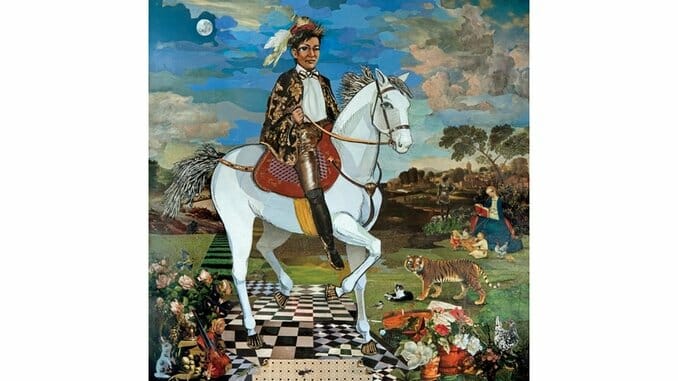 K Ishibashi actualized his joyous rooftop pop with sophomore effort Lighght. It's a 12-track journey through floating hope, bone-breaking jubilee and crushes so intense you might just barf. It's an aural exercise in blowing bubbles with a tiny hangover on the most beautiful sunny day in your favorite park.
Lighght is easy to ingest and digest. Its flow is logical but flowery, gently cupping the listener for the mild drops and rises. Imagine you're stoned and there's a heap of dried apricots in front of you. That's this record.
"Carry On Phenomenon" echoes 2007-era Of Montreal—fellow Athenians—with metallic tinge, flurrying cadence. Deep in its cheerful zeal, "The Ballad of Mr. Steak" is another almost-homerun. It synths in all the right places, leaping in perfect spaz-dance timing. However, I cannot ignore that cheeky "booty booty / shaky shake" line. And sorry, now that I pointed it out, you might also have problems not acknowledging it.
But the sincerity! The romance! Track seven—"Q&A." The gloss runs for cover, leaving only the delicate yet hearty acoustic reeds exposed in the settling dusk. "You are the answer to my question / You are my accomplice in a crime / You my wingwoman and did I mention / We were together in a different life?" It isn't a track for someone in a bitter mood, as it highlights excitement about another human and settles into a comfortable slouch. Ukulele and light mallets punch it with sedated pep. The sedation is one bred of the sheer exhaustion leading up to heavy contentedness, tangled in tired, loving limbs. It's a happy sigh.
Lighght is a safe bet for whatever summertime celebration you may throw in the coming months. I'm just curious how Ishibashi might interpret darkening leaves, drifting snow. If he can warp this sparkle pop to encapsulate other seasons as well, then I'll definitely be listening.