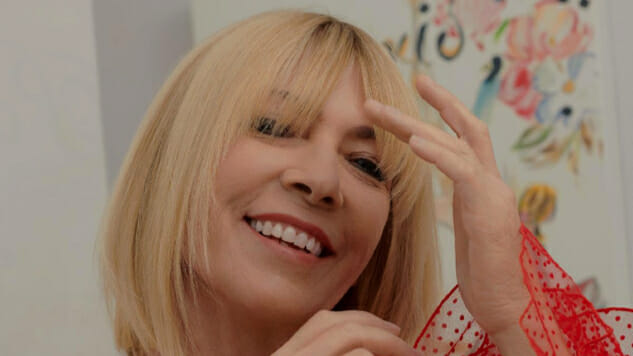 Sonic Youth co-founder Kim Gordon has walked a long and winding road to her solo debut, No Home Record, out Oct. 11 on Matador Records. The album's latest single, released Wednesday alongside a wry, no-budget music video, is "Air BnB," an unlikely ode to the superficial luxuries of stepping into someone else's life.
The new track finds Gordon worshipping at the altar of "Air BnB," praising her borrowed home's "blue towels and water bottles," "47-inch flat TV" and "lounging daybed," and sardonically declaring its ready-made amenities to be "the good life / oh yeah, delicious." Her vocals—languid, as if she's been anesthetized all the luxury—are set against the nervous energy of skronky guitars and industrial percussion, the song's pulsing bass line standing out like a vein from skin in the skeletal verses, then blending into the explosive choruses as Gordon laments, "Air BnB / could've set me free."
"This video was going to be shot in an Air BnB," explain the "Air BnB" video's unadorned text slides, written by Gordon herself. "There wasn't any money though to make it." Gordon instead opts to explain her vision for the video, leaving the execution to our imaginations.
"Air BnB" is the second official single off No Home Record after album opener "Sketch Artist," which Gordon put out in August alongside a Loretta Fahrenholz-directed video. Both songs were long preceded by "Murdered Out," the first song Gordon released under her own name—the 2016 collaboration with producer Justin Raisen and Warpaint's Stella Mozgawa also appears on Gordon's forthcoming album.
Listen to "Air BnB" below, plus two tracks from a 1991 Sonic Youth show pulled from the Paste archives, and see the details of No Home Record further down.
No Home Record Tracklist:
1. Sketch Artist
2. Air BnB
3. Paprika Pony
4. Murdered Out
5. Don't Play It
6. Cookie Butter
7. Hungry Baby
8. Earthquake
9. Get Yr Life Back
No Home Record Album Art: