Katie Dey Shares Video for "Stuck," Pulled from Her Surprise Recent Album solipsisters
Photo by Sianne Van Abkoude
Music
News
Katie Dey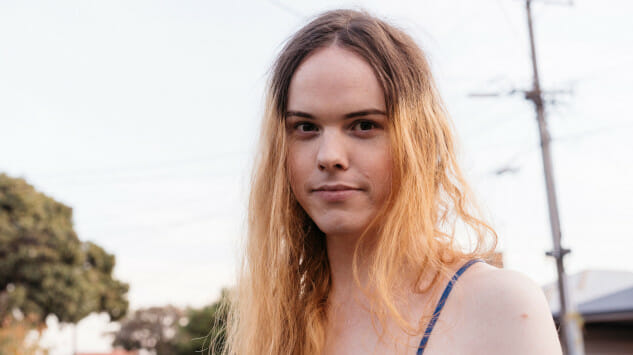 Australian experimental-pop star Katie Dey shared her video for "Stuck," a standout tune from her surprise recent release solipsisters, on Tuesday morning.
solipsisters is a gorgeous album, filled to the brim with alien textures that complement Dey's pop-songwriting sensibilities. "Stuck" is one of the more straightforward cuts from the album, but tackles the same questions of self-image and dysphoria that populate the record. Over warm piano notes, Dey adds eager drums and a jubilant horns section, juxtaposing the mischievous instrumentation with lyrics like, "you are bored inside this body and you're going crazy / so if you ever find a way out, will you save me?"
In a statement, Dey explains that:
A lot of the songs on solipsisters are grappling with the fact that I have this body that I can't bear to live in. But also there are these other people in the world that I love, and they know me as this body and love me as this person, even though I can't stand to be that person anymore. And being like, "Oh, if I change or if I escape, what about these people that love me? Will they still love me?"
The video for "Stuck" is one single shot, taken from Dey's laptop, as she braids her hair and cuts it. It's stark in its simplicity, wonderfully building toward the joy Dey feels upon having shorter hair.
Watch the video for "Stuck" below. solipsisters is out now via Run for Cover.