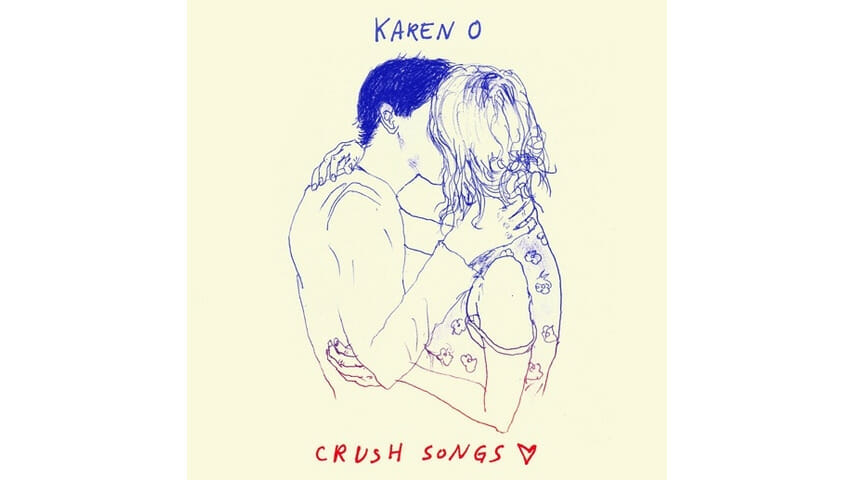 Crushes are like fever dreams—crystal clear in the moment, but a cluster of unresolved emotions after the fact. Clearly, Karen O has experienced her share of fleeting love interests. On her first solo album, a fuzzy bundle of 15 tracks written and recorded between 2006 and 2007, the Yeah Yeah Yeahs frontwoman and purveyor of all things art-punk explores the subject in scattered, bare-bones bursts.
As the magnetic leader of the Yeah Yeah Yeahs, O is known for producing emotional spectacles. On tape and on stage, the musician showers audiences with glitzy performances set to disco backbeats and candid ballads. But there are no sequins on the home-recorded Crush Songs. In fact, most of O's signature quirks are absent. Throughout the album's short 25-minute run time, O sticks to just acoustic guitar and vocals fleshed out by a touch of distortion.
When O announced Crush Songs back in June, the singer explained that it was inspired by the fear that she would never fall in love again because she had too many crushes. Of the album's 15 songs, several clock in at less than a minute, providing fleeting glimpses into O's melancholy psyche at the time. As a whole, Crush Songs feels more like a demo than a finished product. It's hard not to view most of the album's tracks as raw vignettes of what could have been something great. All of the bones are there: O's simple but infectious melodies, delicate guitar, love-drunk and intimate lyrics—it just feels (and is) unfinished.
But despite its warbly lo-fi aesthetic and unfinished feel, Crush Songs does have an honest, classic vibe to it. Tracks like the gorgeously simple "Comes the Night" use a single pulsing note to frame O's heartfelt, muted croons: "Tonight, darling you were right/Caught beneath the stars/Place where we can hide…Close each other's eyes/Closer than before." While on others, like the combative and honest "Rapt," O takes a more world-weary approach, asking "Do I really need another habit like you?" and asserting that "Love's a fucking bitch."
Fans of O's grandiose work with the Yeah Yeah Yeahs will likely be left wanting something more after Crush Songs. But that desire is well-placed. The album's 15 tracks are simply blink-and-you'll-miss-them glimpses of grander ideas. And, after all, as O encourages on the album's charming final offering, "Singalong," listeners can always "Sing along/Sing it anyway/All alone on your way home/Could be wrong/Sing it anyway/Sing along to your favorite song."