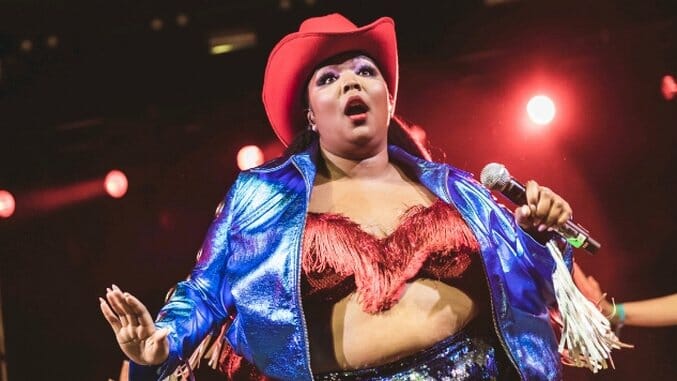 As our Lord and Savior of Yeehaw Kacey Musgraves once poeticized, "Welcome to the yee yee club bitch." Thanks to Musgraves' rise to pop culture stardom, Lil Nas X's country/rap crossover and a whole host of other Yeehaw-releated content, 2019 was the year cowboys and country music ruled our collective conciousness. A year after young cowboy Mason Ramsey's Wal-Mart yodel, a few years after the cowboy hat meme made its debut and about 18 months after Kacey Musgraves released "Space Cowboy," 2019 was a time when Yeehaw energy could not be avoided. Rappers like Lizzo and Megan Thee Stallion donned cowboy hats on stage. Indie artists like boygenius saluted country greats. Even Post Malone wore a cowboy suit to the Grammys. To commemorate this Year in Yeehaw, we rounded up (with a lasso) 10 of the best, most Yeehaw-worthy moments from the last 12 months.
10. Post Malone's western-inspired suits
This will likely be the only time you'll ever find Post Malone on a Paste "best-of" list. The pop star's music is very often vapid and unoriginal. However, his wardrobe has matured to a very interesting and dare-I-say stylish place this year, thanks to an Indiana-based label called Union Western who makes Posty's bedazzled, bodacious cowboy-inspired ensembles. It all started at last year's American Music Awards when he donned a sky-blue suit not unlike the attire Kacey Musgraves sings about in "Velvet Elvis." At the Grammys earlier this year, he opted for a pink two-piece stamped with Lone Stars complete with a gargantuan belt buckle (seen below). Beware: Yeehaw has once again infiltrated Hollywood red carpets.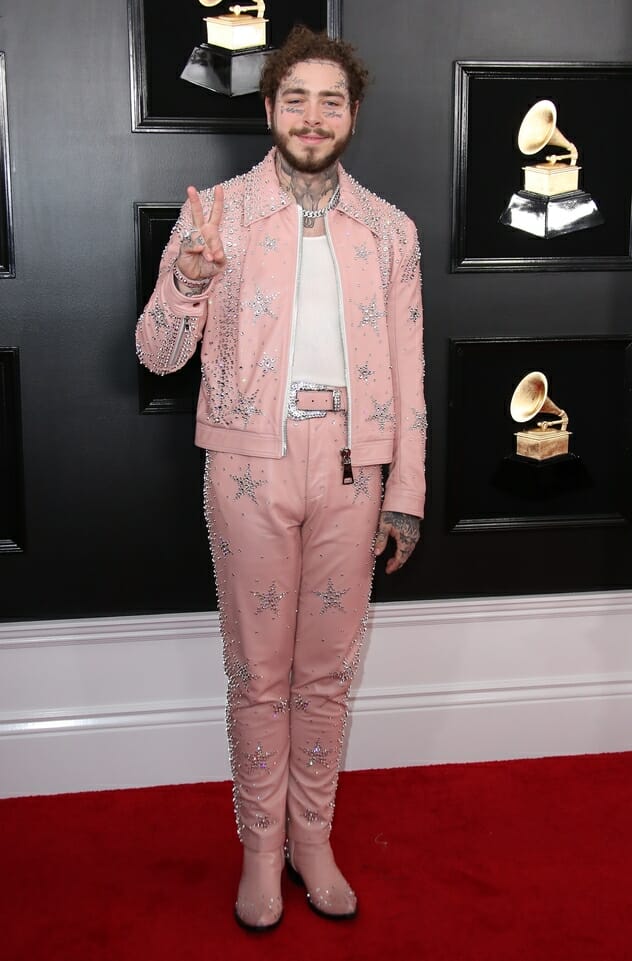 Photo by Dan MacMedan/Getty
9. Caroline Polacheck's cowboy boots
Former Chairlift singer Caroline Polachek released her debut solo album Pang this year, and the soaring art-pop is about the farthest thing you can get from country music. However, her videos and songs still feature a few Yee moments and a few Haw ones, too: In the surreal video for "So Hot You're Hurting My Feelings," which we named one of the best songs of the year, Polachek dances around a stalactite-covered cave-scape in a pair of sleek, leather black cowboy boots. 10 yeehaw points to Miss Polachek. Also, within Pang's tracklist, lies "New Normal," which sounds like the space odyssey version of a country song, complete with pedal steel guitar and a whomping Bollywood-inspired beat. 10,000 yeehaw points to Miss Polachek.
8. Lizzo's SXSW getup
Lizzo has been making music for the better part of a decade now, and before this year she was gaining serious traction in the music media thanks to songs like "Good As Hell" (released in 2016). We even recorded the pop star/rapper/flautist at Daytrotter way back in 2014. But 2019 was undoubtedly Lizzo's moment (she has the Grammy nominations to prove it), and her performance at South By Southwest in March felt like a star being born. That evening at Stubb's BBQ in Austin, Lizzo shined on stage in a red cowgirl hat and a metallic blue leather jacket dripping in silver fringe with the words "Texas Girl" shining on the back. She spent a portion of her early career making music and performing in Houston, so her declaration that "I'm a Texas girl!" felt especially right for the crowd that night.
7. Solange's live show
Everything Solange releases, be it a song, album or music video, is released with aesthetic intention. This year, the Houston-born R&B star/rapper and younger Knowles sister continually tapped into her Texas heritage (and not just while repurposing the classic chopped and screwed style of Houston rap). During her live show, which we caught at Bonnaroo, Solange was backed by a troupe of dancing cowgirls decked out in all white. In the music video for her song "Almeda," from her 2019 album When I Get Home, she twirls a black cowboy hat on her finger like a basketball while singing lyrics like "These are black-owned things."
6. The Yee-Haw Agenda (@theyeehawagenda)
In the wake of this year's Yeehaw craze (which was actually dubbed "The Yeehaw Agenda" by Rolling Stone and many corners of Twitter), one Instagram account captures a different idea of what cowboy culture looks like. @theyeehawagenda attempts to remind us of the often forgotten black cowboys and shows famous faces like RuPaul, Destiny's Child (below) and Pam Grier in cowboy hats and western attire. Posts feature archived photos from throughout pop culture history (with a heavy emphasis on the '90s), proving that black cowboys (and girls) have been around forever and aren't going anywhere. Lil Nas X was far from the first.
5. The Highwomen
Country supergroup The Highwomen, comprised of Americana-leaning singer Brandi Carlile, fiddler Amanda Shires, pop star Maren Morris and hitmakin' songwriter Natalie Hemby, brought Yeehaw vibes to the forefront of the music conversation in 2019. They challenged ideas of what an all-female country group could be, vouched for radio airplay and released some timeless new songs in the process. If there's one way you can wear your Yeehaw Energy with pride while supporting often-underrepresented female country artists, it's by listening to The Highwomen. Bring your lasso and your lipstick.
4. Kacey Musgraves' Christmas special (and her entire being and personality)
There's an argument to be made that Kacey Musgraves, who stormed the 2018 Grammys by taking home Album of the Year for her genre-busting record Golden Hour, was the catalyst for all this Yeehaw business in the first place. After a fan tweeted that they "hate country music" except for Musgraves because she is "good as shit" last summer, it was like pop culture was catching on to what we music/Musgraves fans already knew: Kacey is country at her core, but her music knows no boundaries. As she once sang on her hit "Space Cowboy," "When a horse wants to run, there ain't no sense in closing the gate." Musgraves is now a full-on pop culture icon, confirmed this year with her hootenanny-of-a-Christmas-special, The Kacey Musgraves Christmas Show, which premiered on Amazon Prime and featured stars from across the board including Lana Del Rey, Zooey Deschanel and Troye Sivan. Musgraves is the country artist for people, like that Twitter user, who hate country music. What they probably don't realize is Musgraves is just as country as any of the greats like Parton and Lynn—she's just more cleverly spreading the Gospel of Yeehaw.
3. boygenius covering Dixie Chicks
We already knew this year was a big one for Yeehaw, but when the indie rockers started singin' the cowboy blues? We knew that Yeehaw-ers had officially disrupted the order of things. Earlier this year, Seattle radio station KEXP released their session with boygenius, the rock supergroup featuring Phoebe Bridgers, Julien Baker and Lucy Dacus, and it included a delightful, twang-tinged surprise: a cover of the Dixie Chicks' "Cowboy Take Me Away," from the country group's 1999 album Fly. It makes absolute sense when you think about it: one of this generation's greatest trios saluting last generation's. Also, Bridgers knows her Yeehaw, as proven by this peachy suit and red ascot she wore in a photo with Matt Berninger.
2. Hot Girl Summer & Megan Thee Stallion
If you were on the internet at all this summer, you know it was unofficially a Hot Girl Summer. Rising rapper Megan Thee Stallion, who we just named one of the best new artists of the year, unintentionally inspired a movement with a lyric from her song "Cash Shit": "Real hot girl shit." It snowballed into Hot Girl Summer, and Megan later explained the term in a video, saying: "It's about women and men being unapologetically them, just having a good-ass time, hyping up their friends, doing you." We're on board. The Houston-based artist's debut album Fever is glowing with Yeehaw energy, from the hats she wears in her videos to the actual black stallion on her album cover.
1. "Old Town Road"
This was the country-rap crossover to save them all. Lil Nas X's Tik Tok-born summer anthem was undoubtedly the song of 2019, and despite "Old Town Road" getting pulled from the Billboard Hot Country charts early on and facing backlash in Nashville, it triumphed, thanks in part to a remix and short film featuring Bill Ray Cyrus. "Old Town Road" went on to break the record for the song to sit atop the Billboard Hot 100 for the longest time period—16 weeks, to be exact. With his clever fusing of trap and banjo, Lil Nas X proved himself one of the most exciting new figures in music in 2019, giving us a reason to shout "Yeehaw!" from the rooftops all year long.