Justin Bieber's Changes Is a Limp Exploration of Grown-Up Romance
Bieber's most mature album is also his most drained, devoid of the thrills found in his best work
Music
Reviews
Justin Bieber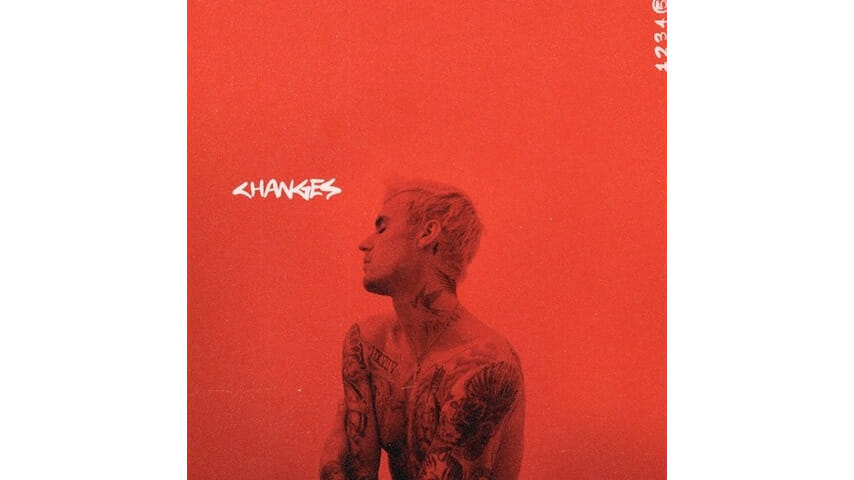 Justin Bieber is a changed man.
He's happily in love, holding service at his dubious place of prosperity gospel worship and taking care of his health after a new Lyme disease diagnosis. They're all honorable ventures, and given his tumultuous personal life, a pleasant change of pace for arguably the world's biggest male pop star.
That said, Changes—Bieber's fifth official album—and his first as an official Wife Guy to Hailey Bieber (née Baldwin), is his most limp and loveless. Overlong and drab, listening to Changes is what it must feel like to third-wheel the Biebers on date night. Luxurious? Sure. Romantic? Probably. It's a record in total lust and fealty to Hailey; you'll probably want to duck out to use the bathroom halfway through.
Within the first 20 minutes, he dedicates three songs ("Come Around Me," "Yummy" and "Available") to how good sex with his hot wife is, how often they do it and how frustrated he gets when he's not her number one priority. "Do me like you miss me / Even though you been with me," he moans on "Come Around Me," its unsubtle suggestion sounding a little too close to a Weeknd track left on the cutting room floor. (The Weeknd, to his credit, wouldn't dare try a couplet as corny as that.)
The moments of marital romance throughout Changes are washed out by this strange concatenation of thirst and codependency, coupled with a strange dispassion in Bieber's tone and words. "You made me laugh with personality," he mutters on "Running Over." What kind of personality does Hailey's sense of humor have, you're left to wonder.
"Forever" finds Bieber outclassed by his friend and ostensible protégé Post Malone. Posty got the memo and adds a frantic tension to the cut, but for a song ostensibly drawing its promise of eternity from a groundswell of passion, Bieber sounds drained. It makes you wonder if their honeymoon phase is over, and crucially, where the giddy romantics of his past, best music went.
Bieber's most delightful love songs—Purpose bonus cut "Get Used To It," "Confident," his collab with fellow Wife Guy Chance the Rapper "Confident" and even "Somebody to Love" from a decade ago—were all eminently infectious, the delirium of budding, steady romance splayed out in song and dance. The easy comparison to draw is to the other Justin, whose own Wife Guy record The 20/20 Experience pilfered newlywed joys for twitchy, dynamic epics. It's a shame that the ambition here is akin to that of sending an Edible Arrangement on Valentine's Day.
The token bright spot on Changes is eked out by Kehlani, coincidentally the sole female vocalist on the record (barring a Summer Walker-aided remix of "Yummy"), on the Boi-1da co-produced "Get Me." That she can bring out tension and empathy out of any material she's given is beside the point; it's just nice to hear Bieber outside his echo chamber, singing to instead of about someone for a change.
At a certain point, the textures on Changes, largely handled by longtime Bieber producer Poo Bear, are rendered so flat that any novel development—the "Moments in Love"-like sample in "Available," a whole verse by Lil Dicky of all people (who allegedly replaced Ski Mask the Slump God)—is just another footnote in the largely droll arrangements here.
The album's back half—like with other Bieber full-lengths, filled with largely acoustic compositions and vocal runs—is perhaps more troubling, not because of its inoffensiveness, but by how misguided his perception of equitable love looks like. (The closing cut "At Least for Now," a post-party, no-filter dispatch and sort of "New Year's Day" redux, minus a lot of Taylor Swift's narrative deft, is an exception.) Bieber assures, "I'm your psychiatrist / Let's talk about it," on "Take It Out On Me," a song that suggests sex and touch as salves for a bad day.
The well-intentioned title track, whose chorus largely rests on the idea that even though he's "goin' through changes / Don't mean that I'll change," is a peculiar look into what he expects marriage to look like. "You can trust me after all the lies I told you," he sings on the Hillsong-meets-white boy acoustic joint "That's What Love Is," almost as a throwaway line. It really does straddle the line between a love song to Jesus, and a love song to Hailey. If it's the former, fine—but otherwise, it's a worrisome admission about Bieber's expectations for his betrothed for the years to come.
For someone on the cusp of big transitions—all of which, of course, are documented on a YouTube docuseries—Justin Bieber has made it apparent that he still has a ways to go before he reaches any meaningful revelations.