Wye Oak's Andy Stack Announces New Album as Joyero, Shares New Song "Dogs"
Images via Dan Stack, Merge Records
Music
News
Joyero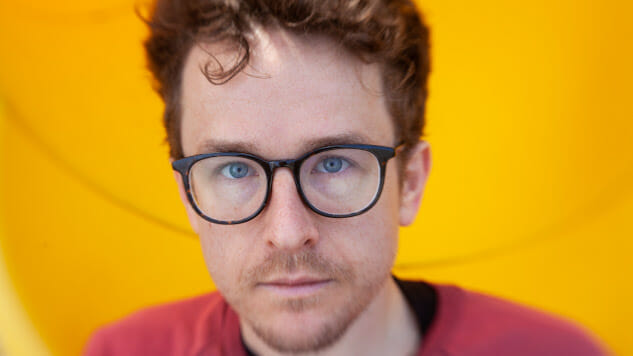 Andy Stack is a busy man. Between drumming for Wye Oak, touring with EL VY and hitting the studio with Helado Negro, it's a wonder that he had time to record a new solo album under the moniker Joyero. Today, he's sharing the second single from the album, Release the Dogs.
"Dogs" is a spaced-out slow burn. Over jittery drums and ambient synths, Stack warbles in whispers; "I'll sleep all day / Like a dog whose master's out / I don't know up from down," he sings, yearning for sensuality. About halfway through, the structure behind "Dogs" starts to melt—vocal lines bleed into each other, drooping guitars emerge from the ether and a noodling saxophone moves to the forefront.
The track is paired to an appropriately sweaty self-directed video Stack shot in the back of Wye Oak's tour van. Stack says in a statement that "Dogs" is:
a song about longing and control, love and danger, cages we are placed into and cages in which we choose to stay. I felt at home in this box, close cuddling with dogs and hens and tarantulas, delusional from the heat and happy to stay a little longer than was probably advisable.
Release the Dogs is promised to occupy "its own liminal space between the natural and the man-made, between the structures we create to keep ourselves safe and the terrifying enormity that exists beyond them," per a press release. It's due out on Aug. 23 via Merge Records. Watch the video for "Dogs" below, along with a 2010 Wye Oak performance from the Paste archives, then keep scrolling to find the details of Release The Dogs and Joyero's upcoming tour dates.
Release The Dogs Album Art:
Release The Dogs Tracklist:
01. Alight
02. Dogs
03. Starts
04. Steepest Stairs
05. Salt Mine
06. Man
07. Small Town Death
08. After You
09. Time
Joyero Tour Dates:
July
19 – Philadelphia, Pa. @ Boot & Saddle^
27 – Carrboro, N.C. @ MRG30 [SOLD OUT]
August
08 – St. Paul, Minn. @ Turf Club*
09 – Chicago, Ill. @ Thalia Hall*
10 – Indianapolis, Ind. @ HiFi*
September
07 – Raleigh, N.C. @ Hopscotch Music Festival
25 – Copenhagen, Denmark @ Lille Vega%
26 – Berlin, Germany @ Bi Nuu%
27 – Leipzig, Germany @ UZ Connewitz%
28 – Hamburg, Germany @ Elbphilharmonie%
30 – Brussels, Belgium @ Botanique%
October
02 – Manchester, U.K. @ Band on the Wall%
03 – Bristol, U.K. @ St. George%
04 – London, U.K. @ Union Chapel%
05 – Paris, France @ La Maroquinerie%
06 – Nancy, France @ l'Autre Canal%
08 – Zurich, Switzerland @ Rote Fabrik%
09 – Fribourg, Switzerland @ Fri-Son%
10 – Milan, Italy @ Circolo Ohibò%
November
19 – Asheville, N.C. @ The Mothlight*
20 – Durham, N.C. @ Motorco*
21 – Charlottesville, Va. @ The Southern*
22 – Philadelphia, Pa. @ Boot & Saddle*
(^ w/ Will Butler)
(* w/ Fruit Bats)
(% w/ The Album Leaf)